Puslatan BPPSDMP Berupaya Tingkatkan Kompetensi Penyuluh Pertanian
Indonesian Agricultural Extensionist should Increase the Competence: Senior Ministry
Reporter : Gusmiati Waris
Editor : Cahyani Harzi
Translator : Dhelia Gani

PUBLISHED: Rabu, 13 Maret 2019 , 03:47:00 WIB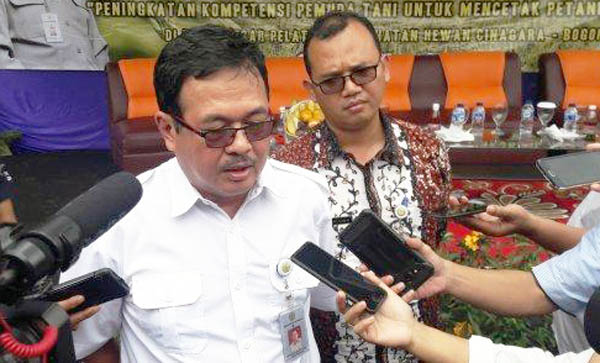 BAKPIA 2019: Kepala Puslatan, Bustanul Arifin Caya [kemeja putih] menjawab pers usai membuka Kunjungan Pers BPPSDMP didampingi Kepala BBPKH Cinagara, Wisnu Wasesa Putra [belakang] Foto: B2B/Mya
Bogor, Jabar [B2B] - Kompetensi SDM pertanian khususnya penyuluh pertanian menjadi fokus perhatian Badan Penyuluhan dan Pengembangan SDM Pertanian - Kementerian Pertanian RI (BPPSDMP), karena tugas penyuluhan pertanian sangat vital untuk menggerakkan petani meningkatkan kemampuan berorganisasi dan manajemen melalui kelompok tani, sehingga mendorong peningkatan kualitas dan kuantitas usaha tani.
"Puslatan selalu berusaha melatih teman-teman di penyuluh pertanian. Tugasnya, tidak hanya menggerakkan SDM pertanian tapi juga harus mampu meningkatkan kemampuan organisasi kelompok tani," kata Kepala Pusat Pelatihan Pertanian BPPSDMP Kementan, Bustanul Arifin Caya kepada pers di Bogor, Selasa [12/3].
Menurutnya, penyuluh pertanian tetap dibutuhkan di era digital saat ini, maka pendekatannya harus dengan digital terutama melalui pemanfaatan cyber extention untuk pemutakhiran inovasi teknologi pertanian.
Bustanul mengakui penyelenggaraan penyuluhan pertanian dari masa ke masa mengalami perubahan sesuai peluang dan tantangan, yang dilakukan Pemerintah RI sejak 1969 melalui rencana pembangunan lima tahun (Repelita) pertama hingga saat ini, Kementan melalui BPPSDMP menjadi bagian penting dalam pencapaian sukses pembangunan pertanian untuk melakukan pengawalan dan pendampingan terpadu.
"Kementan meningkatkan penguatan balai penyuluhan di tingkat kecamatan dengan pendekatan teknologi informasi melalui pengembangan sistem informasi teknologi penyuluhan, sehingga komunikasi penyuluh dan petani di seluruh Indonesia dapat berlangsung interaktif, terkontrol dan terukur target kinerja penyuluh mendukung peningkatan produksi pertanian di seluruh kecamatan di Indonesia," kata Bustanul AC yang hadir di Bogor untuk membuka kegiatan Bakpia 2019 mewakili Kepala BPPSDMP Kementan, Momon Rusmono.
Lebih dari 15 jurnalis mengikuti kegiatan ´bincang asyik seputar pertanian´ disingkat Bakpia atau lazim dikenal sebagai press tour [kunjungan pers] untuk meningkatkan komunikasi dan kemitraan BPPSDMP Kementan dengan media massa cetak, elektronik dan online. Bakpia 2019 BPPSDMP Kementan digelar di Balai Besar Pelatihan Kesehatan Hewan [BBPKH] Cinagara - Caringin, Kabupaten Bogor selama dua hari, hingga hari ini, Rabu [13/3].
Bogor of West Java [B2B] - Indonesian agricultural HR competencies especially agricultural extensionist became the focus of attention of Directorate General of Extension and Agricultural HR Development at the Agriculture Ministry or the BPPSDMP because extension is very vital to move farmers to improve their organizational and management skills through farmer groups.
"My office always tries to train agricultural extensionist. Their job is not only to move agricultural human resources but also to be able to improve the ability of farmer group organizations," Director of Agriculture Training Center, Bustanul Arifin Caya told the press here on Tuesday [March 12].
According to him, the agricultural extension workers are still needed in the digital era, so the approach should be with digital technology such as utilizing cyber extention to update agricultural technology innovation.
Caya said Indonesia´s agricultural extension policy changes because different challenges and opportunities which were developed by government since 1969 through the first five-year development plan called the Repelita until now, the BPPSDMP be the key success of agricultural development for support farmers to increase food production.
"The ministry also targets the strengthening of extension centers in each sub-district by approaching information technology through the development of information systems of extension technology, so that communication between agricultural extension workers and farmers accross the archipelago is interactively, controlled and measurable for support of increasing agricultural production," he said.