Peran Mentor, Penentu Sukses Tahap Pengembangan dan Kemandirian PWMP
Mentor Key Success of Indonesian Young Agricultural Entrepreneur Development
Editor : M. Achsan Atjo
Translator : Dhelia Gani

PUBLISHED: Kamis, 30 Mei 2019 , 03:56:00 WIB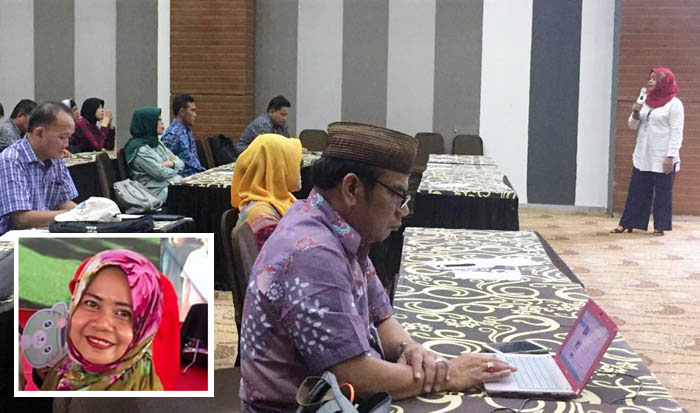 RAKOR BOGOR: Kabid Penyelenggaraan Pendidikan Pusdiktan BPPSDMP Kementan, Ismaya Parawansa [inset] memimpin Rakor Penguatan PWMP Polbangtan Bogor [Foto2: Humas Pusdiktan/Fika]
Bogor, Jabar [B2B] - Pemerintah RI mengedepankan peran mentor untuk mengembangkan potensi usaha para peserta program Penumbuhan Wirausahawan Muda Pertanian [PWMP] pada tahapan dua dan tiga - Pengembangan dan Kemandirian - maka harus dicermati siapa saja yang layak menjadi mentor usaha, bisa dari peserta PWMP pada 2016, yang merupakan tahun pionir kegiatan PWMP di Kementerian Pertanian RI atau dari kalangan eksternal, pelaku sukses dari dunia usaha dan industri [DuDi].
"Bisa jadi sosok yang sukses dari DuDi, praktisi bisnis yang relevan di luar sana, atau peserta PWMP yang berhasil dari 2016 sebagai tahun pionir PWMP, dan 2018 sudah masuk tahapan kemandirian, tentu sudah ada yang berhasil untuk menarik para pemula untuk menarik jejaring baru," kata Ismaya Parawansa selaku Kabid Penyelenggaraan Pendidikan - Pusat Pendidikan Pertanian [Pusdiktan BPPSDMP Kementan] di Bogor, Selasa [28/5] pada rapat koordinasi PWMP Polbangtan Bogor.
Menurutnya, tahapan jejaring usaha pada tahapan ketiga dari PWMP di 2019 ditentukan oleh peran mentor selain pembimbing, sementara pada 2018 hanya didukung pembimbing dan penunjukan mentor harus dicermati, "tentunya mereka sudah mengalami naik turun situasi selama pengembangan dan tetap didukung monitoring dan evaluasi atau Monev."
Sebagaimana diketahui, Program PWMP dirancang untuk menjadikan lembaga pendidikan sebagai center of agripreneur development berbasis inovasi agribisnis dengan bantuan modal usaha kepada mahasiswa Politeknik Pembangunan Pertanian [Polibangtan] dan sarjana pertanian dari perguruan tinggi mitra BPPSDMP dan siswa sekolah kejuruan pertanian [SMK-PP].
"Kegiatan PWMP dilaksanakan dalam empat tahap selama tiga tahun melalui tahap penyadaran di tahun pertama, tahun kedua untuk pengembangan dan tahun ketiga untuk tahap kemandirian, dan 2016 merupakan tahun pionir kegiatan PWMP di Kementan sehingga peserta tahun lalu menjadi leader program regenerasi pertanian maupun rebranding profesi petani," kata Ismaya Parawansa.
Kegiatan pada tahap penyadaran meliputi penetapan tim pelaksana, sosialisasi, pendaftaran, seleksi, bimbingan teknis, dan magang. Sementara penyusunan business plan, pendampingan dan pelaksanaan usaha merupakan rangkaian tahap penumbuhan.
Di tahun kedua, PWMP masuk tahap pengembangan yang meliputi evaluasi usaha, perluasan skala usaha, penjaminan mutu produk dan temu inovasi. Pada tahap pemandirian, program PWMP bergulat pada pengembangan dan penguatan jejaring usaha dengan stakeholders seperti perbankan, investor, pemasok input dan lembaga pemasaran. [Fika]
Bogor of West Java [B2B] - Indonesian government put forward role of mentors to develop business potential of Agriculture Young Entrepreneurs Development program [PWMP] in the 2nd and 3rd phases - Development and Independence - so the figure of business mentor must be determined can be from 2016 PWMP participants, the first phase of PWMP program at Indonesian Agriculture Ministry.
"Successful figures can be chosen from business and industry, successful entrepreneurs or PWMP participants of 2016 as the PWMP pioneer year, and as the independence phase in 2018," said Ismaya Parawansa, Head of Education Implementation Division of Agricultural Education Center [Pusdiktan] here on Tuesday [May 28] at the PWMP coordination meeting.
According to her, the business network phase of PWMP in 2019 is determined by the role of mentor, while the PWMP in 2018 has not been supported by a mentor, "without ignoring the role of monitoring and evaluation."
As is known, the PWMP program is designed to make educational institutions as the center of business development based on agribusiness innovation with business capital assistance to students of Agricultural Development Polytechnic [Polbangtan] and agricultural scholars of partner universities.
"The PWMP activities are carried out in four phases over three years through the awareness phase of first year, the second year for development and the third year for independence, and 2016 was the pioneering phase of PWMP activities so that last year´s participants become leader of agricultural regeneration programs and "the farmers´ rebranding profession," Parawansa said.
Activities in the awareness phase include determination of implementation team, socialization, registration, selection, technical guidance, and internships. While the preparation of business plans, mentoring and business implementation is a series of phases of growth.
In the second year, PWMP entered the development phase including business evaluation, expansion of business scale, product quality assurance and innovation meeting. In the independence phase, the PWMP program focuses on developing and strengthening business networks with stakeholders such as banking, investors, suppliers and marketing.