`Teaching Factory`, Akselerasi Mahasiswa Polbangtan jadi Wirausahawan Agribisnis
Indonesian Govt Developing the Teaching Factory for Agricultural Education
Reporter : Gusmiati Waris
Editor : Cahyani Harzi
Translator : Dhelia Gani

PUBLISHED: Jum'at, 08 Februari 2019 , 03:08:00 WIB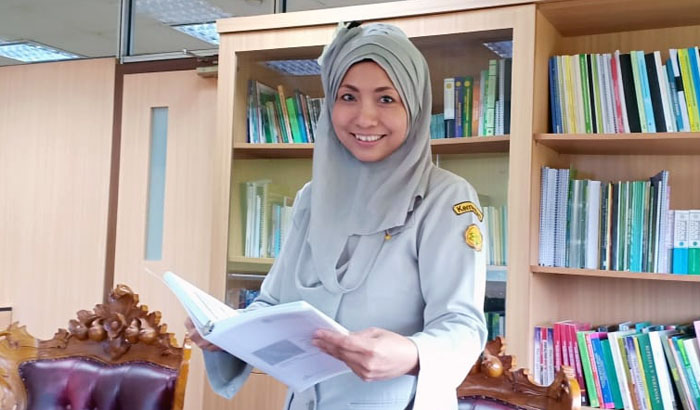 PENGEMBANGAN TEFA: Kepala Pusdiktan BPPSDMP Kementan, Idha Widi Arsanti di ruang kerjanya di kawasan Ragunan, Jakarta Selatan (Foto: B2B/Mya)
Jakarta (B2B) - Penerapan Teaching Factory disingkat TeFa pada perguruan tinggi binaan Badan SDM Pertanian di Kementerian Pertanian RI (BPPSDMP) merupakan akselerasi mahasiswa Politeknik Pembangunan Pertanian (Polbangtan) menjadi wirausahawan muda agribisnis, mengintegrasikan proses pembelajaran dengan kegiatan produksi melalui kebun praktik berbasis industri untuk menghasilkan lulusan job creator (membuka peluang kerja) dan bukan sekadar job seeker (pencari kerja).
"Targetnya, adalah proses penguasaan keahlian atau keterampilan yang dilaksanakan berdasarkan prosedur dan standar bekerja yang sesungguhnya, untuk menghasilkan produk atau jasa sesuai kebutuhan konsumen. Bukan lagi sekadar lulus sebagai penyuluh pertanian atau peternakan," kata Kepala Pusat Pendidikan Pertanian (Pusdiktan) Idha Widi Arsanti kepada B2B di ruang kerjanya, Kamis petang (7/2).
Menurutnya, prinsip dasar TeFa mengintegrasikan pengalaman dunia kerja ke dalam kurikulum sekolah, yang merupakan perpaduan dari pembelajaran berbasis produksi dan pembelajaran kompetensi.
"Semua peralatan dan bahan serta pelaku pendidikan disusun dan dirancang untuk melakukan proses produksi dengan tujuan menghasilkan produk atau jasa yang bersaing di pasar," kata Idha WA yang akrab disapa Santi.
Dalam pembelajaran berbasis produksi, mahasiswa terlibat langsung dalam proses produksi, sehingga kompetensinya dibangun berdasarkan kebutuhan produksi. Kapasitas produksi dan jenis produk menjadi kunci utama keberhasilan pelaksanaan pembelajaran.
"Dengan TeFa, Polbangtan melaksanakan kegiatan produksi atau layanan jasa yang merupakan bagian dari proses belajar dan mengajar. Dengan demikian kampus diharuskan memiliki workshop atau unit usaha untuk kegiatan pembelajaran," kata Kapusdik Idha WA.
Jakarta (B2B) - Indonesian Agriculture Ministry developing integrate learning process with production and entrepreneurship for Agricultural Development Polytechnic or the Polbangtan through teaching factory or the TeFa by the Directorate General of Extension and Agricultural HR Development or the BPPSDMP.
"The goal is the process of mastering skills based on actual procedures and working standards for products and services according to the needs of consumers," said Director of Agricultural Education Center Idha Widi Arsanti in her office here on Thursday afternoon (February 7).
According to her, the basic principle of TeFa is the integration of work experience into the school curriculum as a combination of production-based learning and competence.
"Equipment and teachers are designed for the process of making products or services," Arsanti said.
The production-based learning encourages students to engage in the production process, building competencies based on production needs, by knowing the capacity and type of products.
"In TeFa, the Polbangtan perform production activities or provide services as part of the learning and teaching process. The campus should have workshop or other business unit for learning activities," she said.