Core Values BerAKHLAK jadi Pemantik Politeknik Enjiniring Dukung Program Kementan
Millennial Farmers Development are the Target of Indonesia`s PEPI Serpong
Editor : M. Achsan Atjo
Translator : Novita Cahyadi

PUBLISHED: Jum'at, 17 Maret 2023 , 04:01:00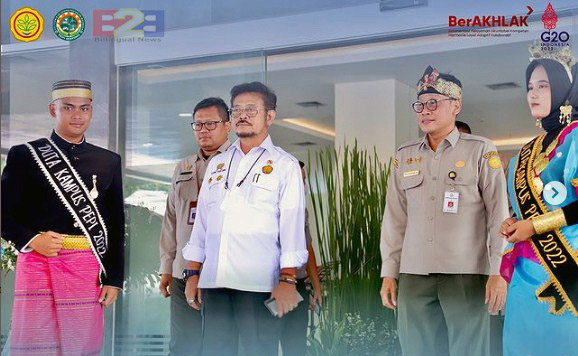 PEPI SERPONG: Direktur PEPI Serpong [belakang, kiri] mendampingi Mentan Syahrul Yasin Limpo dan Kepala BPPSDMP Kementan, Dedi Nursyamsi pada peresmian Peresmian Gedung Dormitori Mahasiswa kampus PEPI pada medio September 2022.
Tangerang, Banten [B2B] - Komitmen Core Values BerAKHLAK bukan sekadar jargon bagi Aparatur Sipil Negara [ASN] melainkan menjadi pemantik bagi ASN Politeknik Enjiniring Pertanian Indonesia [PEPI] untuk mendukung program utama dan strategis Kementerian Pertanian RI mencapai ketahanan pangan.

Setelah penandatanganan komitmen Core Values BerAKHLAK pada pekan pertama 2023, Direktur PEPI Serpong, Muharfiza, setiap saat senantiasa mengingatkan jajarannya untuk mengimplementasikan Core Values dan Employer Branding ASN "Bangga Melayani Bangsa" yang diluncurkan Presiden RI Joko Widodo pada 27 Juli 2021.

Hal itu sejalan arahan Menteri Pertanian RI Syahrul Yasin Limpo yang meminta seluruh ASN Kementan dapat memberikan pelayanan terbaiknya untuk membantu masyarakat.

"Dari tantangan yang terjadi saat ini maka seorang ASN atau pejabat pemerintah harus dikawal dengan moralitas melalui Pendekatan Core Values BerAkhlak agar kita tetap bisa bekerja dengan baik," katanya.

Mentan Syahrul menegaskan bahwa nilai-nilai dasar BerAKHLAK akan menjadi acuan sebagai dasar penerapan budaya kerja di Kementan untuk mewujudkan pertanian maju, mandiri dan modern.

"Untuk itu, saya perintahkan agar menginternalisasikan dan mengimplementasikan Core Values BerAKHLAK secara utuh, sesuai contoh perilaku yang relevan dengan konteks tugas masing-masing," katanya lagi.

Sejalan hal itu, Kepala Badan Penyuluhan dan Pengembangan SDM Pertanian Kementan [BPPSDMP] Dedi Nursyamsi mengingatkan bahwa Core Values ASN BerAKHLAK menuntut ASN bekerja semaksimal mungkin, khususnya ASN untuk lingkup BPPSDMP.

"Sebagaimana di BPPSDMP mempunyai tugas khusus mencetak petani pengusaha milenial, pendampingan penyuluh dan petani serta meningkatkan kapasitas penyuluh dan petani," katanya.

Guna melaksanakan tugas tersebut, kata Dedi Nursyamsi, harus didukung oleh ASN yang bukan hanya sekedar melaksanakan tugas namun juga profesional, kompeten, mandiri dan berdaya saing.

Sebelumnya diberitakan, penandatanganan Core Values BerAKHLAK diikuti oleh seluruh ASN PEPI Serpong, yang dipimpin oleh Direktur PEPI Serpong, Muharfiza pada pekan pertama 2023.

"PEPI sebagai institusi pemerintahan berupaya menerapkan komitmen Core Values BerAKHLAK untuk menyeragamkan nilai-nilai dasar ASN di Indonesia sehingga dapat menjadi fondasi budaya kerja ASN yang profesional," katanya.

Di sisi lain, kata Muharfiza, penandatanganan komitmen Core Values ASN BerAKHLAK juga menjadi dasar dalam penguatan budaya kerja di instansi pemerintah untuk mendukung transformasi SDM Aparatur dan reformasi birokrasi.

"Tujuannya, seluruh instansi pemerintah diharapkan bisa bertumbuh di atas fondasi tersebut untuk mencapai tujuan bersama mengerucut pada visi misi Indonesia Maju yang dicanangkan pemerintah" katanya. [andriwan/timhumaspepiserpong]
Tangerang of Banten [B2B] - The role of agricultural vocational education in Indonesia such as the the Agricultural Development Polytechnic or the PEPI Serpong, to support Indonesian Agriculture Ministry seeks to maximize its efforts to produce millennial entrepreneur.

Youth Enterpreneurship And Employment Support Services Program or the YESS, to support Indonesian Agriculture Ministry seeks to maximize its efforts for the millennial entrepreneur.

Indonesian Agriculture Minister Syahrul Indonesia Yasin Limpo stated that the government´s commitment to developing agriculture, especially in the development of advanced, independent and modern agricultural human resources.

"The goal is to increase the income of farming families and ensure national food security. Farmer regeneration is a commitment that we must immediately realize," Minister Limpo said.

He reminded about the important role of vocational education, to produce millennial farmers who have an entrepreneurial spirit.

"Through vocational education, we connect campuses with industry so that Polbangtan graduates meet their needs and are ready for new things," Limpo said.