Politeknik Milenial, Polbangtan Manokwari Gandeng Enam Perusahaan Swasta
Indonesia`s Papua Agricultural Polytechnic Cooperates with Private Companies
Editor : M. Achsan Atjo
Translator : Dhelia Gani

PUBLISHED: Rabu, 13 Februari 2019 , 04:24:00 WIB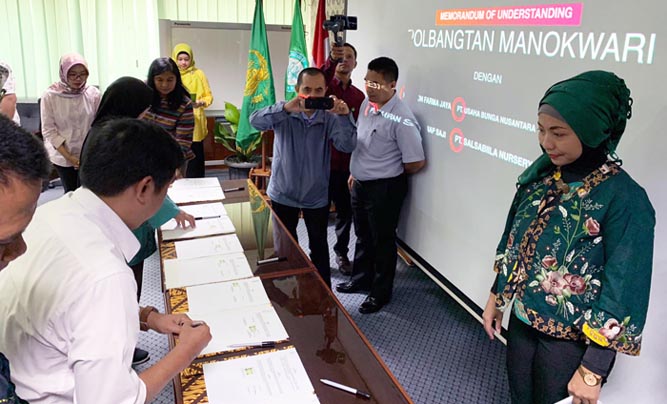 BISNIS PANGAN: Kapusdiktan Idha Widi Arsanti (kanan) saksikan tanda tangan kerjasama Polbangtan Manokwari dengan enam perusahaan swasta (Foto: Humas BPPSDMP Kementan)
Jakarta (B2B) - Enam perusahaan swasta digandeng oleh Polbangtan Manokwari untuk mendukung pengembangan Teaching Farm (TeFa) sebagai ´kampus politeknik milenial´ demi meningkatkan kualitas lulusan Polbangtan sebagai job creator pangan sesuai arahan Menteri Pertanian RI Andi Amran Sulaiman mengembangkan Polbangtan bertaraf internasional.
Memoranda kesepahaman (MoU) ditandatangani oleh Direktur Polbangtan Manokwari, Drh Purwanta M.Kes yang disaksikan oleh Kepala Pusat Pendidikan Pertanian (Pusdiktan) Idha Widi Arsanti di Jakarta, Selasa (12/2), yang mengharapkan MoU ditindaklanjuti dengan upaya konkrit link and match antara kurikulum pendidikan Polbangtan dengan visi dan misi perusahaan mitra kerjasama.
"Perusahaan mitra jangan hanya berfungsi sebagai tempat praktek kerja lapangan, program magang, penelitian dan tugas akhir, juga memberi peluang bagi lulusan Polbangtan Manokwari mengembangkan potensi sebagai entrepreneur pangan," kata Idha WA.
Keenam perusahaan swasta adalah PT Sayuran Siap Saji untuk praktik kerja lapangan pangan olahan; PT Medion Farma Jaya, untuk teaching farm peternakan dan kesehatan hewan hingga rekrutmen tenaga kerja; PT Salsabila Nursery, praktik kerja lapang pembibitan dan ekspor tanaman hias; PT Taman Bunga Nusantara, praktik kerja lapang pembibitan, budidaya tanaman, dan agrowisata; PT Cheil Jedang dan PT Estetika Kata Tiara di bidang peternakan.
Menurutnya, pengembangan job creator lulusan Polbangtan sesuai visi dan misi Badan Penyuluhan dan Pengembangan SDM Pertanian - Kementerian Pertanian (BPPSDMP) meningkatkan kualitas SDM pertanian yang inovatif, kreatif dan kompetitif, khususnya Politeknik Pembangunan Pertanian di Papua Barat (Polbangtan Manokwari).
"Sesuai arahan Presiden Joko Widodo bahwa 2019 sebagai tahun pengembangan SDM, maka Kementan mendukung kebijakan tersebut melalui pengembangan sekolah tinggi penyuluhan pertanian atau STPP menjadi Polbangtan," kata Idha WA melalui pernyataan tertulis.
Drh Purwanta M.Kes menambahkan Polbangtan Manokwari akan memanfaatkan semaksimal mungkin peluang kerjasama dengan perusahaan swasta untuk menghasilkan lulusan berkemampuan prima sebagai job creator.
"Polbangtan Manokwari mengembangkan pendidikan vokasi pertanian dengan kurikulum 70 persen praktik dan 30 persen teori agar kompatibel dengan kebutuhan dunia usaha dan industri," katanya didampingi Kabag Evalap BPPSDMP Kementan, Titin Gartini. (Cha)
Jakarta (B2B) - The Polbangtan Manokwari in West Papua province cooperates with six private companies to support development of Teaching Farm or the TeFa to improve quality of Polbangtan graduates as the food job creators, as instructed of Indonesian Agriculture Minister Andi Amran Sulaiman to developing an international standard agricultural polytechnic.
Memoranda of understanding or MoU was signed by Director of Polbangtan Manokwari, Drh Purwanta M.Kes who was witnessed by Director Agricultural Education Center or Pusdiktan, Idha Widi Arsanti here on Tuesday (February 12), who expected the MoU link and match with the Polbangtan education curriculum and the partner company´s vision and mission.
"Partner companies should not only be a means of field work, internship program, research and final project, it also provides opportunities for Polbangtan Manokwari graduates to developing their potential as food entrepreneurs," Arsanti said.
According to her, job creators development of Polbangtan graduates is in accordance with vision and mission of the Directorate General of Extension and Agricultural HR Development or the BPPSDMP.
"In accordance with President Joko Widodo´s instructions that 2019 as the year of HR development, and the agriculture ministry support the president´s policy through development of agricultural extension college or STPP become Polbangtan," Arsanti said through a written statement.
Drh Purwanta M.Kes added that the Polbangtan Manokwari Polbangtan will make most of opportunities for cooperation with private companies to produce excellent graduates as job creators.
"The Polbangtan Manokwari developing agricultural vocational education, 70 percent practice and 30 percent theory, making it compatible with the needs of business and industry," he said.