PEPI Serpong, Bupati Tangerang Dukung Kementan Raih Izin Gubernur Banten
Tangerang Regent Support Indonesian Agricultural Engineering Polytechnic
Reporter : Gusmiati Waris
Editor : Cahyani Harzi
Translator : Dhelia Gani

PUBLISHED: Rabu, 27 Februari 2019 , 04:20:00 WIB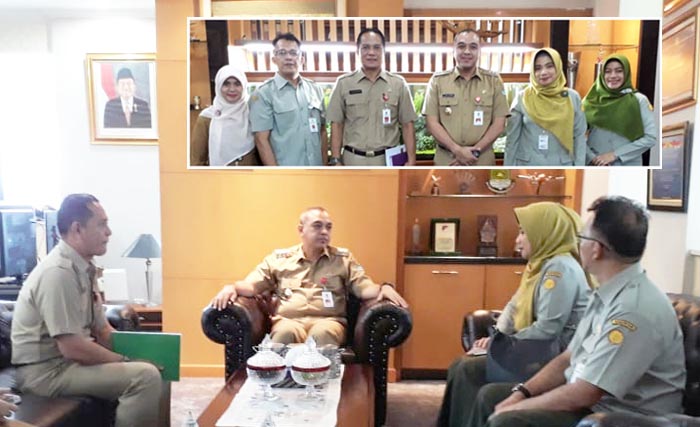 REKOMENDASI GUBERNUR: Kabid Kelembagaan dan Ketenagaan Pusdiktan, Inneke Kusumawaty dan Kasubbid Erwin Zulkarnain (kanan) diterima Bupati Tangerang Ahmed Zaki Iskandar (tengah) Foto2: Humas Pusdiktan
Tangerang, Banten (B2B) - Pemerintah Kabupaten Tangerang mendukung langkah Kementerian Pertanian RI mendirikan Politeknik Enjiniring Pertanian Indonesia (PEPI) di Serpong, Kabupaten Tangerang, dan bersedia membantu Pusat Pendidikan Pertanian (Pusdiktan - BPPSDMP) mendapatkan surat rekomendasi pendirian dari Gubernur Banten, Wahidin Halim sesuai ketentuan Kementerian Pendayagunaan Aparatur Negara - Reformasi Birokrasi RI (Kemenpan RB).
Hal itu dikemukakan Bupati Tangerang Ahmed Zaki Iskandar didampingi Kepala Dinas Pertanian dan Peternakan, Azis Gunawan kepada Kepala Bidang Kelembagaan dan Ketenagaan Pusdiktan, Inneke Kusumawaty pada audiensi di Tangerang, Senin (25/2).
"Pemkab mendukung Kementan mendirikan PEPI Serpong, untuk mendukung modernisasi pertanian dan menghasilkan petani milenial, apalagi kalau ada kelas khusus untuk warga Tangerang yang kami dorong mengembangkan hortikultura," kata Bupati AZ Iskandar.
Dia meyakini Gubernur Wahidin Halim akan mendukung pendirian PEPI Serpong berdampingan dengan Balai Besar Pengembangan Mekanisasi Pertanian (BB Mektan) yang kelak berdampak positif bagi Tangerang dan Banten mendukung pembangunan pertanian daerah.
Kabid Inneke K mengatakan pada dasarnya Kemenpan - RB mendukung percepatan pendirian PEPI oleh Kementan, namun menunggu surat rekomendasi Gubernur Banten sebagai syarat pendirian unit pelaksana teknis (UPT) pendidikan dari BPPSDMP Kementan.
"Prinsipnya, Kemenpan RB mendukung percepatan proses pendirian PEPI Serpong, dan akan membantu memproses penerbitan surat izin prinsip pendirian setelah keluar surat rekomendasi dukungan Gubernur Banten," kata Inneke K didampingi Kasubbid Kelembagaan, Erwin Zulkarnain dan staf Subbid Kelembagaan, Nizmah J Hidayah.
Sebelumnya diberitakan, Kepala BPPSDMP Kementan, Momon Rusmono menemui Deputi Bidang Kelembagaan dan Tata Laksana Kemenpan RB, Rini Widayanti di Jakarta, awal Februari (8/2) untuk membahas pendirian PEPI Serpong yang masih terkendala surat rekomendasi Gubernur Banten.
Tangerang of Banten (B2B) - The Tangerang district government supports Indonesian Agriculture Ministry o developing Indonesian Agricultural Engineering Polytechnic or the PEPI in Serpong, Tangerang Regency, and is willing to support the Agricultural Education Center or Pusdiktan to get the Banten Governor´s recommendation letter, according to the terms and conditions of the Ministry of Administrative Reform or the Kemenpan - RB.
It was stated by Tangerang Regent Ahmed Zaki Iskandar accompanied by Head of Agriculture and Livestocks Office, Azis Gunawan to the Head of Institutional and Employment Division of Pusdiktan, Inneke Kusumawaty at the meeting here on Monday (February 25).
"The Tangerang regional government supports the Agriculture Ministry to developing PEPI Serpong, supporting agricultural modernization and millennial farmer development, especially if there is a special class for Tangerang residents," Regent Iskandar said.
He believes Governor Wahidin Halim will support development of the Serpong PEPI alongside the Center for Agricultural Mechanization Development or BB Mektan which will have a positive impact on Tangerang and Banten to support regional agricultural development.
"In principle, the central government supports acceleration of PEPI Serpong development and will support the issuance of the principle permit after receiving the Banten Governor´s recommendation letter," said Kusumawaty accompanied by her subordinates, Erwin Zulkarnain and Nizmah J Hidayah.
Previously reported, Director General of Agricultural HR Development, Momon Rusmono met with Deputy of Institution and Management Kemenpan RB, Rini Widayanti to talk about development of PEPI still constrained by the Banten Governor´s recommendation letter.