Program Utama, Kementan Dorong SDM Berkualitas melalui Agenda Intelektual
The PHLN`s Program Support Indonesian Govt to Farmer Empowerment
Editor : M. Achsan Atjo
Translator : Dhelia Gani

PUBLISHED: Jum'at, 14 Januari 2022 , 04:02:00 WIB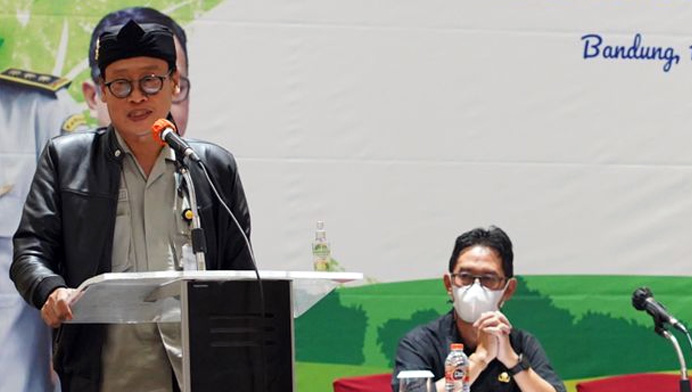 AGRIBISNIS MODERN: Kepala BPPSDMP Kementan, Dedi Nursyamsi mengingatkan pentingnya pengemasan produk pertanian agar memiliki nilai jual tinggi, untuk mendukung pengembangan sistem agribisnis modern [Foto: BPPSDMP]
Bandung, Jabar [B2B] - Program utama yang dijalankan Kementerian Pertanian RI harus mendapatkan dukungan, berupa agenda intelektual agar lebih maksimal, yang didukung SDM berkualitas. Hal tersebut mengemuka pada Koordinasi Pelaksanaan Proyek PHLN lingkup Pusat Penyuluhan Pertanian TA 2022 di Bandung, Jawa Barat, Kamis [13/1].
Menteri Pertanian Syahrul Yasin Limpo mengatakan agenda intelektual akan memaksimalkan program pertanian.
"Oleh karena itu, kita mendorong peningkatan kualitas SDM pertanian yang mendukung terciptanya hal tersebut," kata Mentan Syahrul.
Sementara Kepala Badan Penyuluhan dan Pengembangan SDM Pertanian (BPPSDMP), Dedi Nursyamsi menegaskan bahwa kegiatan koordinasi tersebut bertujuan mengoordinasikan pelaksanaan kegiatan IPDMIP dan SIMURP Tahun 2022.
"Integrasi dilakukan antara kegiatan yang ada di pusat, provinsi dan kabupaten, sehingga peningkatan produktivitas yang diharapkan dapat tercapai dan pertanian yang maju, mandiri dan modern dapat terwujud," katanya.
Dedi menambahkan, IPDMIP dan SIMURP diharapkan dapat membangun sistem agribisnis modern, bukan hanya membangun on farm , tapi juga up stream.
"Pikirkan bagaimana petani mendapatkan akses terhadap sarana prasarana benih, pupuk, dan alat-alat pertanian. Bagaimana petani menggenjot produktivitas, melakukan pengolahan tanah, memiliki varietas yang baik dan punya produktivitas tinggi serta lainnya," katanya.
Menurutnya, yang tidak kalah penting adalah memikirkan bagaimana mengemas produk pertanian agar bernilai jual tinggi.
"Pikirkan pengemasan atau packaging, agar produk pertanian itu aman dari kebun sampai meja makan. Packaging harus menarik dan menggelitik agar masyarakat mau berbelanja. Pikirkan juga cara memasarkan produk pertanian dengan harga memadai dan tetap mendapatkan keuntungan," ulasnya.
Menurutnya, Mentan sering mengatakan, bahwa setiap program pertanian harus dimulai dari agenda intelektual.
"Artinya, seluruh kapasitas insan pertanian harus ditingkatkan, agenda intelektual harus ditingkatkan sebelum program pertanian dijalankan, sehingga petani bisa mengakses semua. Petani harus bisa mengakses offtaker, buyer dan lainnya. Kalau tidak diperbaiki, atau ala kadarnya hal itu susah dicapai. Bila perlu petani sendiri yang terlibat dalam hal itu," ujarnya. [Cha]
Bandung of West Java [B2B] - The project objective of foreign loan and grant programs for agriculture in Indonesia will aim to empower rural households with the skills, confidence and resources to sustainably improve incomes and livelihoods through a scalable programmatic approach according to senior official of the Agriculture Ministry.