#Serasi Kalsel, Puslatan Identifikasi Peserta Pelatihan `Pilot Project` Sungai Tabuk
Indonesian Govt Focus Developing Agriculture HR in South Borneo
Editor : M. Achsan Atjo
Translator : Dhelia Gani

PUBLISHED: Senin, 14 Januari 2019 , 04:51:00 WIB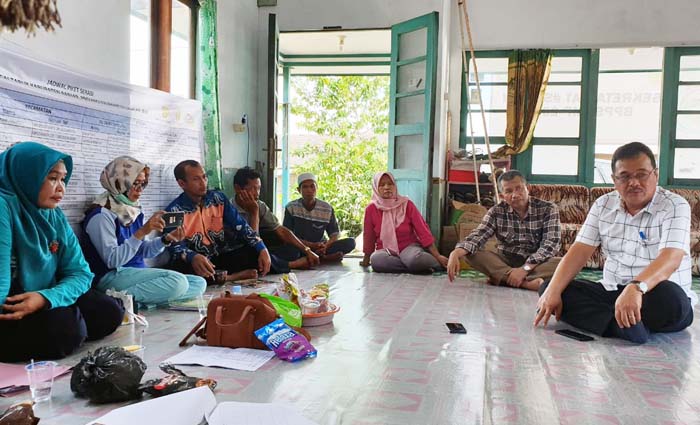 REKRUT SDM TANGGUH: Kepala Puslatan BPPSDMP Kementan, Bustanul AC (kanan) dialog dengan petani dan penyuluh pertanian untuk mendukung program #Serasi di Kalsel (Foto: Humas Pusluhtan)
Banjar, Kalsel (B2B) - Kementerian Pertanian RI menyiapkan SDM andal dan siap pakai mendukung pengembangan lahan rawa pada program ´Selamatkan Rawa Sejahterakan Petani´ atau #Serasi di Provinsi Kalimantan Selatan, melalui identifikasi calon peserta pelatihan alat dan mesin pertanian (Alsintan), budidaya tanaman pangan, tata kelola air hingga pengolahan dan pemasaran hasil produksi pangan strategis.
Kepala Pusat Pelatihan Pertanian (Puslatan) Bustanil Arifin Caya mengatakan Badan Penyuluhan dan Pengembangan SDM Pertanian (BPPSDMP) berperan penting menyiapkan SDM untuk mendukung kinerja #Serasi pada lokasi pilot project di Desa Tadau dan Desa Keliling Benteng Ilir, Kecamatan Sungai Tabuk, Kabupaten Banjar.
"Tugas Puslahtan menyiapkan SDM, diawali dengan identifikasi calon peserta latih sampai pembekalan dan pelatihan sesuai kebutuhan untuk mendukung program #Serasi," kata Bustanul AC saat dialog dengan para petani dan penyuluh pertanian di Posko #Serasi BPPSDMP di Sungai Tabuk, Jumat (11/01).
Identifikasi bertujuan mengetahui potensi dari petani, penyuluh pertanian, pemuda tani, operator Alsintan untuk mengikuti pelatihan yang digelar Puslatan untuk mendukung capaian target #Serasi mengoptimalkan fungsi lahan rawa yang selama ini terbengkalai bagai ´raksasa tidur´ padahal potensinya luar biasa untuk memproduksi pangan sepanjang tahun tanpa terpengaruh kekeringan musim kemarau.
"Kalsel membutuhkan SDM bermental baja didukung mekanisasi pertanian,didukung mekanisasi pertanian mengembangkan lahan rawa sebagai tumpuan masa depan produksi pangan nasional," kata Bustanul AC didampingi Kepala Bidang Standardisasi Sertifikasi Profesi Puslatan, Zuroqi Mubarok.
Dia mengingatkan bahwa program #Serasi di lahan rawa harus didukung pengaturan tata kelola air, optimalisasi pemanfaatan Alsintan untuk mendukung waktu olah lahan dan olah tanam yang terukur dan sistematis.
"Kementan mengharapkan penyuluh pertanian tetap menjaga semangat dan energi mendampingi petani. Dampingi dan beri semangat petani. Berikan solusi terbaik ketika petani menghadapi kesulitan," kata Bustanul AC.
Banjar of South Borneo (B2B) - Indonesian Agriculture Ministry to prepare human resources ready to work forpilot projects of the swampland use program for agriculture´ or the #Serasi in South Borneo through identification of agricultural machinery trainees, food crop cultivation, water management, processing and marketing of strategic food products.
Director of Agricultural Training Center or the Puslahtan, Bustanil Arifin Caya said the Directorate General of Extension and Agricultural HR Development or BPPSDMP important role for preparing human resources to support the #Serasi pilot project in Tadau village and Keliling Benteng Ilir, Sungai Tabuk subdistrict of Banjar district.
"The task of Puslahtan is to prepare human resources, starting with identification of prospective trainees until debriefing and training as needed to support the #Serasi program," Caya said here on Friday (January 11).
Identification aims to find out the potential of farmers, agricultural extensionist, youth farmers, agricultural machinery operators for training will held of Puslatan support the #Serasi target achievement.
"South Borneo needs tough human resources supported supported by agricultural mechanization to to developing swampland as the future of national food production," Caya said.
He reminded that the #Serasi program on swampland must be supported by irrigation management, optimizing the utilization of agricultural machinery to support land processing and planting food commodities.
"The Ministry expects agricultural extensionist to maintain enthusiasm and energy to assist farmers. Accompany and encourage farmers. Give the best solution when farmers face difficulties," Caya said.