Polbangtan YoMa dan KostraTani Dukung Petani Milenial Kebumen
Indonesian Agriculture Anticipate Covid-19 by Weaker Health Systems
Editor : M. Achsan Atjo
Translator : Dhelia Gani

PUBLISHED: Kamis, 23 April 2020 , 05:05:00 WIB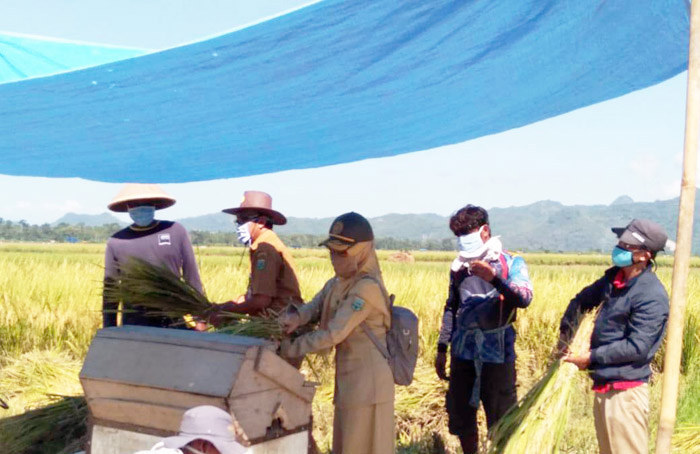 Direktur Polbangtan YoMa, Dr Rajiman mengatakan di Kebumen telah ditumbuhkan sekitar 48 kelompok petani milenial, salah satu kelompok yang terdiri atas empat orang [Foto: Humas Polbangtan YoMa]
Kebumen, Jateng - Polbangtan YoMa berkomitmen mendukung pengembangan petani milenial yang menjadi penentu ketersediaan pangan berkelanjutan, antara lain melalui kerjasama dengan Dinas Pertanian dan Pangan Kabupaten Kebumen di Provinsi Jawa Tengah berupa penumbuhan dan pendampingan petani milenial pada subsektor tanaman pangan.
Direktur Polbangtan YoMa, Dr Rajiman mengatakan di Kebumen telah ditumbuhkan sekitar 48 kelompok petani milenial, salah satu kelompok yang terdiri atas empat orang mengambil usaha agribisnis padi oleh Kelompok Mapan.
"Saat ini, Mapan telah membudidayakan padi varietas unggul melalui kegiatan demonstration rice plot atau Demplot seluas 1.500 ubin atau sekitar 2.000 meter persegi dengan varietas Kalimasada. Pertumbuhannya dari hari ke hari baik dan berpeluang memberi keuntungan bagi petani," kata Dr Rajima di Yogyakarta, Rabu [22/4].
Menurutnya, Mapan juga didampingi penyuluh pertanian dari KostraTani Kutowinangun agar dalam usaha agribisnis padi terjaga keberhasilannya. Hal itu menunjukkan bahwa petani milenial tetap bertani dengan menerapkan tata cara menangkal penyebaran virus Corona di kalangan petani dan penyuluh.
"Usaha yang dilakukan petani milenial Mapan di Kebumen merupakan implementasi dari kebijakan Menteri Pertanian Syahrul Yasin Limpo bahwa pertanian tidak pernah berhenti. Bukti bahwa petani dan penyuluh terus bekerja mendukung ketersediaan pangan," katanya.
Hal itu, kata Dr Rajiman, selaras dengan instruksi Mentan Syahrul yang mendorong petani milenial menjadi garda terdepan pencapaian mandiri pangan. Kendati begitu semangat bertani jangan sampai mengabaikan kewaspadaan menangkal penyebaran virus Corona.
"Laksanakan Protokol Kesehatan. Kenakan masker. Jaga jarak. Hindari kerumunan. Rajin cuci tangan dengan sabun di air yang mengalir," kata Dr Rajiman mengutip Mentan.
Kepala BPPSDMP Kementan Prof Dedi Nursyamsi tiada henti menyerukan petani dan penyuluh tetap ke lapangan untuk memastikan ketersediaan pangan di tengah pandemi Covid-19. "Pangan bukan cuma soal perut tapi juga stabilitas nasional." [IJS]
Kebumen of Central Java [B2B] - Indonesia´s Agriculture Ministry is in intensive care after testing positive for the novel coronavirus, as civil servants in head office and across the country were ordered to close over the health threat. The World Health Organization has said it is particularly concerned about high-risk nations with weaker health systems, which who may lack the facilities to identify cases, according to senior official of Indonesian Agriculture Ministry.