42,5 Juta Ton: Volume Ekspor Pertanian RI 2018, Naik 26,9% dari 2013
Indonesian Agricultural Export Volume in 2018, Up 26.9% of 2013
Reporter : Gusmiati Waris
Editor : Cahyani Harzi
Translator : Dhelia Gani

PUBLISHED: Kamis, 01 Agustus 2019 , 06:23:00 WIB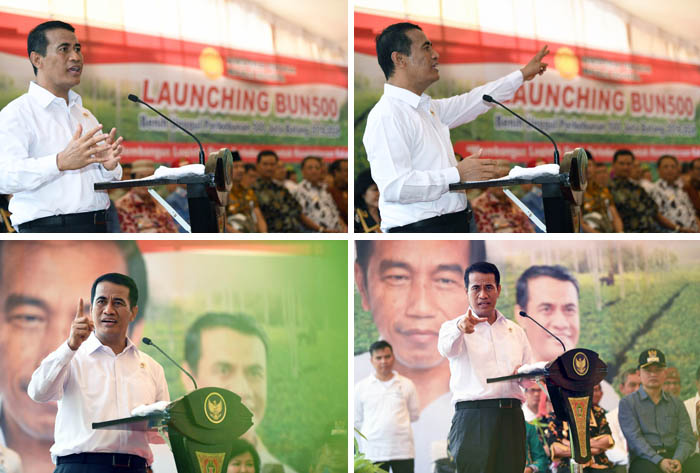 PELUNCURAN BUN500: Mentan Amran Sulaiman meluncurkan BUN500, program distribusi benih unggul perkebunan 500 juta batang, 2019 - 2024, gratis untuk perkebunan rakyat [Foto2: Biro Humas Kementan/Fajar]
Jakarta [B2B] - Selama 4,5 tahun terakhir volume ekspor produk pertanian Indonesia meningkat 9 juta ton atau naik 26,9%, dari 33,5 juta ton pada 2013 menjadi 42,5 juta ton di 2018. Di era Joko Widodo - Jusuf Kalla, volume ekspor produk pertanian naik signifikan dalam tiga tahun, 33,5 juta ton pada 2013, tiga tahun kemudian melonjak ke 36,1 juta ton dan 40,4 juta ton. Selanjutnya pada tahun 2017 dan 2018, naik lagi menjadi 41,3 juta ton dan 42,5 juta ton.

"Kita patut berbangga karena ditengah lesunya ekspor Indonesia, perjalanan ekspor produk pertanian kita menunjukkan kinerja sangat bagus. Peningkatan ini tak lepas dari berbagai program dan kebijakan terobosan yang tepat dalam mengimplementasi semua instruksi Presiden Jokowi," kata Kepala Pusat Data dan Informasi Kementan [Pusdatin], Ketut Kariyasa di Jakarta, belum lama ini.

Menurutnya, dibandingkan 2013, jumlah ekspor produk pertanian 2018 mencapai sekitar 9 juta ton atau naik 26,9%. Selama periode tersebut, total volume ekspor mencapai 195,7 juta ton, ditambah akumulasi tambahan volume ekspor sekitar 28,3 juta ton.

"Akumulasi tambahan ini sekitar 84,5 persen dari jumlah ekspor produk pertanian 2013 yang mencapai 33,5 juta ton," kata Ketut Kariyasa.

Nilai Ekspor
Nilai ekspor produk pertanian Indonesia pada 2013 mencapai Rp320,9 triliun. Angka tersebut jika mengacu 2014 dan 2016, jumlahnya meningkat ke Rp368,4 triliun dan Rp375,5 triliun. Trend positif ini berlanjut pada 2017 dan 2018, yakni Rp442,3 triliun dan Rp415,9 Triliun.

"Selama 2014 - 2018, total nilai ekspor produk pertanian mencapai Rp1.957,5 tirliun, dengan akumulasi tambahan Rp352,58 triliun. Akumulasi tersebut juga positif, 109,8 persen dari 2013 hanya Rp320,9 triliun," kata Ketut Kariyasa.

Adapun pada komposisi ekspor produk pertanian Indonesia saat ini masih didominasi oleh komoditas perkebunan, 91,4% dari total nilai ekspor produk pertanin Indonesia. Dengan demikian, kinerja ekspor produk pertanian Indonesia sangat ditentukan oleh kinerja produksi perkebunan saat ini.

"Makanya kita sedang meningkatkan peran penting dan strategis sektor pertanian dalam pertumbuhan ekonomi nasional dengan menyiapkan program terobosan seperti Bun500 yang diluncurkan oleh Mentan," katanya.

Program Bun500 sendiri adalah program penyediaan 500 juta batang benih unggul perkebunan untuk petani di seluruh Indonesia. Bantuan ini diharapkan mampu mengembalikan kejayaan rempah dan perkebunan Indonesia yang dulu pernah dicapai.

"Kita berharap melalui program ini terjadi peningkatan produktivitas perkebunan dua hingga tiga kali lipat dari saat ini. Program ini juga diharapkan mampu meningkatkan kesejahteraan petani, perbaikan neraca perdagangan dan akselerasi pertumbuhan ekonomi nasional," katanya.
Jakarta [B2B] - During 4.5 years of Indonesian agricultural product export volume increased by 9 million tons, up 26.9%, 33.5 million tons in 2013 to 42.5 million tons in 2018. In the era of Joko Widodo´s administration, the volume of exports of agricultural products rose significantly in three years, 33.5 million tons in 2013, three years later surged to 36.1 million tons and 40.4 million tons. Furthermore, in 2017 and 2018, it rose again to 41.3 million tons and 42.5 million tons.