Implementasi Kurikulum Merdeka, SMKPPN Kementan gelar `in House Training`
Millennial Farmers Development are the Target of Indonesia`s SMKPPN Sembawa
Editor : Kemal A Praghotsa
Translator : Dhelia Gani

PUBLISHED: Jum'at, 10 November 2023 , 06:34:00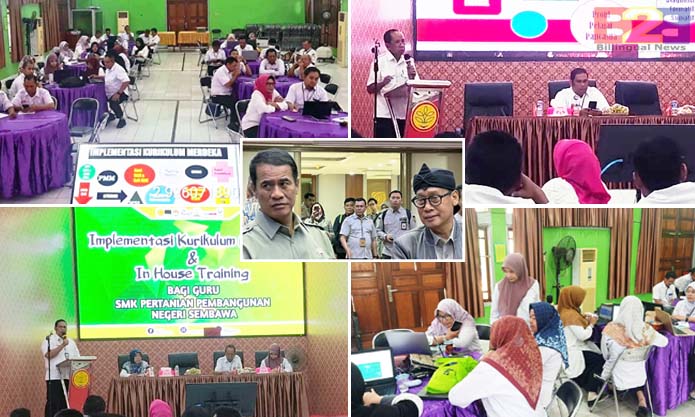 SMKPPN SEMBAWA: Kepala SMK PP Negeri Sembawa, Yudi Astoni membuka IHT Implementasi Kurikulum Merdeka menegaskan pihaknya mengimplentasi Kurikulum Merdeka pada tingkat X dan XI di fase F.
Banyuasin, Kalsel (B2B) - SMK PP Negeri Sembawa, sebagai Unit Pelaksana Teknis (UPT) Badan Penyuluhan dan Pengembangan SDM Pertanian (BPPSDMP) Kementerian Pertanian terus berupaya meningkatkan kompetensi bagi 45 pendidik, salah satu yang dilakukaan adalah melaksanakan In House Training (IHT) terkait Implementasi Kurikulum Merdeka (IKM) di Aula SMK PP Negeri Sembawa (8/11).
Hal ini menjawab harapan Kepala Badan Penyuluhan dan Pengembangan SDM Pertanian (BPPSDMP) Kementan, Dedi Nursyamsi yang mengatakan, guna mendukung pembangunan pertanian maju, mandiri dan modern, perlu dilakukan penyiapan, pencetakan SDM pertanian unggulan.
"Melalui pendidikan vokasi, Kementan melahirkan SDM yang kompetitif sebagai tenaga kerja pertanian andal dan unggul (job seeker) serta sebagai pengusaha pertanian milenial andal, kreatif, inovatif, profesional, serta mampu menyerap lapangan pekerjaan sektor pertanian sebanyak mungkin (job creator)," ujar Dedi.
Kepala SMK PP Negeri Sembawa, Yudi Astoni yang membuka IHT Implementasi Kurikulum Merdeka menyampaikan, SMK PP Negeri Sembawa mengimplentasi kurikulum merdeka pada tingkat X dan XI di fase F, hal yang telah dilakukan antara lain adalah perencanaan IKM pada awal pembelajaran serta pelaksanaan Projek Penguatan Profil Pelajar Pancasila (P5) yang sudah dilakukan antara lain kearifan lokal, Kebekerjaan, gaya hidup berkelanjutan dan suara demokrasi.
"Kegiatan yang dilakukan semuanya bermuara pada pembentukan karakter peserta didik yang beriman, bertakwa kepada Tuhan YME, Berakhlak mulia. Berkebunekaan global, bergotong royong, kreatif, bernalar kritis dan mandiri" jelas Yudi.
Pengawas Bina SMK Provinsi Sumatera Selatan, Nazaruddin menyampaikan materi Lingkup implementasi kurikulum merdeka diantaranya assesmen diagnostik, formatif dan sumatif, platform merdeka mengajar, soft skill dan hard skill, numerasi, materi esensial, literasi, diferensiasi, pembelajaran menyenangkan, profil pelajar Pancasila, teaching factory, inovasi, proyek based learning (PjBL), Bekerja Melanjutkan Wirausaha (BMW), praktik baik, rapor pendidikan.
Dalam IHT juga dilakukan pengimbasan tentang nearpod oleh Tim Guru yang telah melakukan pelatihan tatap muka di Seamo Seamolec tentang Interactive Virtual Learning throughNearpod oleh Yunus.
Nearpod adalah salah satu platform ruang pembelajaran yang menghadirkan interaksi antara siswa dan guru, dimana pengajar dapat membuat sebuah presentasi yang berisikan gambar, teks, video, bahkan kuis untuk dimainkan bersama. [titin/timhumas smkppnsembawa]
Banjarbaru of West Java [B2B] - The role of agricultural vocational education in Indonesia such as the the Agricultural Development Polytechnic or the Polbangtan, to support Indonesian Agriculture Ministry seeks to maximize its efforts to produce millennial entrepreneur.
Youth Enterpreneurship And Employment Support Services Programme or the YESS, to support Indonesian Agriculture Ministry seeks to maximize its efforts for the millennial entrepreneur.
Indonesian Agriculture Ministry, Andi Amran Sulaiman stated that the government´s commitment to developing agriculture, especially in the development of advanced, independent and modern agricultural human resources.
The goal is to increase the income of farming families and ensure national food security. Farmer regeneration is a commitment that we must immediately realize.
He reminded about the important role of vocational education, to produce millennial farmers who have an entrepreneurial spirit.
Through vocational education, we connect campuses with industry so that Polbangtan graduates meet their needs and are ready for new things.