2019 Tahun SDM, Puslatan Dorong DuDi Sesuaikan Kebutuhan dan Kompetensi
Indonesia Seeks to Adjust the Needs and Competencies of Agricultural HR
Editor : M. Achsan Atjo
Translator : Dhelia Gani

PUBLISHED: Senin, 14 Januari 2019 , 06:42:00 WIB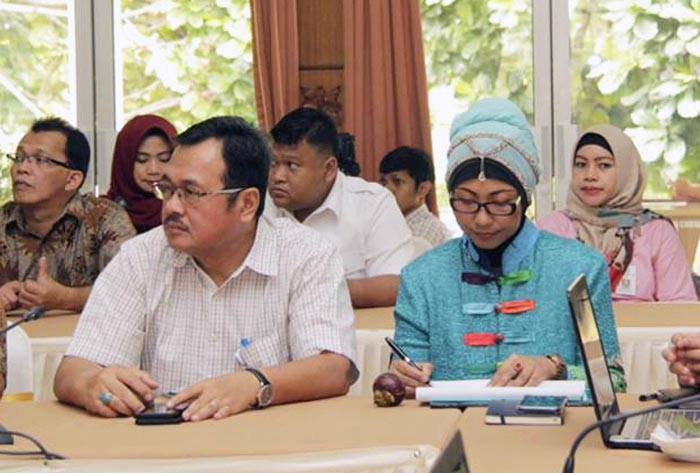 MINIMALISIR GAP: Kapuslatan Bustanul Arifin Caya (depan kiri) dan Kapusdiktan Idha Widi Arsanti (kanan) pada kunjungan Mentan Andi Amran Sulaiman di PPMKP Ciawi, awal Desember 2018 (Foto: Facebook)
Depok, Jabar (B2B) - Pemerintah RI mencanangkan 2019 sebagai ´Tahun SDM´ disikapi oleh Kementerian Pertanian RI, merancang kerjasama dengan dunia usaha dan dunia industri disingkat DuDi, untuk meningkatkan kesesuaian kebutuhan dan kompetensi SDM yang dihasilkan oleh lembaga pelatihan dan pendidikan, sehingga dapat meminimalisir ´gap kompetensi´ tersebut.
Hal itu dikemukakan oleh Kepala Pusat Pelatihan Pertanian (Puslatan) Bustanul Arifin Caya dan Ketua Forum Lembaga Sertifikasi Profesi (LSP) Darmansyah pada rapat ´rancang bangun kerjasama dengan DuDi di Depok, pekan lalu (10/1).
Bustanul AC mengatakan Badan Penyuluhan dan Pengembangan SDM Pertanian (BPPSDMP) siap mengimplementasikan kebijakan 2019 sebagai ´Tahun Pembangunan SDM´ antara lain melalui kerjasama dengan DuDi.
"Kami melihat adanya potensi besar dari DuDi melalui pelatihan vokasi dan sertifikasi untuk tenaga kerjanya. Contohnya di bidang Alsintan, ternyata masih banyak tenaga kerja seperti operator dan teknisi yang belum memiliki sertifikat kompetensi," kata Bustanul AC.
Menurutnya, DuDi harus mengambil peran sebagai pelopor pembangunan SDM, karena saat ini pemerintah di negara-negara maju ´berbagi peran´ dengan DuDi dalam investasi SDM.
Darmansyah mendukung langkah Puslatan BPPSDMP Kementan menggandeng DuDi lantaran masih terjadi ketidaksesuaian antara kebutuhan dan kompetensi SDM. "Kerjasama tersebut akan mempersempit gap kompetensi."
Depok of West Java (B2B) - Indonesian government launched 2019 as the Year of HR which was addressed by the Indonesian Agriculture Ministry, designing partnerships with business and industry or the DuDi to improve the suitability of HR needs and competencies.
It was stated by Director of Agriculture Training Center or the Puslatan, Bustanul Arifin Caya and Chairperson of the Professional Certification Institution Forum or LSP, Darmansyah at the meeting ´design and collaboration with business and industry here, last week (January 10).
Caya said the Directorate General of Extension and Agricultural HR Development or BPPSDMP ready to implement 2019 policy as the ´Year of HR Development´, among others, in collaboration with DuDi.
"We see the great potential of DuDi through vocational training and certification for its workforce. For example agricultural machinery, it turns out that there are many operators and technicians without competency certificates," Caya said.
According to him, DuDi must be a pioneer of HR development, because currently the government in developed countries is ´sharing roles´ with DuDi in developing HR.
Darmansyah supported the ministry´s move to cooperate with DuDi because there was still a mismatch between HR needs and competencies. "The collaboration will narrow the competency gap."