BPPSDMP Ubah `Mindset` Petani, Buruh Tani sebagai Job Creator dan Job Seeker
Indonesia Changed Mindset of Farmers as the Workers to Entrepreneurs
Editor : M. Achsan Atjo
Translator : Dhelia Gani

PUBLISHED: Kamis, 23 Mei 2019 , 06:48:00 WIB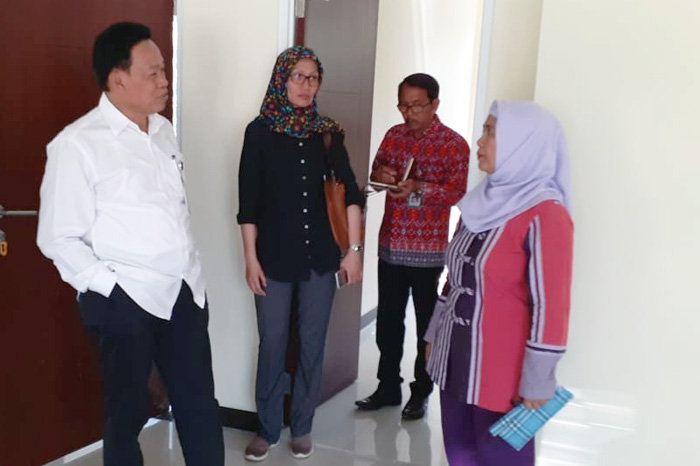 ASRAMA MAHASISWA: Kepala BPPSDMP Kementan, Momon Rusmono meninjau asrama mahasiswa disertai Wadir I Dr Ananti Yekti SP MP dan Kabag Umum, Irwan JS [batik merah] Foto: Sekretariat/Alief
Yogyakarta, DIY [B2B] - Kementerian Pertanian RI khususnya Badan Penyuluhan dan Pengembangan SDM Pertanian [BPPSDMP] harus mengubah mindset petani dari pekerja menjadi profesi. Petani juga tergolong wirausahawan dalam kelompok Usaha Mikro, Kecil dan Menengah [UMKM] sehingga layak disebut Job Creator. Ke depan, buruh tani masuk kelompok Job Seeker wajib menjalani pelatihan berbasis kompetensi untuk mengembangkan potensi sebagai operator Alsintan, penangkar benih, sekaligus pelaku budidaya tanaman.

"Mulai saat ini ubah mindset tentang petani sebagai wirausahawan dalam kelompok UMKM dan layak disebut sebagai job creator. Selama kita mendefinisikan petani dan buruh tani seperti sekarang, mohon maaf kok nggak maju-maju, maka kita yang harus mengubah mindset diikuti langkah sosialisasi hingga diterima publik dan para pengambil kebijakan," kata Kepala BPPSDMP Kementan, Momon Rusmono di Polbangtan YoMa kampus jurusan peternakan Magelang, Selasa [21/5] didampingi Direktur Polbangtan YoMa, Dr Rajiman.

Menurutnya, hal itu didasari pemikiran tentang filosofi petani sesungguhnya adalah wirausahawan UMKM, sejak dulu hingga saat ini, untuk disebut petani harus memiliki aset lahan; sarana produksi; jaringan distribusi dan pemasaran sebagaimana halnya syarat menjadi pengusaha, namun selama ini peranan petani di-marjinal-kan lantaran kepentingan pihak-pihak yang sekadar mencari untung dari petani.

Momon Rusmono akan berupaya mengubah mindset tersebut karena hal itu selaras dengan kebijakan Presiden Joko Widodo pada 2019 - 2024 adalah pengembangan SDM, yang dia awali dengan mengubah ikon BPPSDMP Kementan dari ´Pemberdayaan SDM Pertanian´ menjadi ´Pengembangan Job Creator dan Job Seeker´ sebagai fokus kegiatan dari ke-3 Pilar BPPPSDMP Kementan.
Begitu pula dengan buruh tani harus dipandang sebagai job seeker berbasis kompetensi, dengan memberi pelatihan kepada mereka untuk menguasai keterampilan terkait sektor pertanian seperti operator Alsintan, penangkar benih, ahli budi daya tanaman pangan/hortikultura/perkebunan sehingga akan mendukung kinerja petani sebagai pengusaha dan job creator di sektor pangan.
"Hal itu sesuai arahan Presiden Jokowi melakukan transformasi pendidikan, maka ikon BPPSDMP harus dinamis di era milenial untuk mengembangkan SDM pertanian sebagai job creator dan job seeker," katanya.
Tampak hadir Wakil Direktur I Polbangtan YoMa, Dr Ananti Yekti SP MP; Wadir III Teguh Susilo dan Kabag Umum, Irwan Johan Sumarno. [Alief/IJS]
Jakarta [B2B] - Indonesian´s Agriculture Ministry must change the farmers mindset from workers to profession. Farmers are also classified as entrepreneurs in micro, small and medium enterprises [UMKM] so it´s worthy of being called a Job Creator. Looking ahead, farm laborers categorized Job Seeker shall undergo a competency-based training to develop the potential as operators of agricultural machinery, seed, and crop cultivation.
"From now on, change the mindset about farmers as entrepreneurs and deserve to be called a job creator. As long as we define farmers and farm workers as they are now, they will never develop then we have to change the mindset followed by socialization steps to be accepted by the public and policy makers," said Director General of Agricultural HR Development, Momon Rusmono here, Tuesday [May 21].
According to him, it was based on the philosophy of farmers actually being SME entrepreneurs, from the past until now, to be called farmers must have land assets; production facilities; distribution and marketing networks as well as the requirements to become entrepreneurs, but so far the role of farmers has been marginalized because of the interests of the parties who are merely seeking profits of farmers.
Similarly, farm workers must be seen as competency-based job seekers, by training them to be skilled as agricultural laborers such as agricultural machinery operators, seed grower, expert of crop cultivation so that it will support performance of farmers as entrepreneurs and job creators in food sector.

"According to President Jokowi´s direction to transform education, the icon of BPPSDMP must be dynamic in the millennial era to develop agricultural human resources as job creators and job seekers," Rusmono said.