Widyaiswara Antusias Ikuti ToT Smart Farming yang Dibuka Mentan di Bogor
Indonesia Binuang`s Agricultural Training Center Enthusiastically Attend ToT
Editor : Kemal A Praghotsa
Translator : Dhelia Gani

PUBLISHED: Rabu, 26 Januari 2022 , 07:31:00 WIB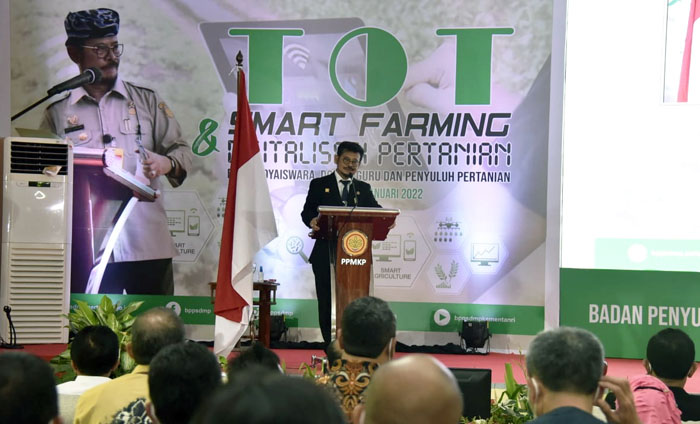 BBPP BINUANG: Mentan Syahrul Yasin Limpo mengingatkan bahwa kegiatan ToT tentang Smart Farming merupakan pemberdayaan petani milenial melalui pengembangan pertanian digital dari hulu ke hilir, yang bertujuan mengimplementasikan pertanian cerdas
Tapin, Kalsel [B2B] - Menteri Pertanian RI Syahrul Yasin Limpo membuka Training of Trainers [ToT] bertajuk Smart Farming dan Digitalisasi Pertanian di Bogor, Selasa [25/1], yang diikuti oleh widyaiswara, dosen, guru dan Penyuluh secara hibrid dari seluruh Indonesia.
Mentan Syahrul mengatakan kegiatan ToT tentang Smart Farming merupakan pemberdayaan petani milenial melalui pengembangan pertanian digital dari hulu ke hilir, yang bertujuan mengimplementasikan pertanian cerdas dengan penerapan digitalisasi pertanian.
"Program Smart Farming diharapkan dapat meningkatkan produktivitas hasil pertanian dalam upaya meningkatkan ketahanan pangan dan pemulihan ekonomi nasional sebagai dampak pandemi Covid-19," katanya.
Sementara Kepala Badan Penyuluhan dan Pengembangan SDM Pertanian [BPPSDMP] Dedi Nursyamsi menyatakan bahwa setiap program pembangunan pertanian harus diawali peningkatan agenda intelektual SDM Pertanian yang terdiri dari penyuluh, petani P4S dan petani milenial di seluruh pelosok tanah air.
"Sektor pangan selalu menjadi perhatian di setiap negara. Pemerintah telah berupaya memenuhi kebutuhan pangan rakyat dan menjaga ketahanan pangan di antaranya melalui pemberdayaan petani, mendorong petani milenial, peningkatan produktivitas dan penggunaan teknologi," kata Dedi Nursyamsi.
Menurutnya, konsep Smart Farming 4.0 memberi jalan keluar bagi petani dalam menghadapi tantangan perubahan iklim. Caranya, dengan menggunakan alat sensor dan aplikasi, yang memberikan informasi yang dapat membantu petani untuk meningkatkan produksi pertanian, termasuk mengurangi pemakaian pupuk dan air.
"Konsep tersebut menjadi dasar menciptakan aplikasi mobile yang berbasis teknologi pertanian, untuk membantu pencatatan sistem bertani, memilih pedoman budidaya, serta penanganan dan pengolahan pertanian yang baik," kata Dedi Nursyamsi.
Dia menambahkan peningkatan efisiensi pertanian dengan lebih mudah dan hemat namun dapat menghasilkan panen secara maksimal, disamping itu petani juga lebih mudah mendapatkan mitra dan pasar yang tepat.
Kepala BBPP Binuang, Yulia Asni Kurniawati menambahkan bahwa pihaknya mengerahkan para widyaiswara untuk mengikuti ToT, agar informasi dan pengetahuan yang didapat bisa diimplementasikan dalam bentuk pelatihan.
"Untuk diperlukan capacity building bagi widyaiswara dan penyuluh tentang smart farming menjawab tantangan masa depan," kata Yulia AK. [Susma/irfan/Agus]
Tapin of South Borneo [B2B] - Indonesian government to increase number of agricultural extension workers to support the farmers to increase agricultural production, develop farmer organizations, utilize technological innovations, access banking capital, and other resources to support food self-sufficiency and improve farmers´ welfare, according senior official of the Agriculture Ministry.