BBPP Ketindan Tingkatkan Kompetensi Petani dan Penyuluh di Era 4.0
Indonesian Agricultural Extensionist should Increase the Competence
Editor : M. Achsan Atjo
Translator : Dhelia Gani

PUBLISHED: Selasa, 08 Oktober 2019 , 07:09:00 WIB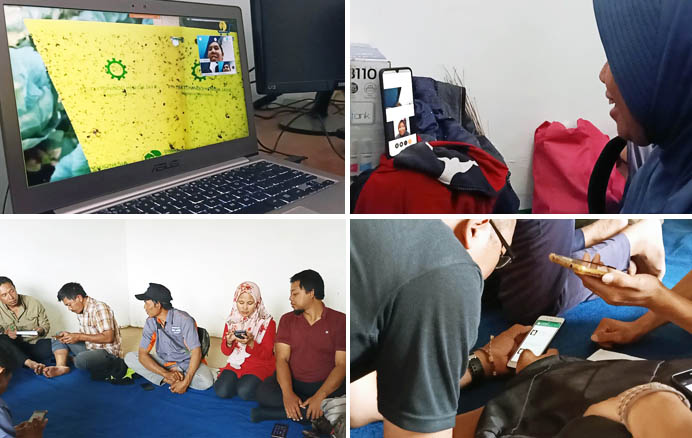 ON THE JOB TRAINING: Keseluruhan peserta berbagi kelompok bersama responden yang semuanya adalah petani di Kecamatan Sukapura atau berasal dari tiga desa di Sukapura [Foto2: Humas BBPP Ketindan]
SUKSES DAN MAJU berada dalam 'genggaman tangan' akan menjadi fenomena dan kebutuhan, selayaknya seseorang bersosialisasi melalui media sosial di era industrialisasi 4.0.
Hal itu pula yang dikedepankan oleh Balai Besar Pelatihan Pertanian di Malang, Jawa Timur [BBPP Ketindan] mendukung petani tampil sebagai sosok andal, maju, berdaya saing dan update dapat terwujud karena teknologi informasi langsung diakses tanpa harus tatap muka, atau menyediakan ruang dan waktu secara khusus.
Hilangnya sekat waktu dan jarak serta tempat yang selama ini menjadi kendala kemajuan pertanian terpangkas dengan pemanfaatan teknologi informasi dan komunikasi [TIK].
Seperti halnya yang dilakukan oleh peserta pelatihan metodologi penyuluhan berbasis data dan TIK dalam kegiatan on the job training (OJT) ke Balai
Penyuluhan Pertanian [BPP] di Kecamatan Sukapura, Kabupaten Probolinggo, Provinsi Jawa Timur.
Keseluruhan peserta berbagi kelompok bersama responden yang semuanya adalah petani di Kecamatan Sukapura atau berasal dari tiga desa di Sukapura.
Kegiatan praktek atau on the job training oleh peserta adalah aplikasi dari ilmu yang telah diterima oleh peserta baik secara online maupun offline.
"Peserta mendapatkan teori dan praktik tentang tiga hal yaitu pembuatan daftar hadir online, kuisioner online dengan Google form dan meeting room webex," kata Kepala BPP Sukapura, Rahman.
Materi yang saling berkaitan ini secara bertahap diajarkan, kemudian dipraktikkan peserta hingga memahami pentingnya ketiga materi tersebut.
Menurut Rahman, kegiatan OJT ini sangat bermanfaat bagi petani dan terutama juga penyuluh sebagai pendamping petani.
"Mau tidak mau semua harus bisa mengikuti kemajuan teknologi. Ada ilmu serta teknologi baru yang bisa diserap oleh penyuluh dan petani," katanya kepada Humas BBPP Ketindan, Yeniarta.
Terbatasnya waktu OJT, membuat beberapa responden merasa kurang dalam diskusi. Menurut salah satu peserta meeting room dan materi lainnya sangat bermanfaat dalam kegiatan diskusi di tengah kepadatan aktivitas mereka sebagai petani.
"Pemanfaatan meeting room sebagai pengganti pertemuan yang biasa mereka lakukan bersama penyuluh maupun kelompok tani lainnya bisa sering mereka lakukan dengan mudah melalui teknologi digital," kata seorang peserta. [Yeni]
INDONESIAN agricultural HR competencies especially agricultural extensionist became the focus of attention of Directorate General of Extension and Agricultural HR Development at the Agriculture Ministry or the BPPSDMP because extension is very vital to move farmers to improve their organizational and management skills through farmer groups.