5.000 Pedagang Sayur Siap Pasok Bopunjur #pertaniantidakpernahberhenti
Indonesian Agriculture Ministry Anticipate Covid-19 by Weaker Health Systems
Reporter : Gusmiati Waris
Editor : Cahyani Harzi
Translator : Dhelia Gani

PUBLISHED: Kamis, 02 April 2020 , 08:12:00 WIB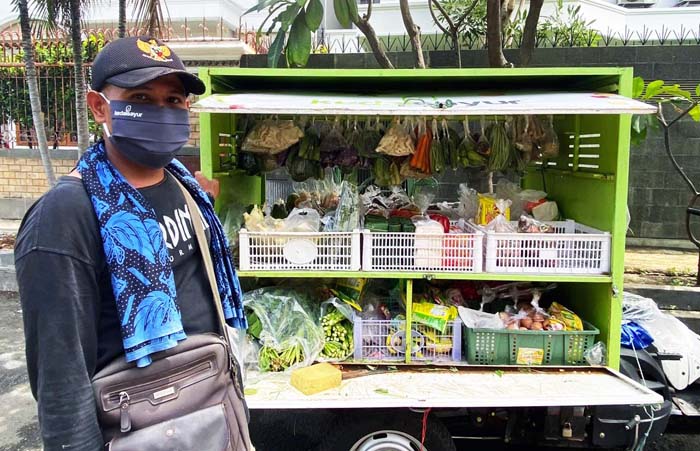 Pendiri KSI, Ahmad Supriyadi menegaskan saat ini ada 5.000 pedagang sayur gerobak yang menjadi mitranya dalam mendistribusikan produk pertanian yang dipesan masyarakat melalui aplikasi online [Foto: Humas BPPSDMP]
Cianjur, Jabar [B2B] - Kedai Sayur Indonesia [KSI] memastikan sekitar 5.00 mitra pedagang sayur gerobak maupun sepeda motor siap mengantarkan aneka produk sayuran segar yang dipasarkan melalui perusahaannya maupun SubTerminal Agribisnis [STA] untuk wilayah Jawa Barat khususnya Bogor, Puncak, Cianjur dan sekitarnya [Bopunjur]. Sementara 385 petani mitra STA untuk memasok kebutuhan sayuran untuk memasok kepada mitra KSI sehingga meringankan beban masyarakat terhadap kebutuhan pangan rumah tangga.
Hal itu dikemukakan pendiri KSI, Ahmad Supriyadi dan Direktur Utama STA, Sandi Octa Susila menyikapi instruksi Menteri Pertanian Syahrul Yasin Limpo [SYL] dan Kepala BPPSDMP Kementan, Prof Dedi Nursyamsi agar para petani memberikan solusi atas kebutuhan pangan rumah tangga di tengah ancaman wabah virus Corona. Petani harus memastikan bahwa mereka tetap bekerja sesuai Protokol Kewaspadaan WHO untuk menangkal Covid-19.
Sandi OS mengatakan bahwa 385 petani binaannya di Kabupaten Cianjur tetap produktif meski diintai virus Corona, untuk memasok produk pertanian ke STA, untuk memastikan kebutuhan pangan masyarakat tetap tersedia dan kesejahteraan keluarga petani.
"STA juga bekerjasama dengan platform digital e-Commerce dari KSI agar lebih mudah bagi petani untuk menjual hasil pertaniannya sehingga dapat langsung dibeli oleh masyarakat. STA sudah koordinasi dan siap on going," katanya.
Dia mengakui, pandemi global Covid-19 turut berdampak pada petani, salah satu ikhtiarnya adalah membantu petani agar mendisrupsi rantai pasok untuk dijual langsung melalui pedagang sayur yang menjadi mitra KSI.
Pendiri KSI, Ahmad Supriyadi menegaskan bahwa saat ini sudah ada 5.000 pedagang sayur gerobak atau lapak yang menjadi mitranya dalam mendistribusikan produk pertanian yang dipesan oleh masyarakat melalui aplikasi.
"Kami bekerjasama dengan STA karena kami melihat usaha agribisnisnya sudah maju. Petani yang dibinanya telah sukses men-supply aneka produk sayuran segar yang dipasarkan melalui perusahaannya maupun STA-nya untuk wilayah Jabar khususnya wilayah Cianjur, Bogor," dan sekitarnya.
Menurutnya, dalam situasi ketika masyarakat diminta berdiam dan bekerja dari rumah maka tidak perlu lagi ke luar rumah untuk belanja kebutuhan pangan rumah tangga, cukup pesan online melalui aplikasi. [Cha]
Cianjur of West Java [B2B] - Indonesia´s Agriculture Ministry is in intensive care after testing positive for the novel coronavirus, as civil servants in head office and across the country were ordered to close over the health threat. The World Health Organization has said it is particularly concerned about high-risk nations with weaker health systems, which who may lack the facilities to identify cases, according to official of the region.