TeFa SMKN-PP, SMKN 1 Pacet `Referensi` Kapusdik Kembangkan Kemitraan DuDi
Indonesian Govt Developing the Teaching Factory for Agricultural Education
Editor : M. Achsan Atjo
Translator : Dhelia Gani

PUBLISHED: Senin, 23 September 2019 , 07:05:00 WIB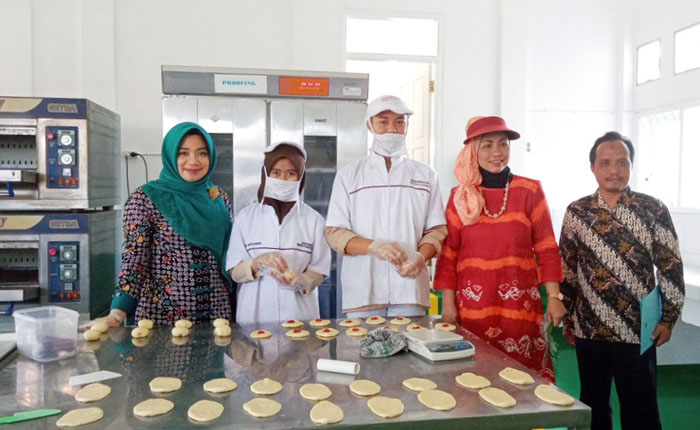 INDUSTRI MAKANAN: Kepala Pusdiktan, Idha Widi Arsanti [gaun merah] dan Kabid Kelembagaan dan Ketenagaan, Inneke Kusumawaty [kiri] bersama pimpinan dan pelajar SMKN 1 Pacet [Foto: Humas Pusdiktan]
Cianjur, Jabar [B2B] - Pengembangan pendidikan vokasi pertanian pada siswa-siswi SMKN 1 Pacet di Kabupaten Cianjur, Provinsi Jawa Barat diakui dunia internasional dan menjadi pemasok komoditas pangan untuk mitra dunia usaha dan dunia industri [DuDi], hal itu mendorong Kementerian Pertanian RI menjadikannya sebagai referensi pengembangan SMK pertanian binaan Pusat Pendidikan Pertanian [Pusdiktan BPPSDMP Kementan] di seluruh Indonesia.
"Kegiatan TEFA di SMKN 1 Pacet ini dapat menjadi referensi bagi pengembangan SMK Pertanian di beberapa wilayah di Indonesia," kata Kepala Pusdiktan, Idha WA kepada Kankan Sukanda selaku Wakil Kepala Sarana dan Prasarana dari Teaching Factory [TeFa] di SMKN 1 Pacet dalam kunjungan kerja pada Jumat [20/9].
Idha WA mengapresiasi capaian SMKN 1 Pacet khususnya pengembangan TeFa untuk mempersiapkan SDM profesional, mandiri dan berdaya saing, dan akan menjadi mitra penting Pusdiktan dalam membangun jejaring pendidikan vokasi pertanian dari unit pelaksana teknis [UPT] pendidikan dari BPPSDMP Kementan.
Menurutnya, Pusdiktan BPPSDMP Kementan saat ini mengelola dan mengembangkan program pendidikan tinggi vokasi pertanian pada tujuh Polbangtan dan pendidikan menengah kejuruan pertanian pada tiga SMKN-PP di Sembawa, Banjarbaru dan Kupang serta membina 84 SMK-PP dan SMK bidang keahlian agribisnis dan agroteknologi milik pemerintah daerah dan swasta/yayasan.
Sebagaimana diketahui, SMKN 1 Pacet merupakan partisipan the 44th International Food and Beverage Exhibition [FoodEx Japan 2019] mewakili Indonesia yang berlangsung di Makuhari Masse Hall, Chiba pada 5 - 8 Maret 2019 yang diikuti 90 negara. SMKN 1 Pacet dalam eksibisi tersebut menampilkan hasil produksi TeFa, khususnya makanan dan minuman.
SMKN 1 Pacet juga telah mengirimkan guru produktif pertanian ke Korea Selatan pada Maret 2019, untuk meningkatkan mutu pendidikan, khususnya pengembangan tenaga pendidik dan kependidikan. SMKN 1 Pacet juga mitra Dudi, sebagai pemasok utama PT Known-You Seed dan CV Bambang Family Dairy.
"Pengakuan dunia internasional dan DuDi di tanah air terhadap SMKN 1 Pacet menjadi rujukan pengembangan TeFa di Polbangtan dan SMKN PP binaan Pusdiktan," kata Kapusdik Idha WA yang akrab disapa Santi didampingi Kabid Kelembagaan dan Ketenagaan Pusdiktan, Inneke Kusumawaty; dan Kasubbid Kurikulum dan Sistem Pembelajaran, Yudi Astoni. [Kodrat]
Cianjur of West Java [B2B] - Indonesian Agriculture Ministry developing integrate learning process with production and entrepreneurship for Agricultural Development Polytechnic or the Polbangtan through teaching factory or the TeFa by the Directorate General of Extension and Agricultural HR Development or the BPPSDMP, according to the senior official of the agriculture ministry.