Produk Segar, Carrefour Berniat Gandeng Polbangtan Penuhi Kebutuhan SDM Spesialis
Indonesia`s Carrefour Needs Specialists in Processing Agricultural Products
Editor : M. Achsan Atjo
Translator : Dhelia Gani

PUBLISHED: Rabu, 20 Februari 2019 , 08:54:00 WIB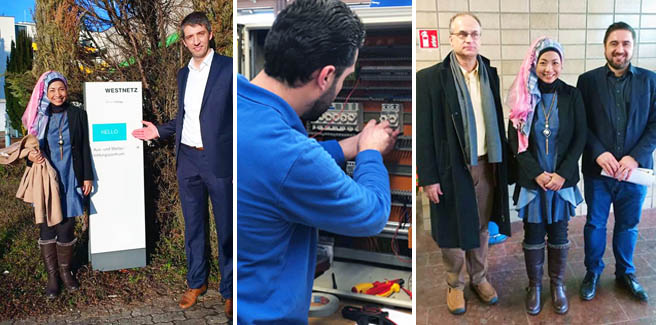 SISWA MAGANG: Kepala Pusdiktan BPPSDMP Kementan, Idha Widi Arsanti mengunjungi Westnetz, salah satu perusahaan yang menerapkan pendidikan vokasi di Jerman (Foto2: Pribadi)
Trier, Jerman (B2B) - Carrefour menghadapi kendala merekrut kebutuhan tenaga kerja spesialis pengolahan produk segar pertanian, hal itu mendorong Kementerian Pertanian RI berniat menggandeng PT Trans Retail Indonesia menjadi mitra usaha dan industri bagi Politeknik Pembangunan Pertanian (Polbangtan) untuk praktik kerja dan magang mahasiswa maupun penyaluran lulusan menjadi tenaga spesialis di Carrefour.
Hal itu diutarakan oleh Talent Acquisition Specialist Regional Operation PT Trans Retail Indonesia, Sumarni kepada Kepala Pusat Pendidikan Pertanian (Pusdiktan - BPPSDMP) Idha Widi Arsanti di sela kunjungan di Industrie und Handelskaemmer atau Kamar Dagang dan Industri Jerman (Kadin) Jerman di Kota Terier, Senin (19/2).
"Carrefour kesulitan mencari spesialis pengolahan produk pertanian, terutama yang ahli menangani produk segar dan pengolahan produk pertanian baik sayuran, buah, maupun produk-produk peternakan," kata Sumarni seperti dikutip Idha WA melalui pesan singkat WA, Selasa (19/2).
Gayung bersambut, kata Kapusdiktan Idha WA, potensi supply and demand di bidang pengolahan produk pertanian dapat dikerjasamakan dalam waktu dekat dengan Carrefour melalui MoU kerjasama.
"Duduk bersama merumuskan road map dan juga melibatkan berbagai sektor terutama Kadin dalam konteks link and match sektor pertanian tersebut," kata Idha WA yang akrab disapa Santi.
Seperti diberitakan sebelumnya, Idha WA mengikuti kegiatan studi banding di Jerman yang melibatkan unsur pemerintah, swasta, dan Kadin. Kunjungan dilakukan di Kadin Jerman. Tujuannya, untuk mengetahui efektivitas dari konsep pendidikan link and match, pendidikan politeknik dengan dunia usaha dan industri disingkat DuDi.
"Pusdiktan di BPPSDMP yang bertanggung jawab pada pengelolaan Polbangtan berupaya melakukan terobosan, untuk meningkatkan minat generasi muda kembali ke pertanian melalui pendidikan politeknik pertanian, dengan melakukan link and match Polbangtan dan DuDi," katanya.
Menurutnya, link and match yang akan dikembangkan Pusdiktan adalah mengadopsi beberapa best practises di Jerman, yang telah menerapkan sistem pendidikan ganda sejak puluhan tahun lalu. Tim Pusdiktan pun menyambangi Kadin Jerman di Trier, yang mengembangkan ´pendidikan ganda´ dengan melibatkan para pemangku kepentingan dari pemerintah, Kadin, sektor swasta DuDi.
Wakil Ketua Kadin bidang Ketenagakerjaan, Anto Supit menambahkan bahwa konsep pendidikan vokasi pertanian harus segera dimulai dengan benchmarking penerapan vokasi di Jerman, disinergikan dengan kearifan lokal sehingga dapat menghasilkan model yang spesifik untuk Indonesia. (Iwa)
Trier of Germany (B2B) - The Carrefour Indonesia has difficulty recruiting specialists in processing fresh agricultural products, the agriculture ministry invites Trans Retail Indonesia, Carrefour owners in Indonesia become partners of Agricultural Development Polytechnic or Polbangtan for work practice, internship programs, and Polbangtan graduates to become specialists at Carrefour.
It was stated by the Talent Acquisition Specialist Regional Operation of Trans Retail Indonesia, Sumarni to the Director of Agriculture Education Center, Idha Widi Arsanti here on Monday (February 19).
"Carrefour has been struggling to find specialists in the agricultural sector, especially experts in handling fresh agricultural and livestock products," Sumarni said as quoted by Arsanti via a WA short message on Tuesday (February 19).
Good news, Arsanti said, the potential demand and supply of processing fresh agricultural products can be immediately signed with Carrefour through a memorandum of understanding (MoU).
"Formulating a joint roadmap involving various sectors, especially Kadin, related to the link and match of the agricultural sector," Arsanti said.
As previously reported, Arsanti participated in a comparative study in Germany involving government, private and Kadin elements. The goal, to find out the effectiveness of the concept of education link and match with the business and industry.
"The Pusdiktan responsible for the management of the Polbangtan is trying to make a breakthrough, to attract the interest of the younger generation back to farming through agricultural polytechnic education, with links and matches for Polbangtan and DuDi," she said.
According to her, the link and match of Pusdiktan is adopting best practices in Germany that have developed dual education system since decades ago.
Deputy Chairperson of Kadin for Manpower, Anto Supit said the concept of agricultural vocational education must begin with vocational benchmarking in Germany, align with local wisdom as a specific Indonesian model.