Prof Dedi Nursyamsi Pimpin Halal Bihalal Virtual BPPSDMP Kementan
Indonesia`s Agricultural Human Resources Support Food Self-sufficiency
Editor : M. Achsan Atjo
Translator : Dhelia Gani

PUBLISHED: Rabu, 27 Mei 2020 , 08:57:00 WIB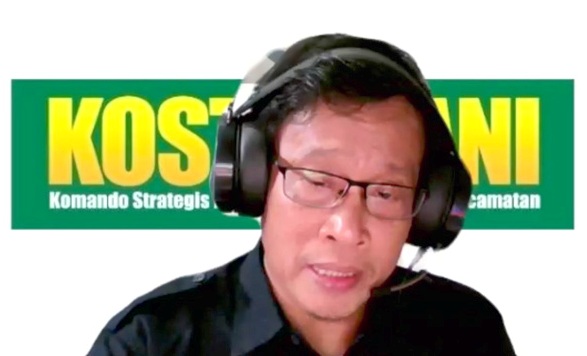 TIGA PILAR: Kepala BPPSDMP Kementan, Prof Dedi Nursyamsi memimpin halal bihalal secara virtual dengan seluruh jajarannya di seluruh Indonesia [Foto: Humas Pusluhtan]
Jakarta [B2B] - Kinerja positif dan capaian ´Tiga Pilar` SDM Pertanian didukung penyuluh dan unit pelaksana teknis [UPT] di seluruh Indonesia di tengah pandemi Covid-19 diapresiasi Prof Dedi Nursyamsi, Kepala Badan Penyuluhan dan Pengembangan SDM Pertanian - Kementerian Pertanian RI [BPPSDMP] saat memimpin halal bihalal [HBH] secara virtual dengan seluruh jajaran di seluruh Indonesia.
"Kita harus menunjukkan kinerja positif dan capaian maksimal, walaupun terjadi refocusing anggaran karena pandemi Covid-19, BPPSDMP mampu melaksanakan fungsi penyuluhan, pelatihan dan pendidikan secara maksimal," katanya pada HBH virtual melalui Agriculture Operation Room [AOR] BPPPSDMP di Jakarta, Selasa [26/5].
Tiga Pilar SDM Pertanian dimaksud adalah Pusat Penyuluhan Pertanian [Pusluhtan], Pusat Pelatihan Pertanian [Puslatan], Pusat Pendidikan Pertanian [Pusdiktan] tetap melaksanakan kegiatan penyuluhan on cloud, pelatihan webinar dan pendidikan online yang melibatkan partisipasi aktif UPT. Didukung penyuluh pertanian pusat dan daerah, petani milenial, widyaiswara, praktisi pusat pelatihan pertanian dan pedesaan swadaya [P4S], mahasiswa dan para dosen di seluruh Indonesia.
"Terima kasih kepada semua pihak yang telah bekerja sama bahu-membahu mendukung pengembangan SDM pertanian. Apresiasi pada Pusluhtan, Puslatan dan Pusdiktan melalui kegiatan penyuluhan online, webinar, dan distant learning. Juga UPT yang memberikan bantuan sosial kepada saudara-saudara kita yang terdampak pandemi Covid-19," kata Dedi Nursyamsi didampingi Sekretaris BPPSDMP Siti Munifah di AOR BPPSDMP.
Kegiatan HBH online dihadiri Kapusluh Leli Nuryati; Kapuslat Bustanul AC; Kapusdik Idha Widi Arsanti; sejumlah pejabat eselon tiga dan empat BPPSDMP serta para pimpinan UPT.
Prof Dedi Nursyamsi mengingatkan tentang hasil rapat pimpinan [Rapim] dengan Menteri Pertanian RI Syahrul Yasin Limpo. Pertama, Kementan mendorong ´gerakan ketahanan pangan nasional´ yang mengusung visi dan misi bahwa dalam kondisi apa pun, pangan harus tersedia bagi seluruh rakyat dari Sabang sampai Merauke.
"Tidak boleh tergantung impor. Indonesia harus mampu menyediakan pangan sendiri, dan seluruh keluarga harus mampu menyediakan pangan bagi rumah tangganya. Kapan saja dan dimana saja harus digalakkan gerakan menanam sedini mungkin," katanya mengutip instruksi Mentan Syahrul.
Kedua, diversifikasi pangan lokal maka seluruh insan pertanin khususnya jajaran BPPSDMP harus mengutamakan pangan lokal, karena sangat berlimpah dan harus didorong melalui budidaya secara serentak.
"UPT BPPSDMP Kementan di daerah harus mempelopori pemanfaatan pangan dan sayuran lokal untuk mendukung stop pangan impor, dengan menggerakkan konsumsi pangan lokal," kata Prof Dedi Nursyamsi.
Jakarta [B2B] - The first working day after Islam´s most important holiday with optimism by the civil servants in Indonesian agriculture ministry. Indonesian Agriculture Minister, Syahrul Yasin Limpo invited all the ranks in the ministry across the country to support increased agricultural production, a key indicator that people can buy basic commodities at affordable prices, so there is no commotion as food prices rise.