13.111 Pendaftar, Pendidikan Vokasi Picu Daya Saing SDM Pertanian
Agricultural Vocational Education is in Demand by Indonesia`s Young Generation
Editor : M. Achsan Atjo
Translator : Dhelia Gani

PUBLISHED: Senin, 04 Februari 2019 , 08:07:00 WIB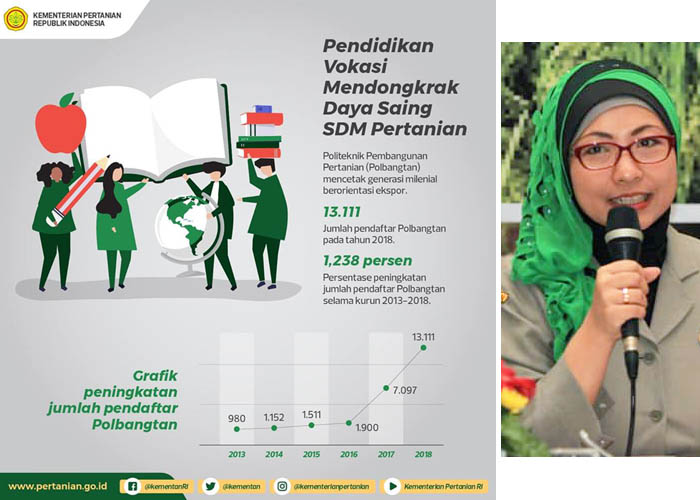 PEMINAT MENINGKAT: Kapusdiktan Idha Widi Arsanti (Infografis & Foto: Facebook)
Jakarta (B2B) - Transformasi Sekolah Tinggi Penyuluhan Pertanian (STPP) menjadi Politeknik Pembangunan Pertanian (Polbangtan) menarik minat 13.111 lulusan sekolah lanjutan tingkat atas (SLTA) dari seluruh Indonesia untuk mendaftar tahun perkuliahan 2018/2019, atau meningkat 1.238% ketimbang periode 2013 - 2017.

Infografis yang di-posting Kepala Pusat Pendidikan Pertanian (Pusdiktan) Idha Widi Arsanti melalui akun media sosialnya mengurai tentang penerimaan mahasiswa STPP di seluruh Indonesia pada 2013 mencapai 980 pendaftar, 1.152 orang pada 2014.

Meningkat menjadi 1.511 pendaftar pada 2015, dan meningkat ke 1.900 pendaftar setahun kemudian, pada 2016, lalu meningkat lebih tiga kali lipat pada 2017 menjadi 7.097 orang, dan naik drastis ke 13.111 orang pendaftar pada 2018.

Sebagaimana diberitakan B2B pada 24 November 2018, Menteri Pertanian RI Andi Amran Sulaiman menegaskan hal yang sama tentang 13.111 lulusan SLTA sederajat dari seluruh Indonesia mendaftar ke Polbangtan, yang merupakan unit pelaksana teknis (UPT) dari Badan Penyuluhan dan Pengembangan SDM Pertanian (BPPSDMP) Kementan.

"Kami sudah laporkan pada Presiden tentang hasil transformasi STPP ke Polbangtan. Harus diakui, STPP kurang diminati lulusan SLTA, tes masuk tahun lalu hanya diikuti 980 orang. Alhamdulillah, pendaftar tes masuk Polbangtan sampai 13.111 orang. Naik 1200 persen dari peminat STPP 2017," kata Mentan Amran Sulaiman kepada pers di Jakarta, Jumat petang (23/11).

Menurutnya, pengembangan pendidikan vokasi memang menjadi fokus Presiden Jokowi untuk meningkatkan daya saing bangsa, khususnya SDM pertanian yang inovatif mengacu pada kebutuhan industri global.
Jakarta (B2B) - Transformation of Indonesian Agricultural Extension College or the STPP into the Agricultural Development Polytechnic called the Polbangtan attracted the interest of 13.111 senior high school graduates across the country to register for the 2018/2019 lecture year, or increased of 1,238% compared from 2013 to 2017.

Infographics posted by Director of Agricultural Education Center Idha Widi Arsanti through her social media account revealed about the acceptance of STPP students in 2013 it reached 980 registrants, 1,152 in 2014.

Increased to 1,511 registrants in 2015, and increased to 1,900 registrants a year later, in 2016, and increased more than threefold in 2017 to 7.097 registrants, and rose sharply to 13.111 registrants in 2018."

Previously reported, Agriculture Minister Andi Amran Sulaiman said the Polbangtan attracted interest of 13.111 high school graduates across the country compared to enthusiasts of STPP in 2017 or an increase more than 1200%.

"We have reported to the president about transformation of STPP into Polbangtan. Admittedly, STPP was less attractive, last year´s entrance examination was only attended by 980 people," Minister Sulaiman told the press here on November 23, 2018.

According to him, development of vocational education is indeed the focus of President Widodo to increase competitiveness of younger generation, especially innovative agricultural HR refers to the needs of global industry.