Presiden Turki Erdogan jadi Pendamping Pernikahan Mesut Ozil
Turkish President Erdogan is Best Man at Mesut Ozil`s Istanbul
Editor : Ismail Gani
Translator : Novita Cahyadi

PUBLISHED: Sabtu, 08 Juni 2019 , 20:50:00 WIB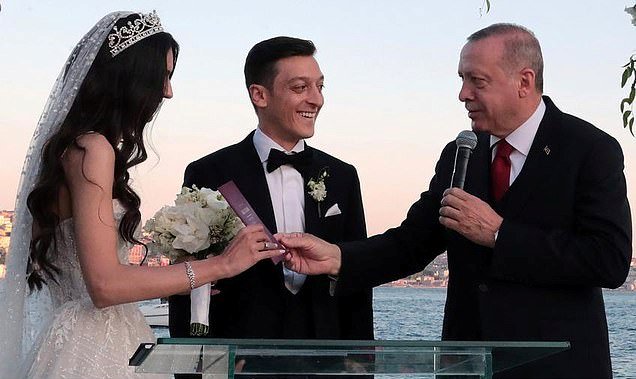 Presiden Turki Recep Tayyip Erdogan [kanan] bersama Mesut Ozil dan istrinya, mantan Miss Turki Amine Gulse [Foto: MailOnline]
MESUT OZIL menikah di Istambul hari ini dengan kejutan atas kehadiran Presiden Turki Recep Tayyip Erdogan sebagai pendampingnya.
Mesut Ozil yang berusia 30 tahun, keturunan Turki, memicu kontroversi tahun lalu ketika ia berfoto dengan Erdogan, menimbulkan pertanyaan tentang kesetiaan pemain inti timnas Jerman pada malam pembukaan Piala Dunia 2018 yang membawa bencana.
Pemimpin Turki itu tiba di sore hari untuk upacara pernikahan Jumat sore waktu setempat di sebuah hotel mewah di tepi Bosphorus untuk melihat mantan gelandang Arsenal itu menikahi tunangannya, mantan Miss Turki Amine Gulse.
Setelah 92 kali tampil untuk Jerman, termasuk peran kunci dalam kemenangan Piala Dunia 2014, Ozil tiba-tiba mundur dari timnas Jerman Juli lalu, seraya menuding ofisial sepakbola Jerman melakukan rasisme.
Ozil mengumumkan pada Maret bahwa dia telah meminta Erdogan untuk menjadi pendampingnya.
Kanselir Jerman Angela Merkel turut mengritik undangan dari Ozil kepada Presiden Erdogan.
Helge Braun, politisi Jerman mengatakan kepada surat kabar Bild saat itu bahwa langkah tersebut 'membuat publik sedih' bahwa Ozil akan membuat langkah seperti itu meskipun telah dikritik tajam oleh publik Jerman atas pertemuan pertamanya dengan Erdogan.
Ozil berkencan dengan Gulse sejak 2017 dan pasangan ini mengumumkan pertunangan mereka pada Juni 2018.
Pemain sepak bola profesional ini adalah generasi ketiga asal Turki yang bermukim di Jerman, memicu badai politik ketika dia berfoto bersama Erdogan Mei lalu.
Kritik meningkat setelah Jerman sebagai juara bertahan Piala Dunia 2014 tersingkir dari putaran pertama Piala Dunia di Rusia.
Setelah kegagalan Piala Dunia, Ozil mengumumkan pengunduran dirinya dari timnas Jerman, dengan mengatakan: "Saya orang Jerman ketika kami menang, seorang imigran ketika kami kalah."
Erdogan sering menghadiri pernikahan di Turki dengan selebritas, yang secara khusus ia lakukan selama kampanye pemilihan presiden.
Kehadirannya di perkawinan Ozil terjadi menjelang pemilihan walikota di Istanbul pada 23 Juni, yang diperlukan setelah pemungutan suara asli pada Maret dibatalkan setelah kemenangan sempit bagi oposisi utama Partai Rakyat Republik seperti dilansir MailOnline.
MESUT OZIL was married in Istanbul today with Turkish President Recep Tayyip Erdogan as his best man.
The 30-year-old Ozil, who has Turkish family roots, sparked controversy last year when he was photographed with Erdogan, raising questions about the footballer's loyalty to Germany on the eve of their disastrous 2018 World Cup campaign.
The Turkish leader arrived in the early evening for Friday's ceremony at a luxury hotel on the banks of the Bosphorus to see the former Arsenal midfielder marry his fiancee, former Miss Turkey Amine Gulse.
After 92 appearances for Germany, including a key role in the 2014 World Cup victory, Ozil suddenly quit the national squad last July, accusing German football officials of racism.
Ozil announced in March that he had asked Erdogan to be his best man.
German Chancellor Angela Merkel's chief of staff was part of a chorus of criticism of the invitation.
Helge Braun, a CDU told the Bild newspaper then that it 'makes one sad' that Ozil would make a such a move despite having already been sharply criticised by the German public over his first meeting with Erdogan.
Ozil has dated Gulse since 2017 and the couple announced their engagement in June 2018.
The footballer, a third-generation German, whipped up a political storm when he was pictured alongside Erdogan last May.
Criticism intensified after the red-faced defending champions crashed out of the first round of the World Cup in Russia.
In the wake of the World Cup fiasco, Ozil announced his resignation from the national squad, saying: 'I am German when we win, an immigrant when we lose'.
Erdogan often attends marriages in Turkey of celebrities, whom he particularly seeks out during election campaigns.
His presence at Ozil's marriage comes ahead of a mayoral election in Istanbul on June 23, required after the original voting in March was annulled following a narrow victory for the main opposition Republican People's Party.