Panen TeFa, Polbangtan YoMa Buktikan Petani DIY Tetap Produktif
Indonesian Agriculture Anticipate Covid-19 by Weaker Health Systems
Editor : M. Achsan Atjo
Translator : Dhelia Gani

PUBLISHED: Sabtu, 25 April 2020 , 00:38:00 WIB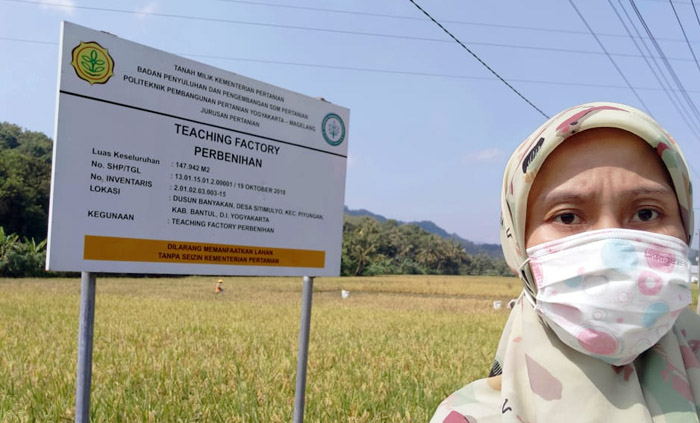 Bantul, DIY - Perbenihan tanaman pangan khususnya padi menjadi salah satu materi utama pembelajaran bagi mahasiswa jurusan pertanian dari kampus politeknik pertanian Yogyakarta - Magelang, Polbangtan YoMa.
Kegiatan perbenihan padi Polbangtan YoMa dipusatkan pada lahan Teaching Factory [TeFa] di Dusun Banyakan, Desa Sitimulyo, Kecamatan Piyungan, Kabupaten Bantul, DI Yogyakarta [DIY]. Lahan TeFa Polbangtan YoMa luasnya 147.942 m2 bisa disebut sebagai 'sawah abadi' lantaran dimiliki negara melalui Kementerian Pertanian RI.
"Hasil pembelajaran perbenihan padi kemudian dipanen oleh mahasiswa bersama petani penggarap dan buruh tani di lahan TeFa Sitimulyo, seperti yang kami lakukan hari ini sekaligus membuktikan bahwa pertanian di DIY tetap produktif di tengah pandemi Covid-19," kata Wakil Direktur I Polbangtan YoMa, Dr Ananti Yekti usai panen, Kamis pagi [23/4].
Menurutnya, Mentan Syahrul Yasin Limpo mengingatkan saat ini Indonesia seperti halnya banyak negara di dunia sedang dalam 'kondisi darurat' akibat pandemi Covid-19, maka pejabat pemerintah khususnya di sektor pertanian harus hadir menyelamatkan 267 juta jiwa penduduk.
"Karena itu, pada masa pandemi Covid-19 ini saatnya pemerintah bergerak untuk membantu dan meyakinkan bahwa kondisi akan baik-baik saja," katanya mengutip arahan Mentan.
Dr Ananti Yekti kegiatan panen di lahan TeFa berlangsung dengan menerapkan Protokol Kesehatan menangkal virus Corona dilaksanakan oleh petani saat panen padi varietas IR 64.
"Pembelajaran di Tefa adalah metode pembelajaran yang menyediakan jasa atau produk yang mengacu pada prosedur dan standar dunia industri serta diterapkan sesuai situasi industri, termasuk di TeFa perbenihan," kata Dr Ananti Yekti.
Menurutnya, Kepala BPPSDMP Prof Dedi Nursyamsi juga berpesan agar mahasiswa Polbangtan YoMa dapat menjadi penggerak pertanian di tempat asal masing-masing setelah lulus kelak, khususnya di bidang perbenihan.
Ananti Yekti menambahkan bahwa Polbangtan YoMa terus berupaya mencetak sarjana terapan berkompetensi di bidang perbenihan, karena kebutuhan petani akan benih unggul menjadi peluang bagi industri benih sekaligus mendukung peningkatan produktivitas pangan pokok. [IJS]
Yogyakarta [B2B] - Indonesia´s Agriculture Ministry is in intensive care after testing positive for the novel coronavirus, as civil servants in head office and across the country were ordered to close over the health threat. The World Health Organization has said it is particularly concerned about high-risk nations with weaker health systems, which who may lack the facilities to identify cases, according to senior official of Indonesian Agriculture Ministry.