YESS Gandeng IPB Cetak Generasi Milenial Pertanian melalui TeFa
Millennial Farmers are the Target of Developing Indonesian Agricultural HR
Editor : M. Achsan Atjo
Translator : Dhelia Gani

PUBLISHED: Rabu, 17 Juni 2020 , 00:46:00 WIB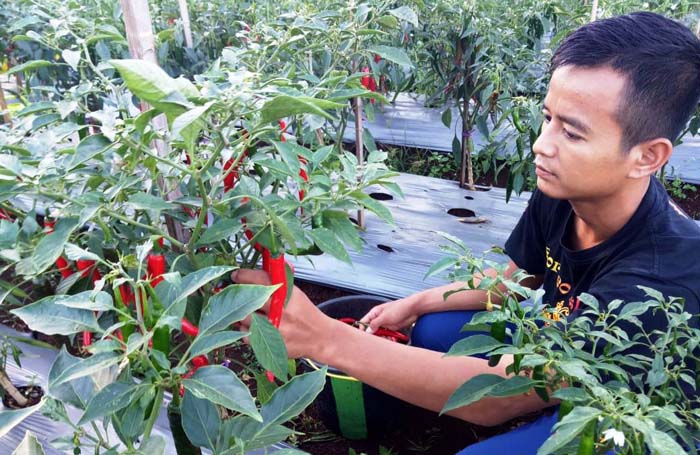 DUNIA INDUSTRI: IPB mengembangkan rancang bangun konsep standarisasi TeFa meliputi konsep tata ruang, tata letak dan tata kelola TeFa pada Polbangtan dan SMK PP yang selaras dengan kebutuhan [Foto: Humas Pusdiktan]
Jakarta [B2B] - Kementerian Pertanian RI menggandeng Institut Pertanian Bogor [IPB] untuk melakukan kajian studi dan rancangan standar untuk mengembangkan rancang bangun konsep standarisasi Teaching Factory dan Teaching Farm [TeFa] bagi Politeknik Pembangunan Pertanian [Polbangtan] dan Sekolah Menengah Kejuruan - Pembangunan Pertanian [SMK PP] di lokasi Program Youth Entrepreneurship and Employement Support Services Programme [YESS].
Direktur Program YESS, Idha Widi Arsanti mengatakan pemenuhan kebutuhan pangan ke depan membutuhkan dukungan pertanian sektor pertanian yang efektif, efisien dan transparan melalui pengembangan petani milenial yang maju, mandiri dan modern untuk menjawab tantangan global.
"Pertanian harus didukung kalangan milenial sebagai pencetak lapangan kerja di sektor pangan. Pemerintah berupaya melakukan regenerasi petani sekaligus melahirkan pengusaha muda pertanian yang berdampak sosial dan ekonomi bagi masyarakat," kata Idha WA yang juga menjabat Kepala Pusat Pendidikan Pertanian [Pusdiktan BPPSDMP].
Menurutnya, IPB mengembangkan rancang bangun konsep standarisasi TeFa meliputi konsep tata ruang, tata letak dan tata kelola TeFa pada Polbangtan dan SMK PP yang selaras dengan kebutuhan dunia usaha dan dunia industri [DuDi]. Hal itu untuk mendukung penyiapan calon wirausahawan muda dan tenaga kerja pertanian yang kompeten, andal dan profesional.
"Kajian awal menyasar pada kelompok Penumbuhan Wirausahawan Muda Pertanian atau PWMP dan saat ini masih melakukan usaha taninya," kata Kapusdik Idha WA.
Menurutnya, salah satu program utama menggerakkan kreatifitas generasi milenial untuk berkarya dan berwirausaha di sektor pertanian melalui YESS, yang dibiayai oleh International Fund for Agricultural Development [IFAD].
"Wirausahawan sangat penting dalam pembangunan pertanian" kata Menteri Pertanian RI Syahrul Yasin Limpo dalam berbagai kesempatan. Pasalnya, nilai tambah ekonomi itu terdapat pada pengolahan [processing] yang dikombinasi jiwa wirausaha dan kemampuan mengakses pasar, pemodalan sehingga nilai tambah komoditas pertanian meningkat menjadi 100% bahkan 200%.
Arahan tersebut digarisbawahi Kepala BPPSDMP Prof Dedi Nursyamsi yang mengharapkan Program YESS akan mewujudkan regenerasi pertanian. Dengan demikian, pertanian akan menjadi lapangan kerja menarik, prospektif dan menguntungkan serta mendukung penurunan pengangguran di pedesaan.
"Program YESS menarik, karena berupaya memberdayakan para pemuda tani untuk memanfaatkan sumberdaya alam pertanian di perdesaan secara optimal, professional, menguntungkan dan berkelanjutan," kata Dedi Nursyamsi. [Vtr]
Jakarta [B2B] - Indonesian Agriculture Ministry encourages agricultural training activities support the strategic program of the ministry by developing a self-help agricultural training center in the countryside, and on-the-job training in food production centers, according to senior official.