Pusdiktan BPPSDMP Tingkatkan Penelitian Inovasi dan Teknologi Pangan
Indonesian Govt Support Universities to Develop Exciting Packaged Local Food
Editor : M. Achsan Atjo
Translator : Dhelia Gani

PUBLISHED: Kamis, 16 Juli 2020 , 01:24:00 WIB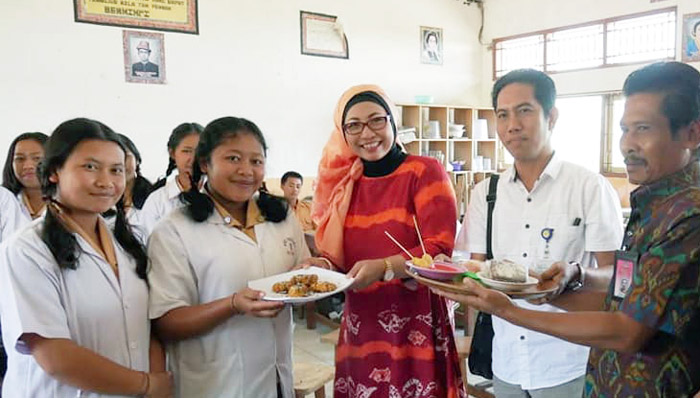 PANGAN LOKAL: Kapusdik Idha WA [ke-3 kanan] mengapresiasi inovasi dari diversifikasi pangan lokal siswa pendidikan vokasi pertanian [Foto: Humas Pusdiktan]
Jakarta [B2B] - Perguruan tinggi vokasi pertanian binaan Kementerian Pertanian RI terus melakukan penelitian inovasi dan pengembangan teknologi pangan, antara lain diversifikasi pangan pengganti beras bergizi melalui ´ekstraksi buah naga pada pembuatan fettucini, dengan kombinasi tepung terigu dan tepung cassava, yang dilakukan Polbangtan Gowa.
Penelitian serupa dilakukan Polbangtan Bogor untuk meminimalisir kadar gula di tubuh dari bahan pangan bervitamin dan bergizi dengan meneliti ´potensi anti diabetes dalam yogurt probiotik yang ditambahkan kayu manis, lidah buaya dan biji klabet´.
Kepala Pusat Pendidikan Pertanian [Pusdiktan BPPSDMP] Idha Widi Arsanti memastikan bahwa kegiatan penelitian strategis tersebut didukung oleh literasi. "Literasi tidak hanya membaca atau menulis, juga bagaimana kita mengolah dan mengomunikasikan hasil pembelajaran tersebut sehingga bermanfaat bagi masyarakat."
Sebagai negara agraris, kata Kapusdik Idha WA, Indonesia merupakan negara subur yang dapat ditanami sepanjang tahun. Ketahanan pangan dan kedaulatan pangan nasional harus bertumpu pada sumberdaya pangan lokal yang mengandung keragaman antardaerah, harus hindari ketergantungan pada pemasukan pangan.
"Diversifikasi pangan merupakan upaya mendorong masyarakat agar tidak fokus dan bergantung pada satu makanan pokok. Diversifikasi pangan juga bermanfaat mendapat nutrisi dari sumber gizi beragam seimbang, yang sangat diperlukan meningkatkan imunitas tubuh di pandemi Covid-19," kata Idha WA pada kesempatan terpisah.
Menurutnya, langkah Pusdiktan mendorong UPT di seluruh Indonesia sejalan dengan instruksi Menteri Pertanian RI Syahrul Yasin Limpo bahwa Indonesia adalah negara agratis. Pertanian adalah solusi kehidupan dimana selama manusia hidup membutuhkan pangan yang dihasilkan sektor pertanian.
"Ada dua hal yang tidak bisa ditinggalkan pada setiap periodenya. Pertama, kewajiban mewujudkan kedaulatan pangan dan yang kedua, kedaulatan pangan tidak bermakna bila pelakunya tidak sejahtera," kata Kapusdik Idha WA mengutip arahan Mentan Syahrul.
Kepala BPPSDMP Dedi Nursyamsi menggarisbawahi bahwa kunci sukses pembangunan pertanian adalah SDM pertanian baik sebagai pelaku utama, pelaku usaha dan para pemangku kepentingan lainnya.
"SDM pertanian andal dan berkualitas merupakan ujung tombak kedaulatan pangan. Semua lini pelaku pertanian harus bahu membahu, demikian pula dosen," katanya pada kesempatan terpisah.
Kapusdik Idha WA kembali mengulas tentang literasi digital mendukung pengembangan SDM pertanian berkualitas, karena tidak bisa dipungkiri untuk berkreasi dan inovasi memerlukan referensi, terlebih di tengah pandemi Covid-19 sangat perlu mengakses perpustakaan khususnya literasi digital.
"Penelitian dapat bermanfaat bagi masyarakat luas, walaupun penelitian di fase New Normal, dengan adaptasi digital seperti literasi digital, hasilnya tentu tidak mengurangi manfaat bagi banyak pihak," katanya. [Vtr]
Jakarta [B2B] - Indonesia is very rich in local variety of food and should be presented interesting, so it has the allure to increase its value added, because food diversification is an important issue of Indonesia´s food security development. The diversity of local food presented well to be interesting. The first strategy is to improve processing, especially how to process local foodstuffs across the country to attract consumers, according to the senior official of the agriculture ministry.