BPPSDMP Komitmen Dukung Kementan Pertahankan `Opini WTP` dari BPK
Indonesia Agriculture Ministry Declared Obey Government Accounting Standards
Reporter : Gusmiati Waris
Editor : Cahyani Harzi
Translator : Dhelia Gani

PUBLISHED: Selasa, 21 Januari 2020 , 14:59:00 WIB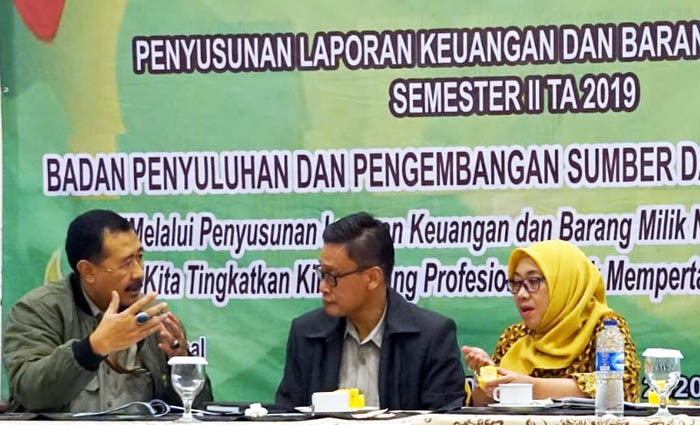 LAPORAN KEUANGAN: Inspektur I Itjentan, Susanto [kiri] berbincang dengan Kepala BPPSDMP Kementan, Prof Dedi Nursyamsi didampingi Sekretaris BPPSMP Siti Munifah [Foto: Humas BPPSDMP/Esapt]
Bogor, Jabar [B2B] - Sejumlah pejabat berkompeten dari Kementerian Keuangan RI dan Inspektorat Jenderal Kementerian Pertanian RI [Itjentan] hadir sebagai narasumber pada workshop peningkatan kapasitas pengelola keuangan lingkup BPPSDMP Kementan, yang dibuka oleh Prof Dedi Nursyamsi pada Senin [20/1] didampingi Sekretaris BPSDMP Siti Munifah; Kapusluh Leli Nuryati dan Inspektur I Itjentan, Susanto. Kegiatan workshop dijadwalkan berlangsung hingga Jumat [24/1].
"Saya berharap, penyusunan laporan keuangan bisa diselesaikan dengan sebaik-baiknya. Hasil yang baik ... apa itu ... ??? WTP .. ya ... WTP ... wajar tanpa pengecualian," kata Kepala BPPSDMP Prof Dedi Nursyamsi.
Sebagaimana diketahui, Opini WTP dari Badan Pemeriksa Keuangan [BPK] adalah pernyataan profesional pemeriksa mengenai kewajaran informasi keuangan yang disajikan dalam laporan keuangan yang didasarkan pada empat kriteria yakni kesesuaian dengan standar akuntansi pemerintahan, kecukupan pengungkapan (adequate disclosures), kepatuhan terhadap peraturan perundang-undangan, dan efektivitas sistem pengendalian internal.
"Jadi kita semua bertekad bahwa status WTP dapat tetap kita pertahankan, dan membuktikan bahwa Kementan melakukan pengelolaan keuangan secara excellent," kata Dedi Nursyamsi pada workshop bertajuk ´Penyusunan Laporan Keuangan dan Barang Milik Negara Semester II TA 2019 yang diikuti pejabat dan staf pengelola keuangan di BPPSDM Kementan dan unit pelaksana teknis [UPT] di seluruh Indonesia.
Inspektur I Itjentan, Susanto mengatakan bahwa Kementan berupaya meraih kembali Opini WTP dari BPK pada 2019, setelah berhasil meraih Opini WTP tiga kali berturut-turut sejak 2016, maka Itjentan berupaya mendorong satuan kerja [Satker] Eselon Satu, termasuk BPPSDMP Kementan menuntaskan penyusunan laporan keuangan, dengan menyelesaikan sesegera mungkin rekomendasi pengawasan ItJenTan khususnya perbaikan manajemen dan upaya pencegahan terjadinya kerugian negara.
"Opini WTP adalah hasil kerja keras kita menyusun laporan keuangan untuk peningkatan manajemen dan upaya pencegahan terjadinya kerugian negara," kata Susanto. [Esapt]
Bogor of West Java [B2B] - Indonesian Agriculture Ministry seeks to regain ´Unqualified Opinion´ [WTP] in 2018, so the inspectorate general [ItjenTan] seeks to encourage the work units in the ministry to complete audit findings, by completing as soon as possible recommendations for supervision of ItJenTan in particular management improvements and efforts to prevent state losses, according to according to senior officials of the ministry.