Dies Natalis ke-68, SMKPP Kementan Refleksi Kinerja Organisasi
Millennial Farmers Development are the Target of Indonesia`s SMKPPN Sembawa
Editor : Kemal A Praghotsa
Translator : Dhelia Gani

PUBLISHED: Sabtu, 18 November 2023 , 15:07:00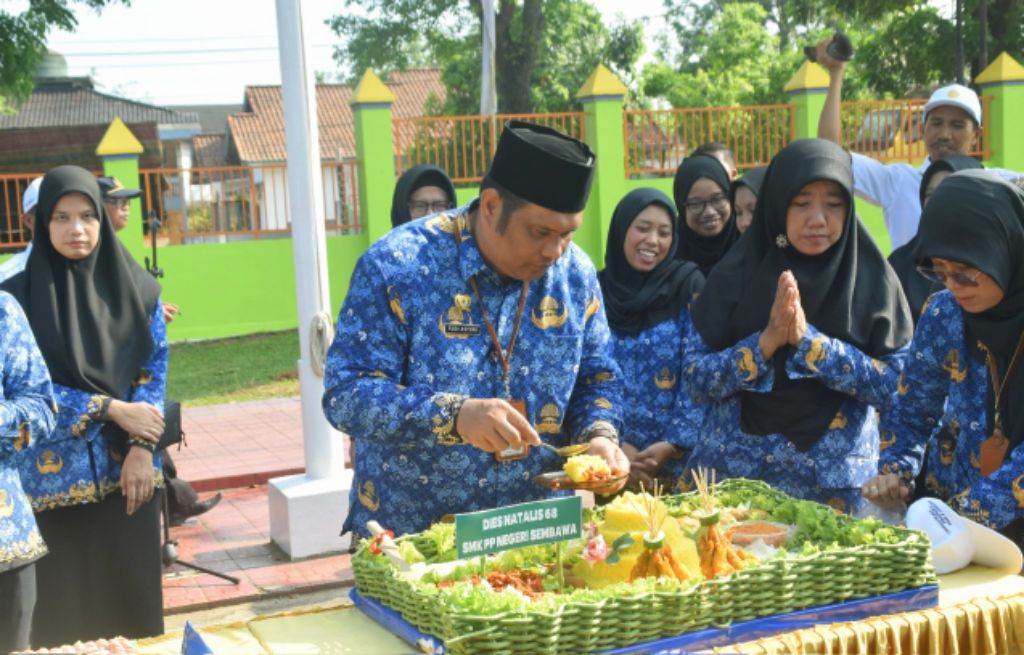 SMKPPN SEMBAWA: Kepala SMKPPN Sembawa, Yudi Astoni memotong nasi tumpeng Dies Natalis ke-68 didampingi jajarannya dan disaksikan para siswa di Banyuasin, Sumsel.
Banyuasin, Sumsel [B2B] - Sekolah Menengah Kejuruan Pertanian Pembangunan Negeri Sembawa [SMK-PP] yang merupakan UPT dari Badan Penyuluhan dan Pengembangan SDM Pertanian - Kementerian Pertanian RI [BPPSDMP] pada 2023 memasuki usia ke-68 pada Jumat [17/11].
SMK PP Negeri Sembawa telah menjadi sekolah kejuruan yang maju dan berkembang pesat, serta menjadi sekolah yang mulai tumbuh sebagai sekolah yang berbasis usaha dan industri.
Peringatan Dies Natalis ke-68 pada 2023, tidak hanya menjadi ajang seremonial rutin tahunan saja, akan tetapi diharapkan manjadi bahan untuk refleksi dan membangun sekolah kejuruan yang maju, mandiri, dan modern. SMK PP Negeri Sembawa berfokus pada regenerasi petani melalui pengembangan job creator dan job seeker.
Kepala BPPSDMP Kementan, Dedi Nursyamsi mendukung penuh upaya SMKPP dan Polbangtan dalam menyiapkan SDM petani yang andal.
"Termasuk dengan memberikan pelatihan dari hulu ke hilir terhadap para siswa dan mahasiswa untuk lebih berkompeten dalam bidangnya," kata Dedi Nursyamsi.
Sementara, Kepala SMK PP Negeri Sembawa Yudi Astoni mengatakan siswa SMKPP Sembawa tidak hanya dibekali soal pengetahuan, sikap, dan keterampilan, juga kemampuan softskill harus dimiliki oleh siswa serta alumni.
"Hal itu selaras dengan komitmen SMKPPN Sembawa untuk mencetak generasi muda pertanian Indonesia guna mendukung program dari Kementan" jelas Yudi.
Kegiatan Dies Natalis ke-68 diisi dengan kegiatan bersama seluruh civitas akademica SMKPPN Sembawa untuk meningkatkan keakraban berupa jalan santai, senam sehat, lomba senam kreasi, lomba duet karoeke, upacara Kesadaran nasional, pemotongan tumpeng dan pelepasan balon udara, serta motivasi kerja dalam organisasi.
Yudi Astoni mengatakan Dies Natalis ke-68 harus menjadi refleksi baik bagi guru, karyawan serta siswa untuk menjadikan lembaga lebih maju.
"Untuk guru terus meng-upgrade diri untuk menyajikan pembelajaran sesuai dengan teknologi yang menyenangkan bagi siswa," katanya lagi.
Untuk karyawan, kata Yudi, bagaimana terus memberikan pelayanan prima bagi pelanggan SMKPPN Sembawa. Untuk siswa terus mau belajar meng-upgrade diri, terus mempersiapkan diri dalam mencapai cita-citanya." tegas Yudi.
Dies Natalis juga menghadirkan narasumber, untuk kegiatan sapa pegawai dengan tema ´Motivasi Kerja dalam Organisasi´ dengan mengundang mantan Kepala SPP SPMA Sembawa, Meldi Sartono, yang memberikan motivasi agar meniatkan kerja sebagai ibadah dan bersyukur.
"Dengan mengingat akan manfaat pekerjaan kita bagi orang lain, memberi semangat pada orang lain. Cintai pekerjaan, dan kerjakan pekerjaan dengan rasa tanggung jawab." kata Meldi. [titin/timhumas smkppnsembawa]
Banyuasin of South Sumatera [B2B] - The role of agricultural vocational education in Indonesia such as the the Agricultural Development Polytechnic or the SMKPPN to support Indonesian Agriculture Ministry seeks to maximize its efforts to produce millennial entrepreneur.
Youth Enterpreneurship And Employment Support Services Program or the YESS, to support Indonesian Agriculture Ministry seeks to maximize its efforts for the millennial entrepreneur.
Indonesian Agriculture Minister Andi Amran Sulaiman stated that the government´s commitment to developing agriculture, especially in the development of advanced, independent and modern agricultural human resources.
"The goal is to increase the income of farming families and ensure national food security. Farmer regeneration is a commitment that we must immediately realize," Minister Sulaiman said.
He reminded about the important role of vocational education, to produce millennial farmers who have an entrepreneurial spirit.
"Through vocational education, we connect campuses with industry so that Polbangtan graduates meet their needs and are ready for new things," Sulaiman said.