Harganya Mahal, Mentan SYL Bangga Kopi Blawan Disukai Pasar Jerman
Indonesia`s Blawan Coffee is Favored by German Consumers even though it is Expensive
Reporter : Gusmiati Waris
Editor : Cahyani Harzi
Translator : Dhelia Gani

PUBLISHED: Selasa, 21 Januari 2020 , 18:01:00 WIB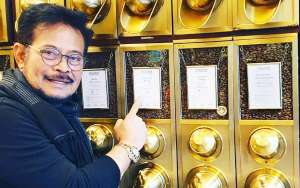 EKSPOR INDONESIA: Menteri Pertanian RI Syahrul Yasin Limpo [SYL] di depan tempat penyimpanan kopi dari seluruh dunia yang ditawarkan oleh Berliner Kaffeerösterei di Berlin, Jerman [Foto: Biro Humas Kementan]
Berlin, Jerman [B2B] - Menteri Pertanian RI Syahrul Yasin Limpo [SYL] menyatakan lebih bersemangat untuk meningkatkan ekspor komoditas pertanian, setelah mendapati kopi Blawan dari Indonesia dihargai tinggi sekitar 29,20 Euro [Rp450 ribuan] per kg, yang diketahuinya saat menyambangi Berliner Kaffeerösterei, toko kopi terkemuka di Berlin, Jerman di sela kegiatan 'Global Forum Food and Agriculture 2020' pekan lalu.
Mentan SYL mengaku bangga lantaran kopi Blawan dari dataran tinggi Ijen di Kabupaten Bondowoso, Provinsi Jawa Timur dijajakan di Berliner Kaffeerösterei, menawarkan aneka varian kopi dari seluruh penjuru dunia di antaranya Ethiopia, Kolombia, Australia, dan Indonesia.
"Melihat kopi kita dihargai dengan nilai tinggi tentu menjadi penyemangat untuk terus menggiatkan ekspor pertanian, termasuk untuk komoditas kopi. Ayo terus tingkatkan produktivitas dan kualitas produk kita, sehingga kita bisa merajai pasar dunia," katanya melalui keterangan pers dari Biro Humas Kementan.
Kopi Blawan memang terkenal dan diminati oleh warga Eropa. Selama ini 90% kopi produksi Blawan diserap pasar luar negeri seperti Belanda, Jerman, hingga Amerika Serikat.
Kopi yang ditanam di Perkebunan Blawan berjenis arabika. Kopi arabika dikenal memiliki rasa manis dan asam, serta terasa ringan saat diminum.
Sejak 2016, Kabupaten Bondowoso memang telah ditasbihkan oleh Bupati saat itu, Amin Said Husni, sebagai "Republik Kopi". Di Bondowoso terdapat tiga kebun kopi yaitu Kebun Jampit, Kebun Blawan, dan Kebun Pancor. Dari tiga kebun ini, dihasilkan kopi arabika bertaraf internasional yang terkenal dengan sebutan Java Coffee Jampit, Java Coffee Blawan, dan Java Coffee Pancoer.
Indonesia sendiri saat ini merupakan salah satu penghasil kopi terbesar di dunia setelah Brasil, Vietnam, dan Kolombia. Topografi tanah berbukit dengan gunung-gunung vulkanik membuat Indonesia dianugerahi tanah yang subur dan cocok ditanami kopi.
Selain kopi Blawan, Indonesia mempunyai beragam jenis kopi lainnya. Sebut saja kopi Gayo di Aceh, kopi Solok di Sumatra Barat, kopi Preanger di Jawa Barat, kopi Kintamani di Bali, kopi Toraja di Sapan, kopi Wamena di Papua, hingga kopi Bajawa di Flores.
Meskipun kopi Indonesia sudah merambah pasar internasional, Mentan SYL masih terus mendorong agar ekspor kopi Indonesia bisa terus ditingkatkan. Syahrul menargetkan pertumbuhan ekspor kopi bisa meningkat hingga tiga kali lipat sampai lima tahun ke depan. Untuk itu, dia meminta para produsen dari hulu dan eksportir untuk bekerja sama sehingga pertumbuhan ekspor kopi bisa sesuai target atau lebih.
"Harus dibantu oleh para pemangku kepentingan lainnya, eksportir, pengusaha hingga di level paling bawah untuk mengembangkan," kata Mentan SYL.
Berlin of Germany [B2B] - Indonesian Agriculture Minister Syahrul Yasin Limpo said he was proud while of his working visit in Berlin, Germany, found Blawan coffee from the Ijen plateau in East Java province sold at a high price, Blawan coffee price is 29.20 euros per kg.