81 Mahasiswa PTN di Sumatera Ikuti Bimtek PWMP Pusdiktan di Medan
Indonesian Govt Encourages of Farmers Regeneration through the PWMP
Editor : M. Achsan Atjo
Translator : Dhelia Gani

PUBLISHED: Kamis, 12 September 2019 , 19:50:00 WIB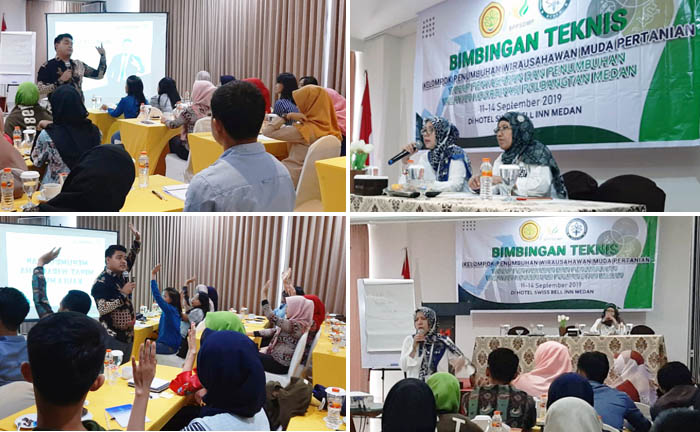 REGENERASI PETANI: Direktur Polbangtan Medan, Yuliana Kansrini [inset kanan] membuka Bimtek PWMP selama empat hari, dengan narasumber dari wirausahawan muda [Foto2: Humas Pusdiktan/Fika]
Medan, Sumut [B2B] - Sekitar 81 mahasiswa dan pelajar di Sumatera bagian utara mengikuti bimbingan teknis program Penumbuhan Wirausahawan Muda Pertanian [Bimtek PWMP] yang digelar oleh Pusat Pendidikan Pertanian [Pusdiktan BPPSDMP Kementan] di Medan selama empat hari [11 - 14 September] yang dibuka oleh Direktur Polbangtan Medan, Yuliana Kansrini pada Rabu [11/9] untuk pembekalan bagi calon pengusaha muda pertanian.
"Menjadi pengusaha saat ini sangat mudah. Cukup berbekal smartphone sudah bisa membuka toko online. Bisa promosi usaha melalui media sosial. Syaratnya tidak gaptek dan selalu update informasi maupun status," kata Direktur Yuliana Kansrini saat membuka Bimtek Penyadaran dan Penumbuhan PWMP wilayah koordinasi Polbangtan Medan.
Yuliana K menambahkan bahwa lulusan sarjana pertanian memiliki tugas yang mulia contohnya harus mampu menjadi pengusaha dan membuka lapangan pekerjaan bagi banyak orang [job creator].
"Ada tiga ciri pengusaha muda di era digitalisasi. Harus bisa melihat peluang bisnis, harus ada inovasi baru yang membuat bisnis tersebut berbeda, harus ada kreativitas dan keberanian untuk mengembangkan dan memajukan usahanya. Wirausahawan harus berani mengambil risiko. Berani mencoba hal baru. Tekad kuat kuat dan pantang menyerah. Inilah sikap mental yang perlu dibangun," kata Yuliana K.
Dalam berbagai kesempatan, Kabid Penyelenggaraan Pendidikan - Pusdiktan BPPSDMP Kementan, Ismaya NR Parawansa mengingatkan bahwa PWMP merupakan upaya Kementan meningkatkan minat pemuda dan sarjana mendukung pembangunan sektor pertanian.
"Strategi awal adalah mengubah stigma tentang pertanian bukan hanya budidaya tanaman padi di sawah, melainkan pengembangan sektor agribisnis hulu ke hilir yang membuka peluang kerja dan usaha," kata Ismaya NR Parawansa.
Strategi berikutnya, menumbuhkembangkan jiwa kewirausahaan di bidang pertanian agar para lulusan perguruan tinggi dari fakultas pertanian lebih tertarik menjadi job creator daripada job seeker.
Ke-70 peserta Bimtek PWMP berasal dari perguruan tinggi negeri [PTN] dam sekolah politeknik pertanian di Sumatera bagian utara mitra PWMP yakni Universitas Syiah Kuala (Aceh), Universitas Sumatera Utara (Medan), Universitas Andalas (Padang), Universitas Jambi, Universitas Bengkulu [Kota Bengkulu], Politeknik Pertanian Negeri Payakumbuh (Sumbar), SMK-PP Saree (Aceh) , SMK-PP Kutacane (Aceh), SMK-PP Bireun (Aceh), SMK-PP Padang, SMK-PP Padang Mangatas (Padang), dan Alumni Polbangtan Medan.
"Harapan dari kegiatan Bimtek adalah memberikan penyadaran dan penumbuhan wirausahawan muda pertanian dengan memanfaatkan teknologi. Siap memajukan usaha pertanian Indonesia hingga pasar internasional," kata Dwi Febrimeli, ketua panitia Bimtek.
Hadir mendukung kegiatan Bimtek adalah para wirausahawan muda, pengusaha sayur box, serta beberapa praktisi dan akademisi bidang pertanian dalam rangka mendorong percepatan partisipasi generasi muda dalam rangka pembangunan pertanian era 4.0. [Fika/Puji]
Medan of North Sumatera [B2B] - Indonesian Statistics Agency in 2010 reveals the agricultural sector accommodate 40 million national workforce (38%) and 14 million of them are young people 15 to 34 years, but now the interest of young people working in agriculture declined drastically because of stigma negative about jobs as farmers, while most agricultural graduate tend to work outside the agricultural sector, according to Indonesian senior official in the ministry.
Indonesian government through the Agriculture Ministry implement a several strategies to increase the interest of youth and scholars support agricultural sector development, initial strategy to change stigma about agriculture is not only cultivation in paddy fields, but development of agribusiness sector from subsistence upstream to downstream which opens opportunities for employment and business opportunities.