Melalui Fieldtrip, SMKPP Kementan Tumbuhkan Jiwa Agrosociopreneur
Millennial Farmers Development are the Target of Indonesia`s SMKPPN Sembawa
Editor : Kemal A Praghotsa
Translator : Novita Cahyadi

PUBLISHED: Sabtu, 28 Oktober 2023 , 20:24:00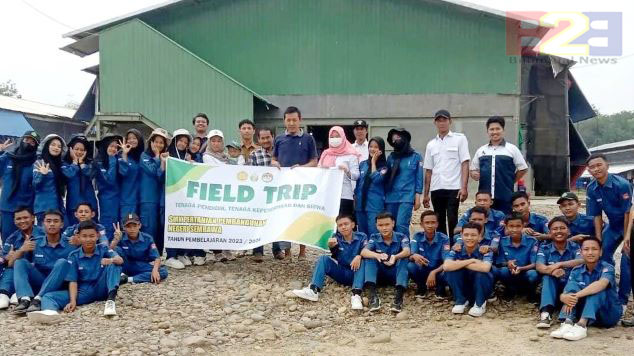 SMKPPN SEMBAWA: Siswa tingkat XI SMKPPN Sembawa dari empat prodi saat melaksanakan kegiatan Field Trip ke Dunia Usaha Dunia Industri.
Palembang, Sumsel [B2B] - Sebagai salah satu penyelenggara Pendidikan Vokasi Pertanian, SMK PP Negeri Sembawa berusaha membekali siswanya dengan pengetahuan tentang usaha tani agar siswa memiliki minat untuk menjadi agrosociopreneur.
Kepala Badan Penyuluhan dan Pengembangan SDM Pertanian [BPPSDMP], Dedi Nursyamsi mengatakan bahwa lulusan SMK PP harus bisa menjadi penggerak atau bahkan mampu memberikan peluang usaha ekonomi dengan membuka lapangan usaha khusunya di bidang pertanian.
"Lulusan yang menjadi Agrosociopreneur harus mampu menjadi motor penggerak di sektor pertanian. Memiliki mental yang tangguh dalam membangun kelembagaan dan jaringan usaha, sehingga punya daya saing dan respondif terhadap perubahan lingkungan" sebut Dedi.
Di penghujung tahun 2023 Siswa tingkat XI SMK PP Negeri Sembawa yang terdiri dari empat Program Studi melaksanakan kegiatan Field Trip ke Dunia Usaha Dunia Industri dalam rangkaian kegiatan selama sepekan 23-27 Oktober 2023.
Kepala SMK PP Negeri Sembawa Yudi Astoni menyampaikan tujuan filed trip adalah mengenalkan dunia usaha dunia industri secara dekat, sehingga siswa memahami tantangan untuk dapat menjadi job seeker dan job creator.
Yudi mengharapkan setelah melakukan kegiatan field trip diharapkan nantinya siswa bisa memiliki jiwa Agrosociopreneur serta dapat belajar bagaimana menjadi agrosociopreneur.
Wakil kepala bidang kurikulum dan pengajaran untuk program studi Agribisnis Tanaman Perkebunan [ATP] melaksanakan fieldtrip ke PTPN VII Cinta Manis, disana para siswa belajar tentang budidaya tebu untuk menghasilkan gula dari pembibitan, pemeliharaan dan panen.
"Untuk Program Studi Agribisnis Tanaman Pangan Hortikultura [ATPH] mengunjungi agrowisata nanas Prabumulih yang merupakan milik salah satu young ambassador Kementerian Pertanian Siska Antoni, disini siswa mempelajari budidaya nanas dan proses nanas sehingga bisa ekspor untuk produk turunan nanas." jelas Estri
"Prodi Agribisnis Ternak Unggas [ATU] dalam kegiatan field trip ini mengunjungi Nurul Farm Palembang untuk budidaya sapi dan kambing serta PT Semesta Mitra Sejahtera untuk budidaya ayam broiler." Kata Estri.
"Sedangkan prodi Agribisnis Pengolahan Hasil Pertanian [APHP] melakukan kunjungan di lokasi Sungai Benar Sungang I Kemplang Udang Marhawa Kec. Banyuasin untuk melihat pengolahan udang menjadi kerupuk dan turunan lainnya." tutup Estri.
Palembang of South Sumatera [B2B] - The role of agricultural vocational education in Indonesia such as the the Agricultural Development Polytechnic or the Polbangtan, to support Indonesian Agriculture Ministry seeks to maximize its efforts to produce millennial entrepreneur.

Youth Enterpreneurship And Employment Support Services Programme or the YESS, to support Indonesian Agriculture Ministry seeks to maximize its efforts for the millennial entrepreneur.

Indonesian Agriculture Minister Syahrul Indonesia Yasin Limpo stated that the government´s commitment to developing agriculture, especially in the development of advanced, independent and modern agricultural human resources.

"The goal is to increase the income of farming families and ensure national food security. Farmer regeneration is a commitment that we must immediately realize," Minister Limpo said.

He reminded about the important role of vocational education, to produce millennial farmers who have an entrepreneurial spirit.

"Through vocational education, we connect campuses with industry so that Polbangtan graduates meet their needs and are ready for new things," Limpo said.