Lintas Disiplin Ilmu, Siswa SMP Banyuasin Kunjungi SMKPPN Kementan
Millennial Farmers Development are the Target of Indonesia`s SMKPPN Sembawa
Editor : Kemal A Praghotsa
Translator : Dhelia Gani

PUBLISHED: Kamis, 02 November 2023 , 21:54:00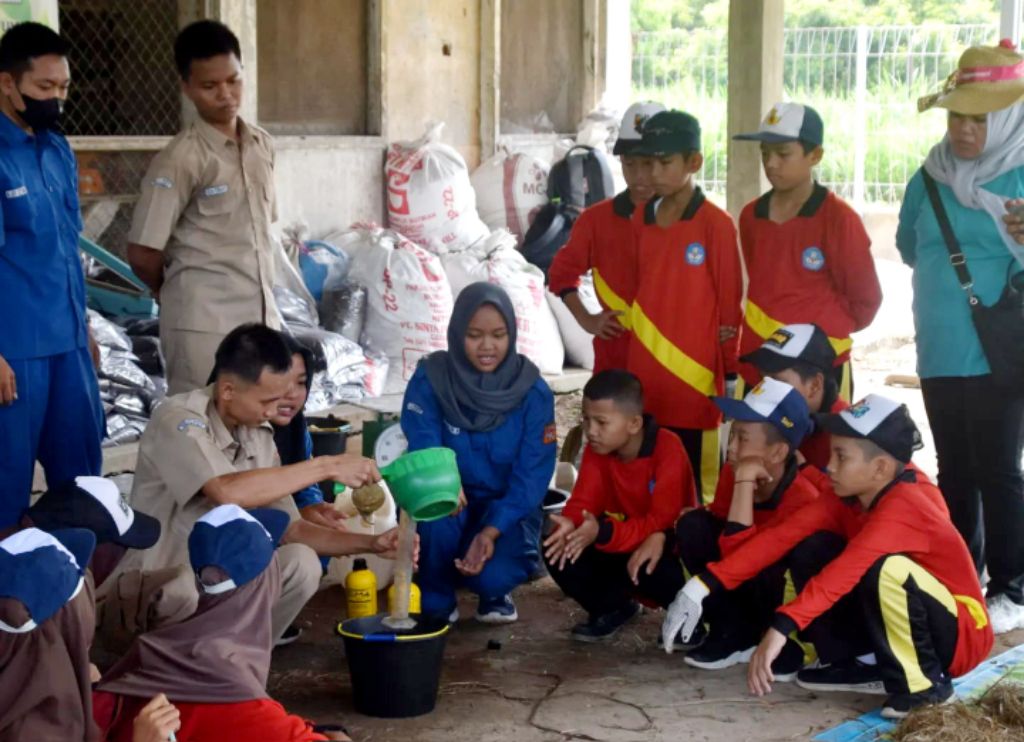 SMKPPN SEMBAWA: Kegiatan diikuti 217 siswa ini terdiri dari 7 rombongan belajar yang belajar di SMKPPN Sembawa selama dua hari, 1 - 2 November 2023.
Banyuasin, Sumsel [B2B] - Sebanyak 217 siswa SMP Negeri 2 Sembawa Banyuasin menyambangi SMK PP Negeri Sembawa dalam kaitan Proyek Penguatan Profil Pelajar Pancasila [P5] yang merupakan salah satu bagian dari implementasi Kurikulum Merdeka.
Tema P5 yang dipilih SMP Negeri 2 Sembawa adalah tentang Gaya Hidup Berkelanjutan, dimana di SMKPP Negeri Sembawa siswa dapat menggali ilmu tentang aplikasi dalam pembuatan pupuk kompos dari daun kering, perbanyakan tanaman dan kegiatan 3R di Bank Sampah SMKPPN Sembawa.
217 siswa ini terdiri dari 7 rombongan belajar yang belajar di SMKPPN Sembawa selama dua hari, 1 - 2 November 2023.
Projek penguatan profil pelajar pancasila, merupakan salah satu pembelajaran lintas disiplin ilmu untuk mengamati dan memikirkan solusi terhadap permasalahan di lingkungan sekitarnya.
Kepala Badan Penyuluhan dan Pengembangan SDM Pertanian (BPPSDMP) Kementan, Dedi Nursyamsi mengatakan bahwa guna mendukung pembangunan pertanian maju, mandiri dan modern, perlu dilakukan penyiapan, pencetakan SDM pertanian unggulan.
"Proses penyiapan SDM Pertanian harus terus dilakukan, sebagian dukungan proses pembangunan pertanian". sebut Dedi.
Tantangan tersebut dijawab oleh SMKPPN Sembawa yang selalu siap sedia menjadi sumber belajar khususnya bidang pertanian, dimana SMK PP Negeri Sembawa disambangi langsung oleh SMP Negeri 2 Sembawa dalam Implimentasi P5.
Kepala SMKPPN Sembawa, Yudi Astoni menyatakan menyambut baik kedatangan siswa-siswi dari SMP Negeri 2 Sembawa untuk sharing tentang bagaimana cara pemanfaatan sampah organik untuk menjadi pupuk kompos, pemanfaatan sampah anorganik untuk dapat digunakan kembali, serta perbanyakan tanaman yang akan dikembangkan di SMP Negeri 2 Sembawa, serta ucapan terima kasih telah memilih SMKPPN Sembawa sebagai sumber belajar.
Dalam kegiatan yang berlangsung selama dua hari, dimana pada hari pertama terdiri dari empat rombel dilanjutkan tiga rombel di hari kedua.
Setiap rombel mengikuti setiap tahapan pada pembuatan pupuk kompos, pembiakan tanaman, serta pembuatan kreasi hasta karya dari sampah anorganik.
Wakil Kepala Sekolah SMP Negeri 2 Sembawa mengatakan bahwa sengaja memilih SMKPPN Sembawa dalam kegiatan Projek Penguatan Profil Pelajar Pancasila (P5) tema gaya hidup berkelanjutan karena SMKPPN Sembawa terkanal dengan kekhasan pertanian sehingga kami bisa mengadaptasi seperti pembuatan pupuk kompos dan perbanyakan tanaman. [titin/timhumassmkppnsembawa]
Banyuasin of South Sumatera [B2B] - The role of agricultural vocational education in Indonesia such as the the Agricultural Development Polytechnic or the SMKPPN to support Indonesian Agriculture Ministry seeks to maximize its efforts to produce millennial entrepreneur.
Youth Enterpreneurship And Employment Support Services Program or the YESS, to support Indonesian Agriculture Ministry seeks to maximize its efforts for the millennial entrepreneur.
Indonesian Agriculture Minister Andi Amran Sulaiman stated that the government´s commitment to developing agriculture, especially in the development of advanced, independent and modern agricultural human resources.
"The goal is to increase the income of farming families and ensure national food security. Farmer regeneration is a commitment that we must immediately realize," Minister Sulaiman said.
He reminded about the important role of vocational education, to produce millennial farmers who have an entrepreneurial spirit.
"Through vocational education, we connect campuses with industry so that Polbangtan graduates meet their needs and are ready for new things," Sulaiman said.