Tangkal Corona, Kapusdik Videoconference Peserta Tugas Belajar S2 dan S3
Indonesian Govt Anticipate Covid-19 by Weaker Health Systems
Editor : M. Achsan Atjo
Translator : Dhelia Gani

PUBLISHED: Senin, 20 April 2020 , 22:58:00 WIB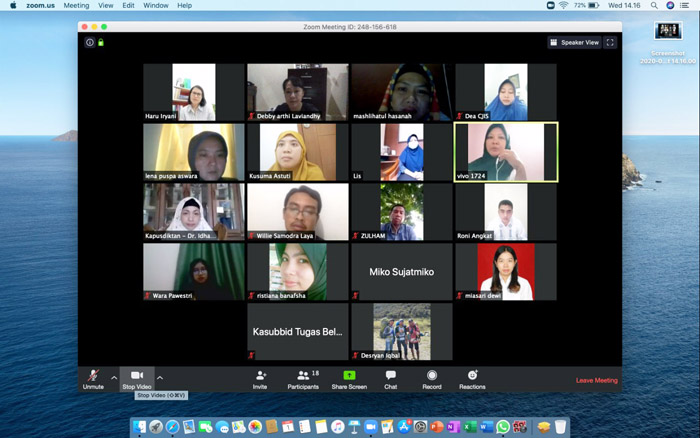 RAPAT ONLINE: Kapusdik Idha Widi Arsanti [ke-3 kiri bawah] memimpin videoconference dengan peserta tugas belajar S2 dan S3 [Foto: Humas Pusdiktan]
Jakarta [B2B] - Jaga jarak dan hindari kerumunan [physical distancing] merupakan kiat terbaik untuk memutus mata rantai penyebaran virus Corona, pemicu Covid-19, seperti diinstruksikan Presiden RI Joko Widodo melalui implementasi lebih luas pada kebijakan Pembatasan Sosial Berskala Besar [PSBB].
Menteri Pertanian RI Syahrul Yasin Limpo [SYL] menginstruksikan jajarannya di Kementerian Pertanian RI untuk menerapkan kerja dari rumah atau working from home [WFH] yang semula berlaku 17 - 31 Maret 2020, kemudian diperpanjang hingga 21 April 2020.
Kebijakan WFH tersebut berdasarkan Surat Edaran Nomor: 1137/SE/KP.370/A/03/2020 tentang Perubahan Surat Edaran Sekretaris Jenderal Kementerian Pertanian Nomor 1044/SE/KP.370/A/03/2020 tentang Pelaksanaan Tugas Kedinasan Di Lingkungan Kementerian Pertanian Dalam Rangka Pencegahan dan Perlindungan Dari Wabah Penyakit Virus Corona (Covid-19).
Aplikasi meeting daring menjadi salah satu pilihan bagi pegawai Kementan yang melaksanakan WFH untuk menyelesaikan pekerjaannya.
Selaras dengan hal itu, Badan Penyuluhan dan Pengembangan SDM Pertanian [BPPSDMP] khususnya Pusat Pendidikan Pertanian [Pusdiktan] pada Sub Bidang Kerjasama dan Tugas Belajar pada Rabu siang [1/4] mengadakan videoconference dengan peserta 'tugas belajar S2 dan S3' yang dipimpin oleh Kepala Pusdiktan, Idha Widi Arsanti.
Kapusdik Idha WA mengingatkan penyelenggaraan tugas belajar program doktor dan magister bagi PNS lingkup Kementan diberikan sesuai kebutuhan instansi agar para PNS yang mengikuti tugas belajar dapat meningkatkan kualitas dan kompetensinya dan memberikan kontribusi ketika kembali bekerja.
Hal itu mengacu pada arahan Kepala BPPSDMP Dedi Nursyamsi bahwa SDM pertanian harus terus meng-update ilmu, update pengalaman dan upgrade kapasitas untuk menjadi SDM andal dan profesional.
Dalam videoconference tersebut, para peserta tugas belajar menyampaikan progress dan kendala selama proses perkuliahan.
Kapusdik Idha WA mengharapkan mereka tetap semangat menjalani perkuliahan dan dapat menyelesaikan pendidikannya tepat waktu walaupun dihadang pandemi Covid-19, "sehingga tidak perlu dilakukan perpanjangan karena apabila banyak yang mengajukan perpanjangan, maka kuota untuk angkatan selanjutnya akan berkurang." [Miasari]
Jakarta [B2B] - Indonesia´s Agriculture Ministry is in intensive care after testing positive for the novel coronavirus, as civil servants in head office and across the country were ordered to close over the health threat. The World Health Organization has said it is particularly concerned about high-risk nations with weaker health systems, which who may lack the facilities to identify cases, according to senior official of the ministry.