Kepala BPPSDMP: "Mentan akan Hadiri Jambore Penyuluh di Sidera Sulteng"
Indonesia held an Agricultural Extension Jamboree in Central Sulawesi
Editor : M. Achsan Atjo
Translator : Dhelia Gani

PUBLISHED: Minggu, 05 November 2023 , 22:09:00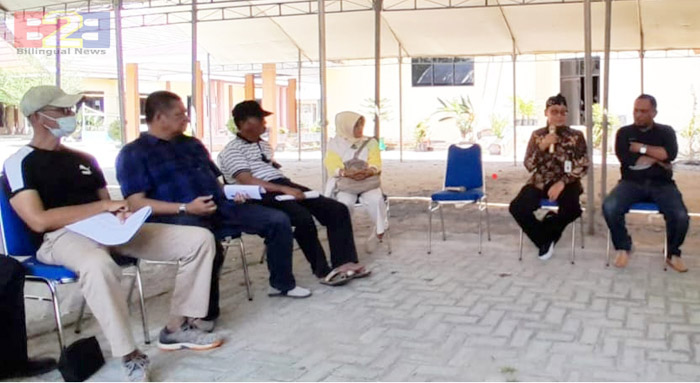 BPPSDMP KEMENTAN: Kepala BPPSDMP Kementan, Dedi Nursyamsi [ke-2 kanan] menjawab awak media di Palu, Sulteng terkait penyelenggaraan Jambore Penyuluh Pertanian di Sidera, Sulteng selama empat hari, 5 - 8 November 2023.
Sigi, Sulteng [B2B] - Penyuluh berperan penting mengembangkan dan memajukan pertanian, terutama pertanian berwawasan agribisnis, mengingat eksistensi penyuluh dan petani bagai mata uang yang tak bisa dipisahkan dalam upaya meningkatkan produktivitas sektor pertanian.

Menyadari peran tersebut, Menteri Pertanian RI Andi Amran Sulaiman dijadwalkan menghadiri Jambore Penyuluh Pertanian pada Senin [6/11] yang berlangsung di Desa Sidera, Kecamatan Sigi Kota, Kabupaten Sigi, Provinsi Sulawesi Tengah.

Mentan Amran mengatakan kinerja Kementerian Pertanian RI sangat vital untuk mendukung dan mendorong peningkatan produksi dan produktivitas pertanian, yang diharapkan dapat mengurangi ketergantungan pada pangan impor, bahkan ditargetkan mampu ekspor komoditas pertanian ke mancanegara.

Mentan menargetkan pencapaian produksi padi setara 35 juta ton beras, dengan melakukan optimalisasi kinerja penyuluh lapangan.

"Untuk itu, penyuluh harus benar-benar dekat dan menjadi pendamping petani yang mampu mengantarkan dan mengawal kebijakan pemerintah dalam pembangunan pertanian sampai tingkat petani," kata Amran Sulaiman.

Pada kesempatan terpisah, Kepala Badan Penyuluhan dan Pengembangan SDM Pertanian Kementan [BPPSDMP] Dedi Nursyamsi mendukung penuh Jambore Penyuluh Pertanian di Sulawesi Tengah, dalam upaya membangkitkan semangat para penyuluh melaksanakan tugas di lapangan.

"Penyuluh dan petani merupakan garda terdepan dalam pembangunan pertanian, sebagai garda terdepan maka penyuluh dan petani harus memastikan, pangan tidak bersoal, karena kita harus menyediakan pangan bagi seluruh rakyat," katanya.

Dedi Nursyamsi menambahkan, sebagai garda terdepan penyedia pangan bagi 273 juta jiwa, itu bukan hal yang mudah, penyuluh harus mampu menjadi sahabat dan pemberi solusi untuk petani.

"Manfaatkan sumber daya yang ada, pengetahuan dan teknologi, karena penyuluh dan petani, tulang punggung bangsa," tambahnya.

Jambore Penyuluh Pertanian 2023 berlangsung di Sidera, Sulteng selama empat hari, 5 - 8 November 2023 bertajuk ´Optimalisasi Peran Penyuluh Pertanian dalam Mendukung Keberhasilan Propinsi Sulawesi Tengah Sebagai Penyangga Pangan Utama IKN´.

Adapun tujuan Jambore Penyuluh, kata Dedi Nursyamsi, untuk meningkatkan semangat kerja dan motivasi, keterampilan, wawasan dan jiwa di antara para penyuluh, sekaligus memperkuat silaturahmi antar Balai Penyuluh Pertanian [BPP] seluruh kabupaten dan kota di Provinsi Sulawesi Tengah [Sulteng].

"Jambore Penyuluh juga merupakan kesempatan berharga untuk mengevaluasi sejauh mana peran dan keberadaan penyuluh diterima oleh masyarakat, terutama petani di Sulteng. Ini merupakan momen penting untuk menunjukkan semangat dan dedikasi membantu petani dan masyarakat," katanya lagi.

Dedi Nursyamsi berharap Jambore Penyuluh dapat terus memperkuat peran penyuluh menginspirasi perubahan positif, dan mendukung pertumbuhan sektor pertanian serta kesejahteraan petani.
Sigi of Central Sulawesi [B2B] - Indonesian Agriculture Minister Andi Amran Sulaiman asked his officials to restore and maintain the reputation of the ministry as a dignified institution in Indonesia, especially to meet the food needs of all the people.

"I want to create a new one so that the ministry can return to its reputation. No more playing around. Those who violate. Those who don´t have integrity, I will immediately deal with them," he told the press here on Monday.

He instructed ministry officials to immediately prepare the Quick Wins program, within the next three months. This step needs to be taken to restore the reputation of the ministry as the dignified institution.