WFH hingga 13 Mei, Pusdiktan BPPSDMP Tetap Produktif Optimalkan AOR KostraTani
Indonesian Agriculture Ministry Anticipate Covid-19 by Weaker Health Systems
Editor : M. Achsan Atjo
Translator : Dhelia Gani

PUBLISHED: Sabtu, 25 April 2020 , 23:02:00 WIB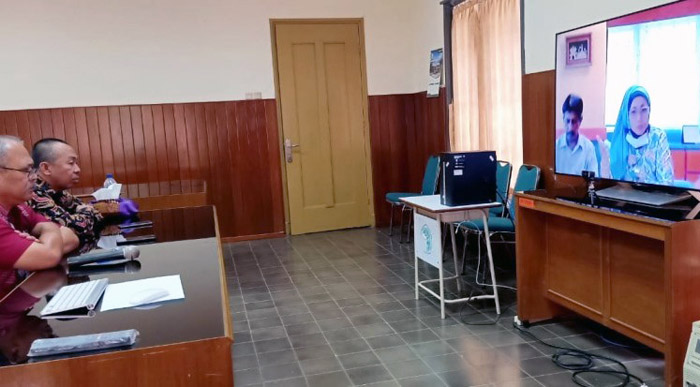 TELEKONFERENSI: Kepala Pusdiktan Idha Widi Arsanti didampingi Kabid Program dan Kerjasama Pendidikan, Setyabudi Udayana melakukan telekonferensi dengan unit pelaksana teknis [UPT] di seluruh RI [Foto: Humas Pusdiktan]
Jakarta [B2B] - Pelaksanaan kerja dari rumah atau working from home [WFH] di Kementerian Pertanian RI diperpanjang hingga 13 Mei 2020. Badan Penyuluhan dan Pengembangan SDM Pertanian [BPPSDMP] khususnya Pusat Pendidikan Pertanian [Pusdiktan] berkomitmen tetap produktif memanfaatkan Agriculture Operation Room [AOR KostraTani] untuk rapat dan koordinasi online lingkup internal dan eksternal.
"WFH di Kementan khususnya Pusdiktan BPPSDMP akan tetap produktif melalui AOR KostraTani untuk koordinasi online sesama pegawai lingkup BPPSDMP maupun pihak ketiga, mengacu pada periode WFH hingga 13 Mei," kata Kepala Pusdiktan BPPSDMP, Idha Widi Arsanti di Jakarta, Sabtu [25/4].
Menurutnya, selain telekonferensi maka kegiatan WFH didukung laporan rencana kerja dan realisasi pekerjaan yang wajib dilaporkan setiap hari.
Kapusdik Idha WA menambahkan hal itu sesuai instruksi Presiden RI Joko Widodo yang menekankan physical distancing sebagai upaya memutus mata rantai penyebaran virus Corona melalui WFH.
"Wabah Corona tidak boleh membuat aktifitas pertanian terhenti, seperti diinstruksikan Presiden Jokowi maka Kementan akan terus mengoptimalkan SDM pertanian untuk menggenjot produksi dan produktifitas serta ekspor komoditas pertanian," kata Mentan Syahrul Yasin Limpo melaksanakan instruksi Presiden Jokowi.
Arahan tersebut ditindaklanjuti oleh Mentan Syahrul dengan Surat Edaran No 1295/SE/KP.370/A.04/2020 tentang Perubahan atas Surat Edaran Sekretaris Jenderal Kementerian Pertanian No 1137/SE/KP.370/A/03/2020 tentang Pelaksanaan Tugas Kedinasan di Lingkungan Kementerian Pertanian Dalam Rangka Pencegahan dan Perlindungan dari Wabah Penyakit Virus Corona [Covid-19], Kementan telah menerapkan sistem bekerja WFH bagi para karyawan sejak 17 Maret hingga 13 Mei 2020.
"Pertanian tidak berhenti, tanam terus berjalan, pangan harus selalu tersedia. Perpendek rantai pasok dan tingkatkan nilai tambah melalui kegiatan panen dan pasca panen serta manfaatkan e-Marketing," kata Kepala BPPSDMP Prof Dedi Nursyamsi. [Vtr]
Jakarta [B2B] - Indonesia´s Agriculture Ministry is in intensive care after testing positive for the novel coronavirus, as civil servants in head office and across the country were ordered to close over the health threat. The World Health Organization has said it is particularly concerned about high-risk nations with weaker health systems, which who may lack the facilities to identify cases, according to official of the region.