Naik 19,02%, Ekspor Pertanian Jateng Rp2,51 Triliun per Triwulan III 2019
Central Java`s Agricultural Exports of IDR 2.51 trillion in the 3rd Quarter of 2019
Reporter : Gusmiati Waris
Editor : Cahyani Harzi
Translator : Dhelia Gani

PUBLISHED: Minggu, 29 September 2019 , 23:25:00 WIB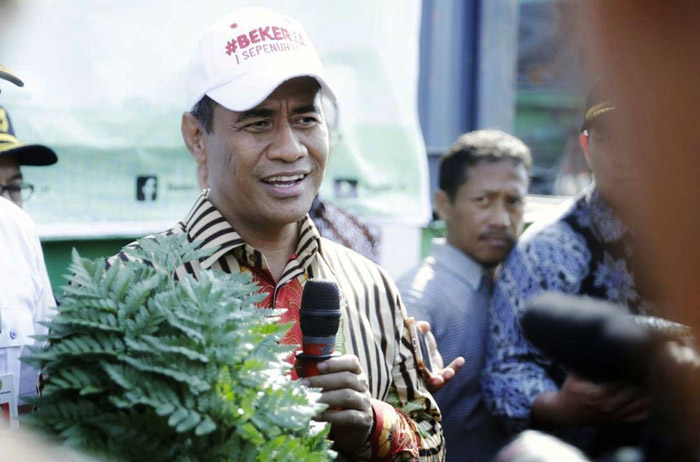 DAUN PAKIS: Mentan Amran Sulaiman tampak sumringah memegang daun pakis yang ternyata laris untuk ekspor ke Jepang [Foto: Biro Humas Kementan/Fajar]
Semarang, Jateng [B2B] - Ekspor komoditas pertanian Jawa Tengah hingga Triwulan III 2019 mencapai Rp2,51 triliun, yang didaulat Mentan Amran Sulaiman sebagai 'provinsi daulat pangan berbasis ekspor' dan mengapresiasi petani dan peternak karena produknya berkualitas dan laris di pasar ekspor khususnya biji kopi, kacang hijau, daun pakis, sarang walet dan bunga melati. Pencapaian tersebut berkat dukungan Gubernur Ganjar Pranowo memanfaatkan peluang dari regulasi dan program Kementerian Pertanian RI sebagai implementasi sinergi pemerintah pusat dan daerah.
"Kami mengapresiasi petani Jawa Tengah karena produknya berkualitas dan laris di pasar ekspor. Berkat kerja keras Gubernur Ganjar Pranowo. Kementan mendorong dengan kebijakan dan program terobosan," kata Mentan Amran Sulaiman saat inspeksi proses bisnis karantina pada Depo PT Pelindo di Pelabuhan Tanjung Emas, Semarang pada Minggu [29/9].
Mentan mengharapkan model pembangunan pertanian di Jawa Tengah dapat diduplikasi oleh daerah lainnya, sehingga ekspor komoditas pertanian semakin meningkat. "Ekspor kita meningkat 9 juta ton selama lima tahun. Ini capaian luar biasa."
Gubernur Jateng memaparkan bahwa hingga akhir Triwulan III 2019, nilai ekspor komoditas pertanian di provinsinya mencapai Rp2,51 triliun atau meningkat 19,02% ketimbang periode sama di 2018, Rp2,3 triliun. Sebagian besar produk ekspor pertanian disuplai oleh petani dari Kabupaten Temanggung, Grobogan, Demak, Magelang, Semarang dan Salatiga.
Komoditas ekspor antara lain biji kopi sebanyak 19,2 ton tujuan Mesir, kacang hijau volume 216 ton tujuan Cina, daun pakis sebesar 2,8 ton tujuan Jepang dan sarang burung walet sebanyak 829,1 kg tujuan Cina.
Kuntum dan rangkaian bunga melati juga diminati pasar ekspor, kali ini jumlahnya mencapai 6,24 ton senilai Rp418,5 juta, sebagai unggulan ekspor dari petani Kabupaten Tegal, Pemalang, Pekalongan dan Batang ke Malaysia, Singapura dan Thailand.
"Komoditas bunga melati dari lereng Gunung Sumbing adalah padat karya, dan mampu memberdayakan puluhan ribu masyarakat di sana," kata Gubernur Ganjar Pranowo.
Menurutnya, kebijakan Kementan sudah tepat dan pemerintah daerah akan terus mendorong dan membina petani untuk meningkatkan kualitas dan kuantitas produksi.
Semarang of Central Java [B2B] - Export of agricultural commodities of Central Java province until the third Quarter of 2019 reached IDR2.51 trillion, which was asked by Agriculture Minister Amran Sulaiman as a food exporter province and appreciate farmers because their products are in demand by export markets, especially coffee beans, green beans, fern leaves, swallow nests and jasmine flowers.