KIBIF dan Polbangtan Tindaklanjuti Kerjasama Link & Match dengan DuDi
Millennial Farmers are the Target of Developing Indonesian Agricultural HR
Editor : M. Achsan Atjo
Translator : Dhelia Gani

PUBLISHED: Rabu, 22 Juli 2020 , 23:54:00 WIB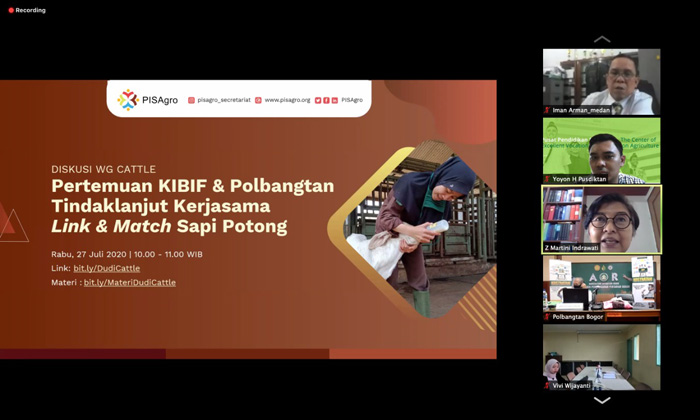 KOORDINASI ONLINE: Di akhir pertemuan, PISAgro, KIBIF, Pusdiktan dan pendidikan vokasi lingkup Kementan sepakat untuk mempertajam rumusan pertemuan tersebut dengan tindak lanjut secara offline [Foto: Humas Pusdiktan]
Jakarta [B2B] - Sesuai dengan arahan Kepala Badan Penyuluhan dan Pengembangan SDM Pertanian [BPPSDMP] Kementerian Pertanian RI Dedi Nursyamsi pada pertemuan dengan Direktur Eksekutif PISAgro Martini Indrawati tentang upaya penajaman secara konkrit langkah nyata, Pusat Pendidikan Pertanian [Pusdiktan] bersama PISAgro berupaya 'menikahkan' DuDi dengan beberapa pendidikan vokasi dari Kementan, Rabu [23/7].
Dihadiri perwakilan KIBIF dengan Direktur Polbangtan Bogor, Polbangtan Yogyakarta Magelang, SMKPP Sembawa dan SMKPP Kupang, Kapusdik Idha Widi Arsanti meminta KIBIF sebagai DuDi untuk memberikan ruang pada keempat pendidikan vokasi pertanian tersebut menjalin kerjasama, baik dalam penyelarasan kurikulum, kerjasama usaha, tenaga ahli yang dapat mengajar di Polbangtan, dan lainnya.
KIBIF yang dalam hal ini diwakili oleh Vivi juga mengungkapkan harapannya agar peluang tersebut dilaksanakan.
Gayung bersambut, pihak Polbangtan Bogor yang diwakili oleh Siswoyo selaku direktur berharap adanya kerjasama, baik pendalaman pokok bahasan mata kuliah terkait peternakan, sebagai upaya adopsi materi, kesempatan magang dan peluang pasar kerja bagi alumni.
Pada kesempatan tersebut juga sangat terbuka peluang kerjasama lainnya terutama eksplorasi pakan ternak yang dikemukakan salah satu praktisinya, Robi Agustiar.
Di akhir pertemuan, PISAgro, KIBIF, Pusdiktan dan pendidikan vokasi lingkup Kementan sepakat untuk mempertajam rumusan pertemuan tersebut dengan tindak lanjut secara offline antara KIBIF dengan Polbangtan Bogor kampus Cinagara. [Yh]
Jakarta [B2B] - Indonesian Agriculture Ministry encourages agricultural training activities support the strategic program of the ministry by developing a self-help agricultural training center in the countryside, and on-the-job training in food production centers, according to senior official.