Sapras KostraTani, Itjentan Kawal Kegiatan SIMURP Dukung Kinerja BPP
The World Bank Supports Indonesia for the Agricultural Extension Center
Editor : M. Achsan Atjo
Translator : Dhelia Gani

PUBLISHED: Sabtu, 16 Mei 2020 , 03:14:00 WIB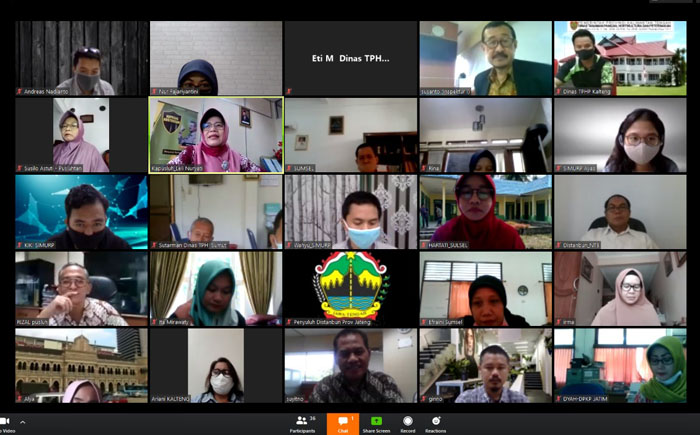 VIDEOCONFERENCE: Pemanfaatan dana Strategic Irrigation Modernization and Urgent Rehabilitation Project [SIMURP] sebagai unit kerja yang didanai PHLN di BPPSDMP Kementan [Foto: Humas BPPSDMP]
Jakarta [B2B] - Menteri Pertanian RI Syahrul Yasin Limpo terus mengingatkan "pertanian tidak boleh berhenti di tengah pandemi Covid-19" mendukung pemenuhan kebutuhan pangan 267 juta rakyat. Tiada terkecuali pengadaan sarana prasarana [Sapras] pada 56 KostraTani [balai penyuluhan pertanian atau BPP] yang didukung pinjaman dan hibah luar negeri [PHLN] akan dikawal oleh Inspektorat Jenderal Kementerian Pertanian RI [Itjentan].
Hal itu dikemukakan Kepala Balai Penyuluhan dan Pengembangan SDM Pertanian [BPPSDMP] Prof Dedi Nursyamsi; Inspektur I Itjentan, Susanto MM dan Kepala Pusat Penyuluhan Pertanian [Pusluhtan BPPSDMP] Leli Nuryati di Jakarta, Jumat [15/5] pada videoconference pemanfaatan dana Strategic Irrigation Modernization and Urgent Rehabilitation Project [SIMURP] sebagai unit kerja yang didanai PHLN di BPPSDMP Kementan.
"Pertanian tidak boleh berhenti. Seluruh insan pertanian harus mendukung penyediaan kebutuhan pangan sehingga tidak terjadi krisis pangan," kata Prof Dedi Nursyamsi mengutip pernyataan Mentan Syahrul.
Mentan Syahrul, katanya, mengingatkan bahwa kita takut virus Corona tetapi don´t stop atau maju terus. Pangan harus tersedia dan rakyat tidak boleh bermasalah dengan pangan. "Setelah panen, segera lakukan percepatan tanam. Tidak ada lahan mengganggur selama sebulan."
Dedi Nursyamsi menambahkan semua kegiatan pertanian harus selalu mendukung program utama Kementan, khususnya Komando Strategis Pembangunan Pertanian [KostraTani] selaku ´nama digital´ BPP mendukung kinerja Agriculture War Room [AWR].
"Tanpa terkecuali SIMURP yang merupakan unit kerja yang didanai PHLN di BPPSDMP. Bentuk nyata SIMURP terhadap Kostratani 2020 dengan menganggarkan pengadaaan Sapras di 56 BPP. Bahkan, di tengah pandemi Covid-19, hanya PHLN yang menjadi pendukung utama kegiatan BPPSDMP," katanya.
Inspektur I Itjentan, Susanto mengatakan bahwa Inspektorat I Kementan memiliki kewenangan risiko terhadap PHLN di BPPSDMP, termasuk SIMURP.
Guna menghindari temuan Badan Pemeriksa Keuangan [BPK RI] maka semua administrasi harus tertib, transparan dan mengikuti peraturan perundangan yang berlaku.
"Sasaran penerima bantuan harus sesuai dan harus ada data yang menunjukan peningkatan intensitas pertanaman atau IP sebelum dan setelah adanya SIMURP," kata Susanto.
Kapusluhtan Leli Nuryati menambahkan bahwa Covid-19 harus dilawan dengan semangat maka penyakit akan hilang. "Selain itu, pandemi Covid-19 mendorong kita untuk lebih memanfaatkan teknologi informasi [IT].
Sebagaimana diketahui, SIMURP proyek bantuan dari Bank Dunia dan Asian Infrastructure Investment Bank (AIIB) yang fokus pada climate smart agriculture [CSA] atau pertanian cerdas iklim. SIMURP juga bertujuan meningkatkan produksi dan produktifitas pertanian, menghemat penggunaan air, mengurangi risiko gagal panen dan mengurangi efek gas rumah kaca meski di tengah kondisi iklim yang terus berubah. [NF]
Jakarta [B2B] - Agricultural extension workers, lecturers and trainers of Indonesian Agriculture Ministry synergy supports the Strategic Irrigation Modernization and Urgent Rehabilitation Project [SIMURP] utilize loan aggrement from the World Bank and the Asian Infrastructure Investment Bank (AIIB) for the Indonesian government and is managed by four ministries: agriculture, national development planning, public works and the interior ministry, according to the senior official of the ministry.