SDM Kementan, IPB dan UGM Fasilitasi Peserta Tugas Belajar
Indonesian Agriculture Anticipate Covid-19 by Weaker Health Systems
Editor : M. Achsan Atjo
Translator : Dhelia Gani

PUBLISHED: Sabtu, 25 April 2020 , 04:30:00 WIB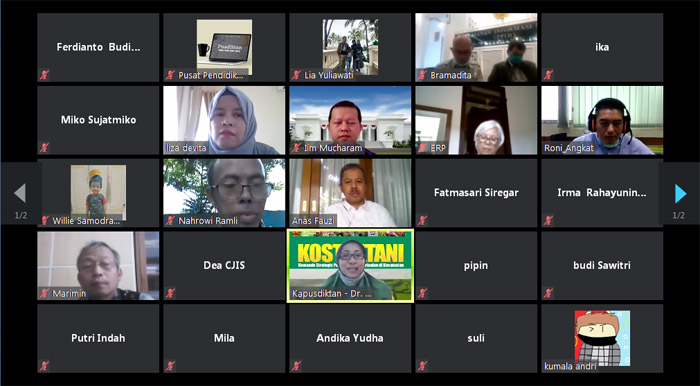 KOORDINASI ONLINE: Kapusdik Idha Widi Arsanti [kotak kuning] memimpin videoconference dengan internal BPPSDMP Kementan dan PTM [Foto: Humas Pusdiktan]
Jakarta [B2B] - Presiden RI Joko Widodo berulang kali menegaskan bahwa pembangunan SDM merupakan salah satu prioritas pemerintahan hingga 2024.
Menteri Pertanian, Syahrul Yasin Limpo [SYL] mendukung penuh pernyataan tersebut dengan menekankan pentingnya pengembangan SDM pertanian menuju pertanian maju, mandiri dan modern. Salah satu bentuk dukungan yang diberikan yaitu memfasilitasi PNS lingkup Kementerian Pertanian untuk melanjutkan pendidikan tinggi program magister dan doktoral.
Kepala Badan Penyuluhan dan Pengembangan Sumber Daya Manusia Pertanian [BPPSDMP] Dedi Nursyamsi mengatakan, "SDM Pertanian harus terus update ilmu, update pengalaman, upgrade kapasitas sehingga bisa menjadi manusia andal profesional. Keseriusan Kementan dalam hal ini dibuktikan dengan menjamin kelancaran program tugas belajar di tengah pandemi Covid-19."
Koordinasi dengan perguruan tinggi mitra [PTM] dan peserta tugas belajar terus dilakukan di antaranya dengan Universitas Gadjah Mada [UGM] dan Institut Pertanian Bogor [IPB] melalui videoconference. Kedua PTM setuju memberikan fasilitas dan kemudahan bagi peserta tugas belajar, baik yang sedang dalam masa perkuliahan ataupun penyelesaian tugas akhir.
"Sekarang seluruh kegiatan perkuliahan dilakukan daring, bimbingan juga bisa dilakukan dengan Whatsapp atau email. Bahkan seminar, kolokium, sidang, juga sudah bisa online," kata Dekan Sekolah Pasca Sarjana IPB, Prof Dr Ir Anas Miftah Fauzi, M Eng pada Rabu [20/04].
Hal senada disampaikan Dekan Fakultas Teknologi Pertanian UGM, Prof Dr Ir Djagal Wiseso Marseno M Agr pada Kamis [21/04].
"Fleksibilitas akan kami berikan tanpa mengurangi kualitas. UGM maupun IPB sudah merancang sistem perkuliahan yang disesuaikan situasi di tengah pandemi Covid-19, sehingga tetap dapat berjalan lancar tanpa melanggar protokol kesehatan," katanya.
Dalam setiap koordinasi, Kepala Pusat Pendidikan Pertanian [Pusdiktan] Idha Widi Arsanti mengingatkan, "jangan jadikan Covid-19 sebagai kesempatan untuk melalaikan kewajiban sebagai peserta tugas belajar, apalagi sudah diberikan kemudahan oleh perguruan tinggi mitra." [Vtr]
Jakarta [B2B] - Indonesia´s Agriculture Ministry is in intensive care after testing positive for the novel coronavirus, as civil servants in head office and across the country were ordered to close over the health threat. The World Health Organization has said it is particularly concerned about high-risk nations with weaker health systems, which who may lack the facilities to identify cases, according to senior official of Indonesian Agriculture Ministry.