Diet Ketat Ini Akibatnya pada Wajah Seleb Dunia, Keriput Muncul
The Celebrities Who Have Paid for Their Weight Loss with a Haggard Visage
Editor : Ismail Gani
Translator : Novita Cahyadi

PUBLISHED: Sabtu, 25 Juni 2016 , 00:34:08 WIB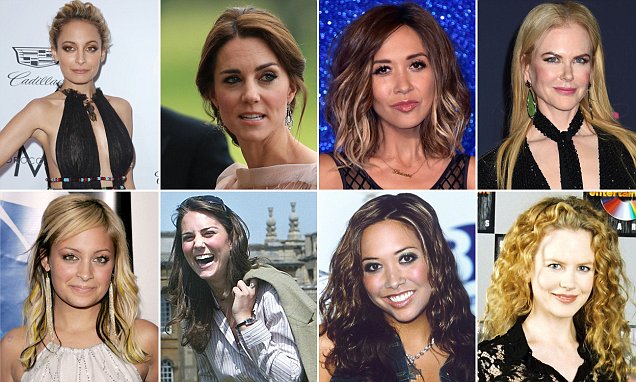 Kiri ke kanan: Nicole Richie, Kate Middleton, Myleene Klass dan Nicole Kidman sebelum dan sesudah diet (Foto2: MailOnline)
MANTAN juara Mantan juara Wimbeldon Marion Bartoli memicu kekhawatiran di kalangan penggemarnya setelah melihat penampilannya pekan ini tampak kurus kering setelah bobotnya turun hampir 18 kg.

Ketika fans berkomentar tentang penurunan berat badan sang juara tenis yang menyebut dia tampak 'kurus' dan 'sakit', dan wajahnya menunjukkan dia menjalani diet ketat bebas dari gula, susu, dan garam.
Marion, 31, ini bukan satu-satunya selebriti yang kehilangan bobot badan yang berdampak pada wajah mereka.

Sejumlah bintang seperti Nicole Richie, Myleene Klass dan bahkan Kate Middleton berjuluk Duchess of Cambridge tampaknya juga menjalani diet ketat.

Kate dari Inggris, 34, selalu kepingin tampil ramping, namun kembali pada masanya kuliah sebagai mahasiswi ketika dikencani oleh Pangeran William.

Dia dikenal sebagai sosok sporty dan, tentu saja, adalah merawat dua bocah sehingga tak heran Kate tampak ramping.

Namun penurunan berat badan nya selama bertahun-tahun terbukti di wajahnya, yang jauh lebih ramping daripada ketika berusia remaja.

Myleene Klass bobotnya turun dari ukuran 12 hingga ramping saat ini, dan perubahan itu tidak ada yang lebih jelas daripada di wajahnya.

Victoria Beckham adalah sosok yang dikenal melakukan diet ketat, tapi hasilnya adalah wajah yang lebih tirus dibandingkan ketika dia bergabung dengan Spice Girls.

Demikian pula, wajah super tipis Nicole Richie berubah total dari bintang reality berpipi merah yang membintangi The Simple Life dengan Paris Hilton.

Pakar gizi Claudia Norris Happy dari Happy in Body mengatakan kepada MailOnline bahwa orang sering begitu terfokus pada mencapai berat badan ideal atau tubuh ramping tanpa memikirkan dampaknya pada kesehatan.

'Ada keterkaitan antara wajah dan tubuh," jelasnya. 'Jika Anda kehilangan berat badan terlalu banyak, Anda berisiko menarik kulit wajah dan Anda tampak lebih tua dari usia sebenarnya.'

"Saya terutama melihat ini pada wanita antara usia 40-an dan 60-an. Klien datang ke saya dengan keinginan kuat untuk menurunkan bobot tubuh mereka, seperti ketika remaja atau 10 tahun yang lalu."

"Ketika kita terlalu fokus pada mencapai bobot tubuh tertentu, kita berisiko tidak mempertimbangkan perubahan dalam bentuk tubuh kita."

'Misalnya, itu sangat normal untuk naiknya lebar pinggang ketika wanita mendekati menopause.'

Claudia menyarankan pendekatan yang tidak biasa untuk memutuskan apakah kehilangan sejumlah berat badan benar-benar layak.

'Hilangkan beberapa keriput pada mata Anda! Bila Anda tidak melihat wajah Anda sendiri adalah mungkin untuk melihat secara obyektif pada tubuh Anda.'
FORMER Wimbeldon champion Marion Bartoli sparked concern among fans over her slender frame this week as photos of her emerged looking waif-like after shedding more than three stone.

When fans remarked on her weight loss a common theme was that the retired French star looked 'gaunt' and 'ill', with her face also showing the impact of her strictly controlled diet free from sugar, dairy, gluten and salt.

Marion, 31, is by no means the only celebrity whose weight loss has had a visible impact on the faces.

Stars such as Nicole Richie, Myleene Klass and even the Duchess of Cambridge appear to have made the choice of figure over face.

The Duchess, 34, has always boasted a slim figure, but back when when she was a university student dating Prince William she was noticeably curvier.

She's famously sporty and, of course, is caring for two young children so it's no wonder the Duchess is slim.

But her weight loss over the years is evident in her face, which is much more angular than it used to be.

Myleene Klass has slimmed down from a size 12 to a tiny size six since her Hear'say days, and the change is nowhere more apparent than on her face.

Victoria Beckham is famously strict about her diet, but the result is a much more angular face compared with her Spice Girls days.

Similarly, super slim Nicole Richie's face has changed completely from the rosy cheeked reality star who starred in The Simple Life with Paris Hilton.

Nutritionist Claudia Norris of Happy in Body told FEMAIL that people are often so focused on reaching a goal weight or size that they don't consider the downsides.

'There is a trade off between face and figure,' she explained. 'If you lose too much weight, you risk looking drawn in the face and older than your years.'

'I especially see this in ladies between their 40s and 60s. Clients come to me aspiring to be the weight they were pre-children, or 10 years ago.

'When we are overly focused on reaching a particular number on the scales, we risk not taking into account changes in our body shape.'

'For example, it is very normal to gain more weight around the waist as the menopause approaches.'

Claudia advises an unusual approach to deciding whether losing a certain amount of weight is really worth it.

'Cut out some holes for your eyes! When you don't see your own face it is possible to look objectively at your body.