Taklukkan Turkmenistan, Timnas Indonesia U-23 Lolos ke Piala Dunia U-23
Indonesia´s U23 National Football Team Qualifies for the 2024 U23 Asian Cup
Editor : Ismail Gani
Translator : Novita Cahyadi

PUBLISHED: Rabu, 13 September 2023 , 13:36:00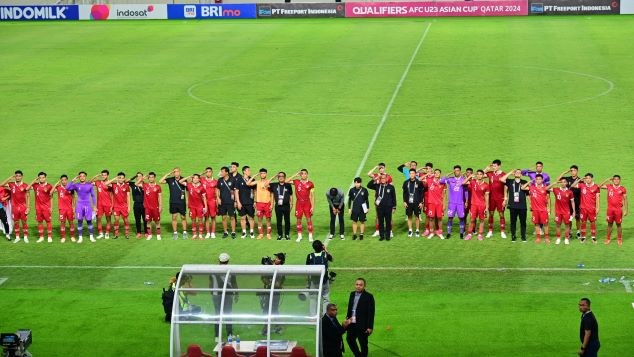 PIALA DUNIA 2024: Tim nasional sepak bola Indonesia U-23 usai menekuk Turkmenistan 2-0 dalam pertandingan yang digelar di Stadion Manahan, Kota Surakarta, Provinsi Jawa Tengah
Surakarta, Jateng [B2B] - Tim nasional sepak bola U-23 Indonesia berhasil lolos ke putaran final Piala Asia U23 di Qatar 2024 usai menekuk Turkmenistan 2-0 dalam pertandingan yang digelar di Stadion Manahan, Kota Surakarta, Provinsi Jawa Tengah pada Selasa [12/9].
Presiden Joko Widodo beserta Ibu Iriana turut menyaksikan momen bersejarah tersebut karena untuk pertama kalinya Indonesia akan berlaga pada kejuaraan tersebut.
Presiden Jokowi mengatakan bahwa ia sengaja datang untuk memberikan dukungan secara langsung kepada penggawa Garuda Muda.
Menurut Jokowi, kemenangan timnas U23 juga bersejarah karena untuk pertama kalinya berhasil mengalahkan Turkmenistan sejak 2012.
"Saya datang bersama Pak Ketua PSSI, Pak Erick Thohir, untuk memberikan dukungan laga pada malam hari ini antara U23 kita, timnas kita dengan Turkmenistan dan laganya saya lihat sangat keras, saling menyerang, dan sudah kita ketahui hasilnya 2-0. Ini sejarah karena–saya diberi tahu tadi–sejak 2012 sampai sekarang kita belum pernah menang dengan Turkmenistan. Saya kira ini hadiah ulang tahunnya Pak Erick," ujar Jokowi seusai pertandingan.
Dalam pertandingan melawan Turkmenistan, Garuda Muda berhasil unggul di babak pertama melalui gol yang dicetak oleh Ivar Jenner pada menit ke-40. Pada babak kedua, Indonesia memantapkan kemenangannya dengan gol yang dicetak melalui sundulan Pratama Arhan pada menit akhir menjelang peluit panjang dibunyikan wasit.
Jokowi pun mengapresiasi kerja sama apik antarlini timnas Indonesia dalam pertandingan tersebut. "Saya kira tadi kita melihat semua lini saling mendukung dengan baik. Depan baik, tengahnya baik, belakangnya baik, saya kira itu yang kerja samanya saya lihat sudah saling ngerti dan semua bermain baik," ucapnya.
Dengan kemenangan tersebut, timnas U23 Indonesia berhasil memuncaki klasemen grup K kualifikasi Piala Asia U23 2024 dengan mengantongi 6 poin, hasil dari dua kali kemenangan. Kemenangan pertama timnas Indonesia diraih saat mencukur China Taipei 9-0 pada Sabtu [9/9] lalu.
Jokowi pun berharap timnas U23 Indonesia bisa mempersiapkan diri dengan lebih matang menuju putaran final Piala Asia U23 di Qatar yang akan dilangsungkan pada 15 April-3 Mei 2024. Presiden Jokowi meyakini timnas U23 Indonesia akan tampil dengan lebih siap di Qatar nanti.
"Ya ini kan masih agak panjang, di April ya sehingga persiapannya lebih panjang sehingga menurut saya kita akan ke sana dengan kondisi yang jauh lebih siap. Saya kira semuanya bermain baik," ungkap Presiden.
"Sekali lagi, masih panjang sampai di April 2024, harus terus menjaga agar kerja samanya makin baik dan passing-nya tidak ada yang salah ya," tambahnya.
Surakara of Central Java [B2B] - he Indonesian U23 national football team managed to qualify for the U23 Asian Cup finals in Qatar 2024 after defeating Turkmenistan 2-0 in a match held at the Manahan Stadium, Surakarta City, Central Java Province on Tuesday evening, 12 September 2023. President Joko Widodo and Mrs. Iriana also witnessed this historic moment because for the first time Indonesia would compete in the championship.
President Jokowi said that he deliberately came to provide direct support to Garuda Muda players. According to the President, the U23 national team´s victory was also historic because it managed to beat Turkmenistan for the first time since 2012.
"I came with the Chairman of PSSI, Mr Erick Thohir, to provide support for the match tonight between our U23, our national team and Turkmenistan and I saw the match was very hard, attacking each other, and we already know the result is 2-0. This is history because–I was told earlier–from 2012 until now we have never won with Turkmenistan. "I think this is Mr. Erick´s birthday present," said the President after the match.
In the match against Turkmenistan, Garuda Muda managed to take the lead in the first half through a goal scored by Ivar Jenner in the 40th minute. In the second half, Indonesia consolidated its victory with a goal scored through Pratama Arhan´s header in the final minute before the referee blew the long whistle.
President Jokowi also appreciated the good cooperation between the Indonesian national team lines in this match. "I think we saw that all lines support each other well. "The front is good, the middle is good, the back is good, I think that´s what I see when working together, they understand each other and everyone plays well," he said.
With this victory, the Indonesian U23 national team managed to top the qualifying group K standings for the 2024 U23 Asian Cup by pocketing 6 points, the result of two wins. The Indonesian national team won their first victory when they beat Chinese Taipei 9-0 on Saturday (09/09).
The Head of State also hopes that the Indonesian U23 national team can prepare more thoroughly for the U23 Asian Cup finals in Qatar which will be held on 15 April-3 May 2024. President Jokowi believes that the Indonesian U23 national team will appear more prepared in Qatar later.
"Yes, it´s still a bit long, in April, so the preparations are longer, so I think we will go there in a much better prepared condition. "I think everyone played well," said the President.
"Once again, it´s still a long way until April 2024, we have to continue to ensure that the cooperation gets better and there are no mistakes in passing ," he added.