Faktor Erick Thohir, Alasan Timnas Argentina Terima Tantangan Indonesia
Argentina´s Main Reason to Accept the Challenge of the Indonesian National Team
Editor : Cahyani Harzi
Translator : Novita Cahyadi

PUBLISHED: Jum'at, 02 Juni 2023 , 15:09:00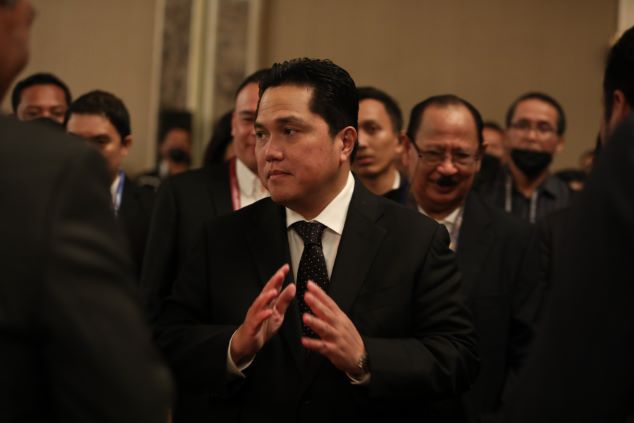 SKUAD GARUDA: Menteri BUMN sekaligus Ketua PSSI, Erick Thohir. (Foto: PSSI)
Jakarta [B2B] - Sosok Ketua Umum PSSI Erick Thohir jadi pertimbangan utama Federasi Sepak Bola Argentina [AFA] menerima tawaran tampil pada FIFA Match Day di Indonesia.
Duel timnas Argentina menghadapi Indonesia pada 19 Juni di Stadion Utama Gelora Bung Karno, Jakarta memang terus ramai diperbincangkan.
"Saya jelaskan bahwa Argentina bisa bermain dengan Indonesia karena Ketua Umum PSSI Erick Thohir. Ia orang terpandang di Argentina dan juga pernah menjadi pemilik klub besar di Eropa, Inter Milan," jelas Presiden Federasi Sepakbola Argentina [AFA] Claudio Fabian Tapia.
Penjelasan Tapia dalam wawancara dengan salah satu stasiun TV Argentina, TyC Sports, menjawab pertanyaan banyak pihak alasan utama dan faktor apa Argentina, peringkat pertama FIFA dan juara Piala Dunia 2022 Qatar itu, bersedia bertanding melawan timnas Indonesia yang menempati rangking 149 FIFA, pada Kamis [1/6].
Tapia juga memilih Indonesia karena skuad Garuda dinilai pantas mendapatkan pengalaman baru.
"Bermain dengan juara Piala Dunia 2022 Qatar itu tidak akan mudah," ujar pria berusia 55 tahun itu.
Meski demikian, Tapia mengakui, timnas Merah Putih tidak bisa diremehkan karena memiliki pelatih yang melatih peserta Piala Dunia 2018, Korea Selatan.
"Indonesia tidak bisa diremehkan. Mereka dilatih oleh Shin Tae-yong yang kami semua tahu kemampuannya," ujarnya.
Jakarta [B2B] - The figure of PSSI Chairman Erick Thohir was the main consideration for the Argentine Football Federation [AFA] in accepting the offer to appear on FIFA Match Day in Indonesia.
The duel between the Argentina national team and Indonesia on June 19 at the Bung Karno Main Stadium, Jakarta continues to be widely discussed.
"I explained that Argentina could play with Indonesia because of PSSI general chairman Erick Thohir. He is a respected person in Argentina and was also the owner of a big club in Europe, Inter Milan," explained Argentine Football Federation [AFA] President Claudio Fabian Tapia.
Tapia's explanation in an interview with an Argentinian TV station, TyC Sports, answered many questions about the main reasons and factors for Argentina, the first FIFA ranking and the 2022 World Cup champion Qatar, willing to compete against the Indonesian national team, which is ranked 149th in FIFA, on Thursday [ 1/6].