12 Mahasiswa Tewas Diberondong Tembakan di Thousand Oaks, California
12 Die in Student Massacre at Bar in Thousand Oaks, California
Editor : Ismail Gani
Translator : Novita Cahyadi

PUBLISHED: Kamis, 08 November 2018 , 12:45:00 WIB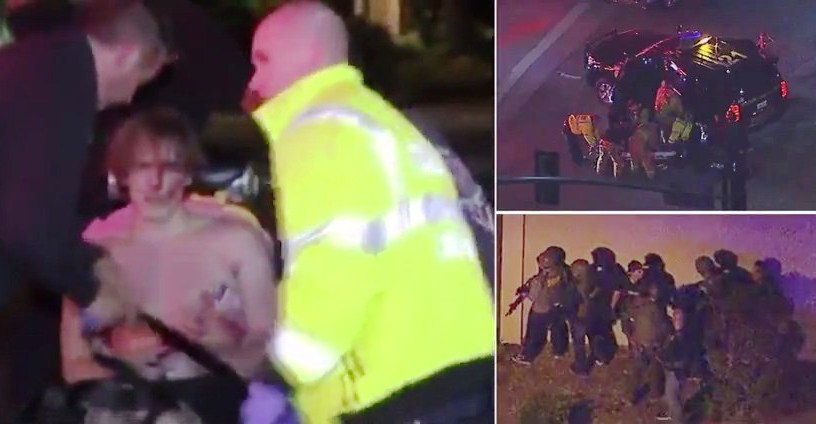 Pelaku, berpakaian serba hitam, mengenakan topi baseball, kacamata hitam dan masker menutupi bagian bawah wajahnya, berjalan masuk pada pukul 23.20 (Foto2: MailOnline)
SEORANG pria bersenjata melepaskan tembakan di sebuah kafe music country pada ´malam keakraban mahasiswa´ di kota Thousand Oaks, California, yang menewaskan 12 orang dan melukai beberapa orang sebelum pelaku menembak dirinya sendiri.
Pelaku penembakan yang mengenakan jas panjang hitam menerobos masuk Borderline Bar and Grill membawa pistol berikut magasin besar dan granat asap, sebelum mengincar pengunjung remaja usia 18 tahun sebagai target penembakan.
Seorang wakil sheriff Ventura County - setingkat Kapolsek di sini - turut menjadi korban tewas. Korban tambahan ´10 ke 15´ terluka akibat diberondong tembakan, termasuk penjaga pintu, kasir perempuan usia muda dan beberapa mahasiswa.
Pelaku, berpakaian serba hitam, mengenakan topi baseball, kacamata hitam dan masker menutupi bagian bawah wajahnya, berjalan masuk pada pukul 23.20 dan menembak penjaga pintu sebelum masuk ke ruangan utama kafe.
Dia kemudian menembak kasir perempuan muda sebelum melemparkan granat asap ke lantai dansa dan memberondong tembakan ke kerumunan mahasiswa.
Aksi brutal tersebut langsung disikapi oleh kantor polisi setempat, Sherrif Ventura County di tempat kejadian perkara (TKP) terlibat baku tembak dengan tersangka, mengakibatkan seorang deputi sheriff menjadi korban penembakan seperti dilansir MailOnline.
A GUNMAN has opened fire at a country music bar during a student night in the city of Thousand Oaks, California, killing 12 people and injuring several before turning the gun on himself.
The shooter stormed the Borderline Bar and Grill wearing a black trenchcoat armed with a pistol equipped with an extended magazine and smoke grenades and began targeting people as young as 18.
A Ventura County deputy sheriff was among the deceased. An additional ´10 to 15´ victims were injured during the mass shooting, including a doorman, a young female cashier and college students.
The perpetrator, dressed in all-black, wearing a baseball cap, sunglasses and a mask covering the bottom part of his face, walked up to the entrance at 11.20pm and shot the doorman before making his way into the venue.
He then opened fire on a young female cashier before throwing smoke grenades onto the dancefloor and letting off rounds into the crowd.
First responders from the Ventura County Sherrif´s Office arrived and got into a gunfight with the suspect, during which a deputy sheriff was shot and wounded.