Mobil Termahal di Dunia? Harganya di Atas Rp30 Miliar
These are the 10 Most Expensive Cars in the World
Editor : Ismail Gani
Translator : Novita Cahyadi

PUBLISHED: Selasa, 01 November 2016 , 23:47:34 WIB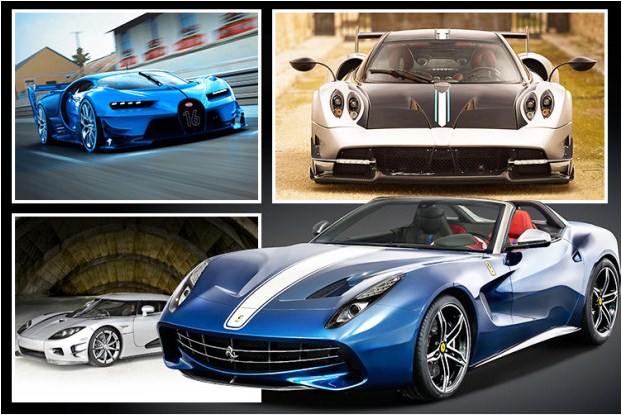 Arah jarum jam: Bugatti Chiron, Pagani Huayra BC, Ferrari F60 America, dan Koenigsegg CCXR Trevita (Foto: The Sun)
SEJUMLAH mobil mewah dan super mahal ini tidak bermaksud membuat Anda minder terhadap mobil yang Anda miliki sekarang.

Diproduksi terbatas sesuai pesanan karena telah dianggap sebagai karya seni, dan hanya terbatas orang yang mampu membelinya. Setidaknya deretan 10 mobil paling mahal di dunia menurut Digital Trends.

1. Koenigsegg CCXR Trevita - $4,7 juta (Rp60 miliar)
Ya, ini bisa menjadi milik Anda jika Anda mendarat lotere besar menang akhir pekan ini.

Jika Anda bertanya-tanya apa yang membuat mobil ini layak hanya bagi yang berkantong tebal, jawabannya adalah berlian. Kendaraan ini tampil mencolok karena memang tertutup cat yang dibuat dari bahan batu berlian.

Catnya dibuat dari bahan khusus yang memang dibuat hanya untuk mobil mewah ini.

Berada di peringkat teratas, kemampuan larinya lebih dari 1.000 tenaga kuda.

2. Lamborghini Veneno - $4,5 juta (Rp57,6 miliar)
Harganya di bawah si nomor satu, tapi tetap saja harganya mahal lebih tiga juta.

Yang mengatakan, itu tidak mengherankan karena Lamborghini pantas berada di peringkat 10 termahal.

Kemampuan mesin 6.5 liter dan berlari dari 0 - 96 km per jam dalam 2,9 detik - berguna ketika Anda buru-buru ke supermarket.

3. W Motors Lykan Hypersport - $3,4 juta (Rp43,5 miliar)
Beritahu kami Anda tidak melihat ini dan langsung berpikir tentang Batman?

Ini adalah mobil yang menabrak gedung pencakar langit di film Fast & Furious 7, dan itu tidak sulit untuk melihat mengapa mobil ini yang dipilih untuk tampil di layar lebar.

Lampu yang bertatahkan permata ... tidak yang mengatakan itu semua?

Plus, mampu berlari kencang hingga 97 km per jam dalam 2,8 detik, dan kemampuan maksimalnya hampir 400 km per jam.

4. Edisi Terbatas Bugatti Veyron oleh Mansory Vivere - $ 3,.4 juta (Rp43,5 miliar)
Bugatti telah menjadi salah satu produsen mobil mewah paling terkenal di dunia, sehingga mobil ini pas menjadi salah satu kendaraan tercepat di dunia.

Versi baru dari mobil ini didukung lampu LED yang lebih baik, spoiler baru dan interior mencorong.

5. Ferrari Pininfarina Sergio - $2,9 juta (Rp37,1 miliar)
Jika Anda ingin tercatat dalam sejarah otomotif maka mobil ini layak dipilih, karena hanya dibuat enam unit.

Tampilannya mirip dengan Ferrari 458 Spider, tetapi interior lebih baik setelah dilakukan reboot.

Bobot mobil juga lebih ringan, yang berarti lebih cepat dan lebih mudah dikemudikan.

Sayangnya, meski Anda mampu membelinya tidak berarti Anda punya peluang memilikinya.

Itu karena Ferrari memilih orang yang akan membeli produknya, sehingga tidak dijual bebas.

6. Pagani Huayra BC - $2,5 juta (Rp32 miliar)
Tampil perdana di 2016 Geneva Motor Show, yang tampil dengan perombakan total dari model lawas.

Memiliki spoiler besar dan side skirt baru, sebagai bagian yang paling memikat.

7. Ferrari F60 America - $2,4 juta (Rp30,7 miliar)
Hanya dipasarkan 10 unit untuk memperingati ulang tahun ke-60 Ferrari di Amerika Utara.

Mengingat tema itu pas bahwa itu dihiasi dengan Stars and Stripes, dan merah, putih dan biru.

Salah satu hal menarik tentang mobil ini adalah versi convertible, sehingga Anda dapat melaju kencang dari 0 km hingga 120 km per jam di bawah empat detik.

8. Bugatti Chiron - $2,4 juta (Rp30,7 miliar)
Bugatti masuk daftar ini untuk kedua kalinya.

Menurut Digital Trend, mobil ini "penyempurna pendahulunya untuk bersaing di pasar otomotif dunia."

Mesinnya 8 liter, dan pergi 0 ke 96 km per jam waktu 2,5 detik.

Ingin lebih cepat? Kecepatan tertingginya 420 km per jam.

9. Koenigsegg One: $1,2 hingga -2,4 juta (Rp15,3 hingga Rp30,7 miliar)
Dinamai One karena rasio bobot dan kecepatan tenaga kuda 1:1.

Kecepatan tertingginya mencapai 439 km per jam berkat rekayasa mesin, membuatnya menjadi salah satu mobil tercepat di dunia.

10. Koenigsegg Regera - $2,4 juta (Rp30,7 miliar)
Mobil mewah ini didukung mesin twin turbo 5 liter dan berlari dari 0 hingga 96 km per jam dalam 2,8 detik.

Ingin tahu sesuatu yang lebih hebat? Kecepatannya dari 0 hingga 300 km per jam dalam 10,9 detik.

OK tidak berarti Anda harus melarikan mobil sekencang itu, tapi itulah opsi terbaik sebelum menentukan pilihan seperti dilansir The Sun.
APOLOGIES in advance because this is going to make you feel pretty rubbish about your wheels.

While most of us are happy enough pottering around in a Mini, those who are a bit more flush could splash the cash on one of these. OK, so maybe we're talking about a lot more money for one of these super cars.

Less cars and more multi-million works of art, these are the sort of wheels only the truly loaded have a hope of buying. If cars are you thing, read on for the top 10 most expensive in the world according to Digital Trends.

1. Koenigsegg CCXR Trevita - $4.7 million
Yes, this could be yours if you land a massive lottery win this weekend.

If you're wondering what makes a car worth that much money, the answer is diamonds. This vehicle is so flashy it's literally covered in diamond dust.

It's a special kind of resin which was made just for the car.

On top of that, it's a 4.8 litre and has over 1,000 horsepower.

2. Lamborghini Veneno - $4.5 million
It costs less than the number one, but it's hardly a snip at well over three million.

That said, it's hardly a surprise that a Lamborghini features in the top 10.

It's got a 6.5 litre engine and goes from 0 – 60 mph in 2.9 seconds – handy when you're pootling down to the supermarket.

3. W Motors Lykan Hypersport - $3.4 million
Tell us you don't look at this and instantly think of Batman?

It's actually the car which crashed into skyscrapers in Furious 7, and it's not hard to see why it was chosen for the big screen.

The headlights are encrusted with jewels… doesn't that say it all?

Plus, it goes from 0 to 62 mph in 2.8 seconds, and if you floor it you can achieve 240 mph.

4. Limited Edition Bugatti Veyron by Mansory Vivere - $3.4 million
Bugatti has to be one of the most famous luxury car manufacturers in the world, so it's fitting this is one of the fastest vehicles around too.

This new version of the car has better LED lights, a new spoiler a flashier interior.

5. Ferrari Pininfarina Sergio - $2.9 million
If you splash out on this you're getting a piece of mechanical history, as there were only ever six made.

It's pretty similar to the Ferrari 458 Spider, but the interior's been given a reboot.

It is also lighter, which means it's faster and easier to drive.

Sadly, if you've got your eye on one it's probably not going to happen.

That's because Ferrari chose the people they made them for, so it was never really for sale.

6. Pagani Huayra BC - $2.5 million
This was debuted at the 2016 Geneva Motor Show, where it went down an absolute storm.

It has a massive spoiler and new side skirts, so it definitely looks the part.

7. Ferrari F60 America - $2.4 million
Ten versions of this were made as a celebration of Ferrari's 60th birthday in North America.

Given the theme it's fitting that it's decorated with the Stars and Stripes, and red, white and blue.

One of the exciting things about this car is it's convertible, so you can cruise around with the top down at speeds up to 75 mph.

8. Bugatti Chiron - $2.4 million
Bugatti makes it into the list for the second time.

According to Digital Trend, this car "outdoes its predecessor in every conceivable way".

It's an 8 litre, and goes 0 – 60 in an astonishing 2.5 seconds.

Want more? It has a top speed of 261 mph.

9. Koenigsegg One: $1.2 - 2.4 million
This one has its name because its has a 1:1 kilogram-to-horsepower ratio.

It can apparently reach the massive speed of 273 mph thanks to the engineering it boasts, making it one of the fastest cars in the world.

10. Koenigsegg Regera - $2.4 million
This one has a twin turbo 5 litre engine and goes from 0 to 60 mph in 2.8 seconds, which certainly isn't to be sniffed at.

Want to know something even better? t goes 0 to 186 mph in a mind-blowing 10.9 seconds.

OK so we can't think of when you'd need to go that fast, but it's nice to have the option.