Facebook Kategorikan Empat Tipe Pengguna, Anda Termasuk yang Mana?
Researchers Reveal the Four Types of Facebook User
Editor : Ismail Gani
Translator : Novita Cahyadi

PUBLISHED: Jum'at, 07 Juli 2017 , 02:52:33 WIB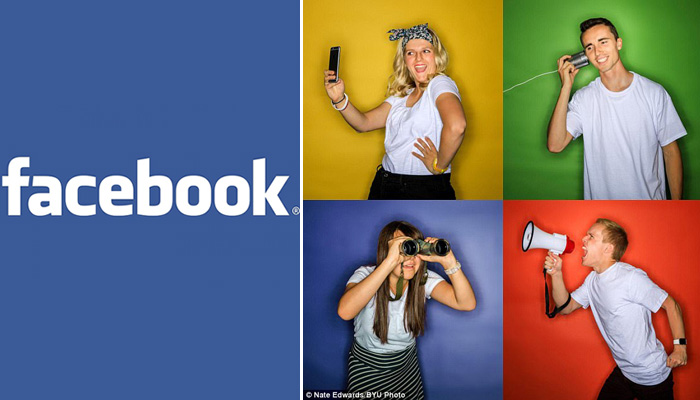 Foto2: MailOnline
HASIL riset menyatakan telah mendapati empat tipe pengguna Facebook - dan dikatakan sebagian besar dari Anda termasuk dalam salah satu kategori.

Tim peneliti mengidentifikasi empat kategori pengguna Facebook yakni pembangun hubungan, penghuni kota, pecandu foto selfie dan suka melihat-lihat tanpa ada niat membeli produk di toko online.

Mereka mengatakan bahwa bagi para pengguna FB, untuk mengetahui kategori apa yang mereka masuki sebenarnya bermanfaat bagi pengguna, dan 'meningkatkan kesadaran diri'.

'Ada apa dengan platform media sosial yang telah mengambil alih dunia ini?' kata para peneliti.

Tom Robinson, seorang profesor komunikasi Universitas Brigham Young, mengatakan bahwa tim tersebut melakukan penelitian untuk mengetahui mengapa Facebook menjadi sangat populer.

Rata-rata setiap hari, sekitar 1,28 miliar orang mengunjungi FB, dan secara keseluruhan memiliki lebih dari 2 miliar pengguna.

Menurut perkiraan terakhir, rata-rata pengguna Facebook menghabiskan 35 menit sehari mengamati FB.

'Mengapa orang begitu rela berlama-lama melihat FB?' kata Robinson.

'Tidak ada yang pernah benar-benar mengajukan pertanyaan,' Mengapa Anda menyukai ini? ''

Untuk penelitian ini, para peneliti menyusun daftar 48 pernyataan yang mengidentifikasi alasan potensial orang menggunakan Facebook.

Subjek mengurutkan pernyataan dengan cara yang mencerminkan hubungan pribadi mereka dengan gagasan, lalu menilai setiap pernyataan dalam skala dari 'paling mirip saya' menjadi 'paling tidak seperti saya.'

Akhirnya, para peneliti mewawancarai setiap subjek untuk mendapatkan pemahaman yang lebih dalam tentang peringkat dan rating mereka.

Berdasarkan tanggapan tersebut, tim peneliti mengidentifikasi empat kategori pengguna Facebook: menjaga hubungan, penghuni kota, pecandu foto selfie dan suka melihat-lihat tanpa ada niat membeli produk di toko online.

Meskipun penelitian terkait Facebook sebelumnya telah menjelajahi pengguna dengan karakteristik pembangun hubungan dan selfie, Robinson mengatakan, penghuni kota dan window shopper adalah temuan yang tidak terduga.

"Tidak ada yang benar-benar membicarakan pengguna ini sebelumnya, tapi ketika kita memikirkannya, keduanya sangat masuk akal."

Pengguna Facebook dapat mengidentifikasi sampai tingkat tertentu dengan lebih dari satu kategori - Boyle mencatat bahwa kebanyakan orang memiliki setidaknya beberapa kecenderungan diri sendiri, misalnya.

Tapi pengguna biasanya lebih banyak mengidentifikasi satu dengan yang lain.

'Semua orang yang kita ajak bicara akan mengatakan,' Saya adalah bagian dari ini dan sebagian dari ini, tapi saya ini sebagian besar,'' kata Robinson, yang menyebut dirinya pembangun hubungan.

"Media sosial begitu mendarah daging dalam segala hal yang kita lakukan sekarang," kata Boyle seperti dilansir MailOnline.

"Dan kebanyakan orang tidak memikirkan mengapa mereka melakukannya, tapi jika orang bisa mengenali kebiasaan mereka, setidaknya itu menciptakan kesadaran."
RESEARCHERS claim to have found the four types of Facebook user - and say most of us fit into one of the categories.

The research team identified four categories of Facebook users: relationship builders, town criers, selfies and window shoppers.

They say that for users, knowing what category they fall into could actually be good for users, and 'raise self awareness.'

'What is it about this social-media platform that has taken over the world?' asked lead author

Tom Robinson, a Brigham Young University communications professor, said the team carried out the study to work out why Facebook has become so popular.

On an average day, 1.28 billion people check it, and overall it has over 2 billion users.

According to one recent estimate, the average Facebook user spends 35 minutes a day on the platform.

'Why are people so willing to put their lives on display?' said Robinson.

'Nobody has ever really asked the question, 'Why do you like this?''

For this study, the researchers compiled a list of 48 statements identifying potential reasons people use Facebook.

Subjects sorted the statements in a way that reflected their personal connection to the ideas, then rated each statement on a scale from 'most like me' to 'least like me.'

Finally, the researchers interviewed each subject to get a deeper understanding of their rankings and ratings.

Based on the responses, the research team identified four categories of Facebook users: relationship builders, town criers, selfies and window shoppers.

Though previous Facebook-related research has explored users with relationship-builder and selfie characteristics, Robinson said, the town criers and window shoppers were an unexpected find.

'Nobody had really talked about these users before, but when we thought about it, they both made a lot of sense.'

Facebook users may identify to some degree with more than one category - Boyle noted that most people have at least some selfie tendencies, for example.

But users typically identify more with one than others.

'Everybody we've talked to will say, 'I'm part of this and part of this, but I'm mostly this,'' said Robinson, who calls himself a relationship builder.

'Social media is so ingrained in everything we do right now,' Boyle said.

'And most people don't think about why they do it, but if people can recognize their habits, that at least creates awareness.'