Optimalisasi Alsintan, Solusi Permanen Tingkatkan Pendapatan Petani
Indonesian Govt Push the Optimization of Agricultural Machinery in East Java
Editor : M. Achsan Atjo
Translator : Dhelia Gani

PUBLISHED: Kamis, 24 Mei 2018 , 01:35:00 WIB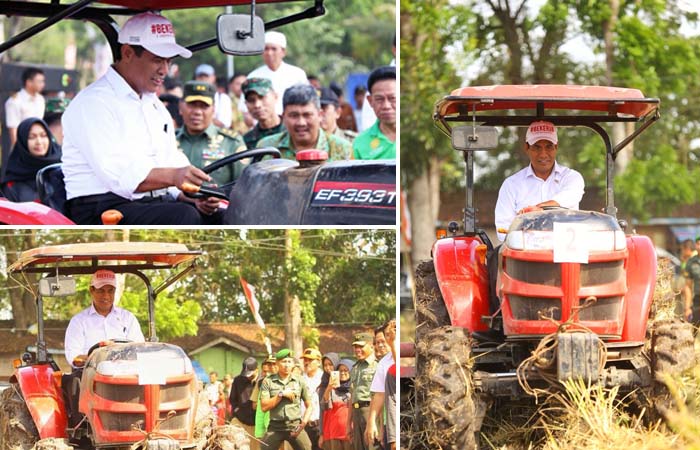 Mentan Amran Sulaiman meninjau optimalisasi pemanfaatan Alsintan (OPA) di Kecamatan Tenggaran, Kabupaten Bondowoso, Jatim didampingi Penanggung Jawab OPA Nasional, Momon Rusmono (Foto2: Humas Kementan)
Bondowoso, Jatim (B2B) - Banyak manfaat diperoleh dari pemanfaatan alat dan mesin pertanian (Alsintan) seperti menekan biaya produksi hingga 40%, meningkatkan indeks pertanaman (IP), mempersingkat proses produksi, menarik minat generasi muda mencari nafkah sebagai petani, dan meningkatkan pendapatan petani.
Hal itu dikemukakan Menteri Pertanian RI Andi Amran Sulaiman saat meninjau optimalisasi pemanfaatan Alsintan (OPA) pada Selasa (22/5) di Kecamatan Tenggaran, Kabupaten Bondowoso, Provinsi Jawa Timur didampingi Penanggung Jawab OPA Nasional, Momon Rusmono.
"Pemanfaatan Alsintan dapat menekan biaya produksi hingga 40 persen, dari biaya panen secara manual Rp2 juta per hektar maka dengan teknologi Alsintan dapat ditekan menjadi hanya Rp1 juta per hektar," kata Mentan.
Menurutnya, penyusutan hasil panen atau losses sebesar 10 persen pun bisa ´ditarik kembali´. "Yang dulu sia-sia di lapangan, bisa kita ambil. Nilainya Rp 28 triliun."
Mentan mengatakan, IP pun akan meningkat, karena dari proses olah tanah, penanaman hingga panen waktunya lebih singkat atau dari hitungan hari menjadi jam. "Bisa tanam tiga kali dalam satu tahun. Artinya, peningkatan pendapatan petani bisa tiga kali lipat."
Alsintan pun mendorong generasi muda bekerja di sektor pertanian, karena mekanisasi pertanian akan mengubah pandangan pemuda tentang pertanian.
"Pemuda bisa olah tanah, tanam, panen sambil telepon pacarnya. Ini mengubah mindset. Dulu petani (disebut) miskin, kumuh. Sekarang sejahtera," kata Mentan.
Sementara biaya pendapatan dari jasa penyewaan Alsintan cukup menarik, sekitar Rp 3 juta hingga Rp4 juta per hari maka dalam sebulan dapat mencapai Rp90 juta. Dua kali lipat dari gaji menteri. Pasti generasi muda mau."
Dengan memaksimalkan inovasi, kata Mentan, Indonesia mampu mencapai swasembada pangan dan mengekspor sejumlah komoditas ke mancanegara. "Jadi, pertanian bisa menjadi solusi permanen untuk saudara-saudara kita yang masih prasejahtera."
Bondowoso of East Java (B2B) - Many benefits of agricultural machinery to reduce production costs by 40%, increase crop index, shorten production process, attract young people to earn a living as farmers, and increase Indonesian farmer income.
It was stated by Indonesia Agriculture Minister, Andi Amran Sulaiman while reviewed the utilization of Alsintan here on Tuesday (May 22) in Tenggaran subdistrict of Bondowoso district in East Java province accompanied by Person in Charge of Optimizing Alsintan, Momon Rusmono.
"Utilization of Alsintan can reduce production costs by 40 percent, the cost of manual harvest of 2 million rupiah to 1 million rupiah per hectare," Minister Sulaiman said.
According to him, harvest losses on average 10 percent can be suppressed so it is not wasted, "the average national losses amounted to 28 trillion rupiah."
Minister Sulaiman said the index of crops will increase because of the process of soil, planting until the harvest time is shorter or per day to hourly. "It can be planted three times a year, which means that the increase in farmers´ income can increase three times."
Alsintan also encourages young people to work in the agricultural sector, because the mechanization of agriculture will change the youth´s view of agriculture.
"Youth can cultivate the soil, planting, or rice harvest while calling a girlfriend. It changes the mindset. Farmers used to be poor and dingy, and now prosperous," he said.
While the cost of revenue Alsintan rental services is quite high around 3 million to 4 million rupiah per day or one month to reach 90 million dollars.
By maximizing innovation, Indonesia is able to achieve food self-sufficiency, and export a number of agricultural commodities to foreign countries.