Pengembangan KEP, Penyuluh Profesional Penentu Keberhasilan Petani
Indonesian Govt Support Developing of the Farmer`s Economic Institutions
Editor : M. Achsan Atjo
Translator : Dhelia Gani

PUBLISHED: Kamis, 15 November 2018 , 03:40:00 WIB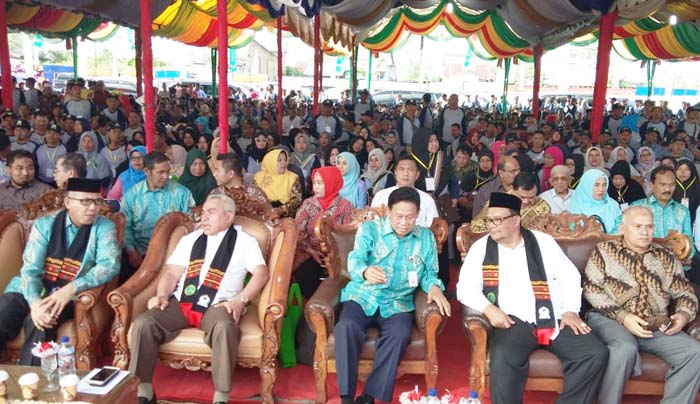 JAMBORE PENYULUH ACEH: Kepala BPPSDMP Kementan, Momon Rusmono (ke-3 kiri) berbincang dengan Bupati Aceh Barat H Ramli MS, Ketua Perhiptani Isran Noor (ke-2 kiri) dan Plt Gubernur Aceh Nova Iriansyah (kiri)
Meulaboh, Aceh (B2B) - Keberhasilan pengembangan Kelembagaan Ekonomi Petani (KEP) pada 2019 yang didukung pemerintah pusat dan daerah, ditentukan oleh pendampingan penyuluh pertanian tangguh dan profesional, mendukung petani untuk bertani lebih baik, menguntungkan, masyarakat sejahtera, dan lingkungan yang terjamin kelestariannya.

Kepala Badan Penyuluhan dan Pengembangan SDM Pertanian (BPPSDMP) Momon Rusmono mengatakan Kementerian Pertanian RI akan mendukung peningkatan kapasitas KEP sebagai cikal bakal pengembangan korporasi, dengan meningkatkan skala ekonomi, efisiensi usaha, dan posisi tawar petani dengan memberi peluang bagi kelompok tani yang telah merintis kegiatan usaha produktif, mengingat posisi petani sebagai produsen utama bahan pangan untuk mendapat laba setimpal dari kegiatan usaha taninya.

"KEP merupakan salah satu terobosan pengembangan penyuluhan pertanian sesuai tuntutan pasar dengan aneka metode pemberdayaan. Dengan model KEP ini diharapkan diperoleh alternatif pemberdayaan petani mengembangkan usaha secara profesional," kata Momon Rusmono dalam arahannya pada pembukaan Jambore Penyuluh Pertanian Provinsi Aceh ke-2 di Meulaboh, belum lama ini.

Di hadapan 3.000 penyuluh pertanian dari seluruh Aceh dan peninjau dari seluruh Indonesia, Momon Rusmono mengingatkan tentang agribisnis menjadi orientasi pembangunan pertanian nasional saat ini, karena kelembagaan petani di pedesaan kontribusinya sangat vital dalam akselerasi pengembangan sosial ekonomi, aksesibilitas pada informasi pertanian dan modal, pengembangan infrastruktur, pasar, dan adopsi pertanian.

"Hal ini menjadi sangat penting lantaran kondisi petani kian memprihatinkan dengan kepemilikan lahan hanya 0,4 hektar, sebagian besar lulusan sekolah dasar, gagap teknologi, dan kekurangan modal," katanya.

Pendekatan Penyuluhan
Pemerintah pusat dan daerah sesuai kewenangannya berkewajiban mendorong dan memfasilitasi terbentuknya kelembagaan petani dan KEP, seperti diamanatkan UU Perlindungan dan Pemberdayaan Petani No 19/2013.

Pendekatan penyuluhan menjadi penting, kata Momon Rusmono, untuk mencapai sasaran tersebut lantaran sebagaian besar dihadapkan pada masalah pelik seperti manajemen organisasi dan usaha yang masih lemah, belum berorientasi usaha produktif dan belum memiliki kekuatan hukum sehingga posisi tawar dan aksesibilitas rendah terhadap sumber informasi, teknologi, pembiayaan maupun pasar.

KEP menempatkan petani sebagai pelaku utama, yang lebih menekankan pada proses pembelajaran sebagai penentu keberhasilan, peningkatan sarana dan prasarana produksi, kegiatan budidaya, kegiatan panen dan pascapanen hingga kegiatan pemasaran.

"Keberadaan KEP diharapkan dapat mendorong petani mengembangkan korporasi sebagai kelembagaan formal yang terbentuk dari sejumlah modal dari petani, dengan menjalankan fungsi-fungsi manajemen usaha yang berorientasi laba dalam bentuk badan usaha milik petani atau BUMP yang berbentuk koperasi tani atau perseroan terbatas," kata Momon. (Liene)
Meulaboh of Aceh (B2B) - The success of Indonesia´s Economic Institutions of Farmers or the KEP in 2019 supported by the central and regional governments, determined by assistance of professional agricultural extentionist support farmers for better farming, better business, better living, better community, and better environment.

The Director General of of Agricultural HR Development or the BPPSDMP Momon Rusmono said the Indonesian Agriculture Ministry will support the development of KEP to establish corporations, by extending economies of scale, business efficiency, bargaining position and providing opportunities for farmer groups who have developed productive business activities, because farmers are the main producers of food it deserves profits from their farm, according to senior official.

"The farmers´ economic institutions is one of the breakthroughs of agricultural extension development according to market demand with various methods of empowerment," Mr Rusmono said here recently.

Agribusiness becomes the orientation of agricultural development in Indonesia, and the farmers´ economic institutions play an important role in the acceleration of socio-economic development, access to capital, infrastructure, and open market opportunities.

"This is very important because current condition of farmers is apprehensive such as land ownership of only 0.4 hectares, mostly elementary school graduates, and lack of capital," Mr Rusmono said.

Agricultural Extension
Farmers Protection and Empowerment Law Number 19 of 2013 should encourage and facilitate the establishment of farmers´ institutional, called the Poktan, and farmers´ economic institutions locally known as the KEP.

According to him, agricultural extension approach becomes a solution because farmers are constrained by the problems of organization and business management, not productive-oriented, and without legal force so that the bargaining position of farmers is still low.

The farmers´ economic institutions puts farmers as the main actors who emphasize the learning process as a critical success, improvement of infrastructure and production facilities, cultivation activities, harvesting and post harvest activities to marketing activities.

"The farmers´ economic institutions s expected encourage farmers to develop corporations as formal institutions of the joint capital of farmers, by running a profit-oriented business management function such as cooperative or company," Mr Rusmono said.