Kementan Dukung Pengembangan Domba di Bantul
Indonesia Agricultural Extension Connected through the KostraTani
Editor : Kemal A Praghotsa
Translator : Dhelia Gani

PUBLISHED: Sabtu, 05 Juni 2021 , 19:47:00 WIB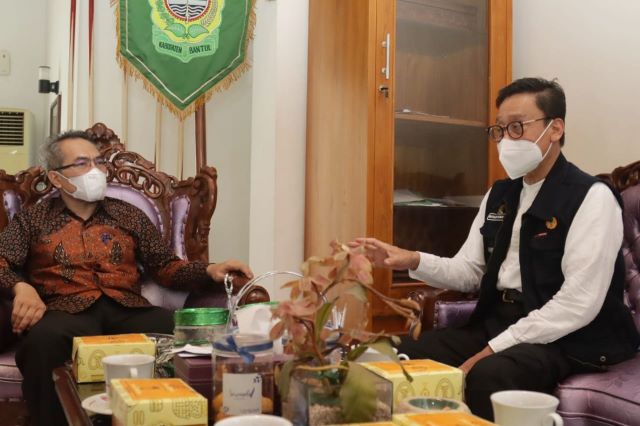 KUNJUNGAN: Kepala BPPSDMP Dedi Nursyamsi [kanan] saat audiensi Bupati Bantul, Abdul Halim Muslih [kiri]. [Foto:BPPSDMP/Pito]
Bantul, DIY [B2B] - Kementerian Pertanian RI [Kementan] siap mendukung pengembangan pertanian dan sektor lainnya di Kabupaten Bantul, Daerah Istimewa Yogyakarta [DIY], melalui Badan Penyuluhan dan Pengembangan SDM Pertanian [BPPSDMP].
Kepala BPPSDMP, Dedi Nursyamsi mendukung arahan Bupati untuk mengembangkan sektor pertanian dan petenakan di Bantul, saat beraudiensi dengan Bupati Bantul, Abdul Halim Muslih, Jumat [4/6]
"Skema arahan Bupati sudah jelas, mengembangkan produksi peternakan domba di Bantul. Sehingga, para pengepul sate tidak perlu repot-repot mencari bahan baku. Nah itu yang kita persiapkan, pertama bibit, yang kedua sumber pakan ternak. Teknologinya pun sudah ada, ternyata teman teman dari BPPT Jogja sudah mengembangkan bibit domba Safira," kata Dedi.
Menurutnya, yang harus dipikirkan juga bagaimana membangun industri hulu.
"Misalkan domba ini kan pelakunya bukan ada di kota, tetapi di desa, kecamatan, petani, praktisi dan para penyuluh itulah para pelakunya. Dan saya harus ketemu dengan para pelaku dari perintah pak bupati ini. Itu yang harus di implementasikan secara cepat dan tepat, bekerjasama dengan kadis pertanian,dengan pak camat, para koordinator dan penyuluh semua. Support program yang sudah di canangkan oleh Pak Bupati," katanya.
Hal itu sejalan dengan intruksi Menteri Pertanian Syahrul Yasin Limpo yang terus berupaya mengembangkan pertanian dan subsektor lain. "Dibutuhkan peran penyuluh untuk mendukung itu. Dan disinilah pentingnya KostraTani," katanya.
Sementara, Abdul Halim Muslih selaku Bupati Bantul mengatakan, ada harapan besar dengan kehadiran Kepala BPPSDMP.
"Beliau memberikan motivasi dan dukungan untuk pengembangan pertanian di Kabupaten Bantul. Dan kita tahu sektor pertanian di Bantul mendominasi PDRB. Dan, sektor pertanian dihuni mayoritas penduduk, karenanya pemerintah kabupaten menetapkan sektor pertanian bersama industri pariwisata itu sebagai sektor unggulan," katanya.
Menurutnya, yang dikembangkan kedua adalah peternakan domba. Bantul memiliki market karena hilirnya sudah jadi. "Kita tinggal membangun hulunya, hulunya adalah peternakan itu. Alhamdulillah Prof Dedi sangat mendukung peternakan domba ini bisa kita kembangkan dan kita manage, dengan baik antara hulu dan hilir," katanya.
Bantul of Yogyakarta [B2B] - Indonesian government in the next five years prioritizes the development of human resources that are ready to face globalization in the era of industrialization 4.0, carry out its role to develop millennial farmers who understand information and communication technology, according to the senior official of the agriculture ministry.