Penguatan Kelembagaan, Kementan Libatkan KTNA Evaluasi Kinerja Penyuluh
Indonesian Govt Involved the KTNA to Develop Agricultural Extensionist
Editor : M. Achsan Atjo
Translator : Dhelia Gani

PUBLISHED: Rabu, 14 November 2018 , 21:56:00 WIB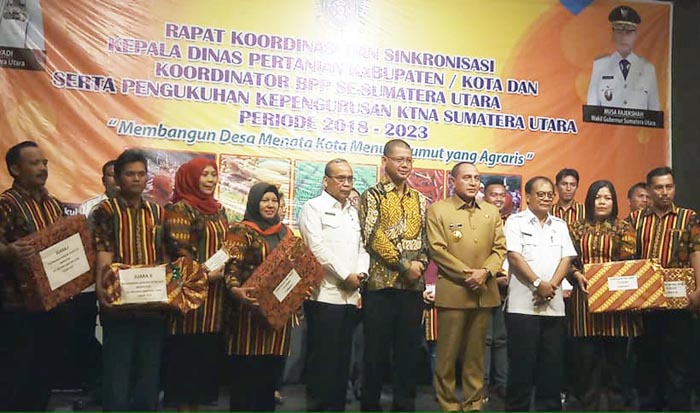 PENGUKUHAN KTNA SUMUT: Sesba BPPSDMP Andriko NS (ke-6 kiri) dan Gubernur Sumut Edy Rahmayadi (ke-4 kanan) bersama para pengurus KTNA Sumut (Foto: BPPSDMP/Surahman)
Medan, Sumut (B2B) - Kementerian Pertanian RI melibatkan Kontak Tani Nelayan Andalan (KTNA) untuk penguatan kelembagaan penyuluhan pertanian dan penyuluh swadaya membangun kelembagaan petani yang berdaya saing, dan memperkuat kompetensi penyuluh swadaya meningkatkan kinerja Pos Penyuluhan Desa (Posluhdes), sehingga dapat mendukung capaian target 72.000 penyuluh swadaya dan 36.000 Posluhdes di seluruh Indonesia.
Hal itu dikemukakan Kepala Badan Penyuluhan dan Pengembangan SDM Pertanian - BPPSDMP Kementan, Momon Rusmono dalam arahannya pada ´Pengukuhan Pengurus KTNA Sumatera Utara periode 2018 - 2023, yang disampaikan oleh Sekretaris BPPSDMP Andriko Noto Susanto yang dihadiri oleh Sekjen KTNA Nasional, Kusyanto dan Gubernur Sumut, Edy Rahmayadi di Medan, belum lama ini.
"Keterlibatan KTNA diharapkan dapat memperkuat kompetensi penyuluh pertanian swadaya, karena penyuluh swadaya merupakan bagian yang tidak terpisahkan dalam Posluhdes," kata Momon Rusmono seperti dikutip Andriko NS.
Menurutnya, penumbuhan dan pengembangan penyuluh swadaya akan menumbuhkembangkan peran Posluhdes. Sinergi KTNA Sumut dengan pemerintah provinsi/kabupaten/kota mengembangkan Posluhdes dan penyuluh swadaya sangat diharapkan oleh Kementan untuk mencapai target 72.000 penyuluh swadaya dan 36.000 Posluhdes di seluruh Indonesia.
Tampak hadir Rektor Universitas Islam Sumatera Utara (UISU) Dr Mohamad Asaad, Kepala Dinas Tanaman Pagnan dan Hortikultura (TPH) Sumut, M Azhar Harahap diwakili Kasie Intensifikasi Kedelai, Rachmat dan para koordinator Balai Penyuluhan Pertanian (BPP) se-Sumut dan para penyuluh.
Gubernur Edy Rahmayadi mengingatkan para penyuluh pertanian untuk bekerja keras mewujudkan Sumut menjadi sentra lumbung pangan di Indonesia, setelah pemerintah provinsi mencanangkan Sumut sebagai provinsi berbasis agraris.
"Untuk memastikan pertanian di Sumut itu bagus, saya sudah siapkan mobil offroad untuk datang ke desa-desa. Saya juga libatkan para pakar pertanian dari universitas terkemuka di sini, kami meminta konsep mereka untuk memperbaiki," kata Gubernur Edy Rahmayadi. (Liene)
Medan of North Sumatera (B2B) - Indonesian Farmers and Fishermen Association or the KTNA is involved by the country´s agriculture ministry support the institutional development of agricultural extension services and self-help agricultural extensionist, so that it can support achieve the target of 72,000 self-help agricultural extension and and 36,000 village agricultural extension offices across the country.
It was stated by Director General of Agricultural HR Development or the BPPSDMP, Momon Rusmono in his direction at the inauguration of North Sumatra KTNA board which was read by the Secretary BPPSDMP Andriko Noto Susanto and was attended by North Sumatera Governor Edy Rahmayadi here, recently.
"The KTNA is expected to strengthen the competency of self-help agricultural extensionist because it is an important part of village agricultural extension offices," said Mr Rusmono as quoted by Mr Susanto.
According to him, the development of village agricultural extension offices or the Posluhdes. The KTNA Sumut synergy with provincial/district/city government develop the Posluhdes and self-help agricultural extensionist.
Governor Rahmayadi reminded the agricultural extensionist worked hard to realize North Sumatra as the center for Indonesia´s food production, once proclaimed as an agricultural province in Sumatra Island.
"To ensure that, I have prepared an offroad car to come to the villages. I also involved agricultural experts of leading universities here, we asked for their concepts to improve the provincial agriculture," Governor Rahmayadi said.