Naik 30%, Mentan Jamin Suplai Pangan untuk Ramadan dan Lebaran 2018
Indonesian Govt Ensures Adequate Supply of Food for Ramadan and Eid
Reporter : Gusmiati Waris
Editor : Cahyani Harzi
Translator : Dhelia Gani

PUBLISHED: Rabu, 23 Mei 2018 , 21:57:00 WIB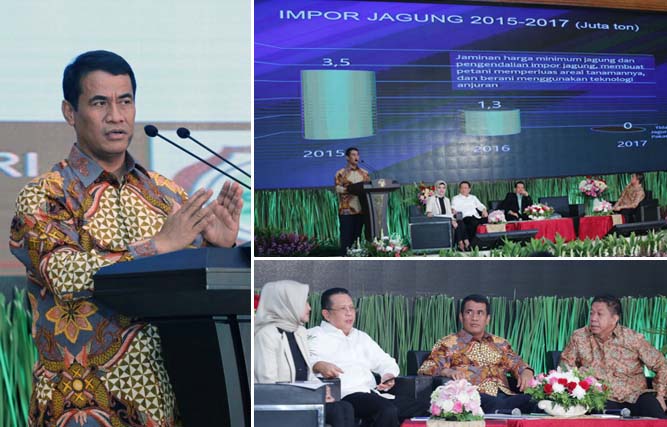 Mentan Amran Sulaiman pada seminar nasional yang dihadiri Ketua DPR RI Bambang Soesatyo; Anggota IV BPK Rizal Djalil; dan Anggota Komisi IV DPR, Muchtar Luthfi (Foto2: Humas Kementan)
Jakarta (B2B) - Pemerintah RI berupaya menjamin ketersediaan dan stabilitas harga pangan selama Ramadan hingga Idul Fitri 1439, dengan meningkatkan pasokan kebutuhan pangan hingga 30% ketimbang hari-hari biasanya. Menteri Pertanian Andi Amran Sulaiman pun mengingatkan para pedagang untuk tidak menaikkan harga lantaran memanfaatkan meningkatnya kebutuhan pangan masyarakat.
Hal itu dikemukakan Mentan Amran Sulaiman pada seminar nasional bertajuk ´Ketersediaan Pangan : Swasembada vs Impor (Hasil Audit Badan Pemeriksa Keuangan RI) di Jakarta pada Senin (21/5) yang dihadiri Ketua DPR RI Bambang Soesatyo dan Anggota IV BPK Rizal Djalil; Anggota Komisi IV DPR, Muchtar Luthfi; petinggi Badan Urusan Logistik (Bulog); komisioner Komisi Pengawas Persaingan Usaha (KPPU); asosiasi perberasan dan pemerintah daerah.
"Kementan berjanji untuk kerja keras setiap waktu untuk fokus pada peningkatan produksi pangan lebih dari 400 komoditas pangan, khususnya beras. Beberapa telah menuai hasil hingga kita mampu ekspor, dan membalikkan keadaan dari negara importir menjadi eksportir," kata Mentan.
Bambang Soesatyo mengatakan ketersediaan pangan merupakan isu strategis, "ini memang bisnis besar. Hanya bermodal paper, keuntungan besar bisa diraih dalam waktu singkat."
Sementara Rizal Djalil menyoroti beras menjadi sangat strategis perannya bagi kedaulatan bangsa. "Kuasai minyak maka kamu akan kuasai bangsa, kuasai makanan maka kamu akan kuasai masyarakatnya", katanya mengutip pernyataan Henri Kissinger, mantan menteri luar negeri AS.
Anggota Komisi IV DPR, Muchtar Luthfi mengapresiasi capaian Kementan di bawah kendali Amran Sulaiman selama empat tahun terakhir mendorong peningkatan produksi pangan strategis.
"Saya atau kita semua tentu mengapresiasi prestasi Mentan yang telah berhasil meningkatkan produksi bahkan melakukan ekspor," kata Muchtar Luthfi.
Jakarta (B2B) - The Indonesian government seeks to ensure the availability and stability of food prices during Ramadan until Eid, by increasing the supply of food needs by 30% rather than the usual days. Agriculture Minister Andi Amran Sulaiman also warned traders not to raise prices because of the increasing food needs of the people.
It was stated by the Minister Sulaiman at the national seminar on strategic food here on Monday (May 21) and attended by Indonesian House Speaker Bambang Soesatyo, member of parliament Muchtar Luthfi, Audit Board member Rizal Djalil; and related parties.
"The agriculture ministry is working hard to focus on increasing food production of more than 400 food commodities, especially rice. Indonesia also exports food, and turns from importer countries to exporters," Minister Sulaiman said.
Bambang Soesatyo said the availability of food is a strategic issue, "as the big business, just sign an import permit, it´s a lot of profit right away."
While Rizal Djalil highlights rice becomes a strategic issue of national sovereignty. "Control oil and you control nations; control food and you control the people," he cited quotation of the former US foreign minister, Henry Kissinger.
The MPs Muchtar Luthfi appreciated the performance of agriculture ministry under the control of Mr Sulaiman, over the past four years has led to an increase in strategic food production.
"Parliament appreciates the achievements of Minister Sulaiman who managed to increase production and even export," MPs Luthfi said.