Sejuta Petani Milenial, Target Puslatan Antisipasi Era Industrialisasi 4.0
Indonesian Govt Developing a Million Millennial Farmers across the Country
Editor : M. Achsan Atjo
Translator : Dhelia Gani

PUBLISHED: Selasa, 08 Januari 2019 , 22:32:00 WIB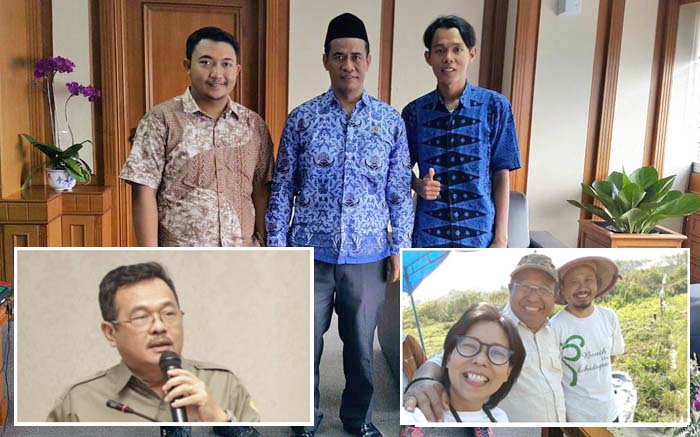 PETANI IDEAL: Mentan Amran Sulaiman bersama sarjana yang memilih jadi petani di Tangerang, Nur Agis Aulia (kanan); Kepala Puslahtan, Bustanul AC (inset kiri) dan petani milenial dari Kalsel di lahan rawa (Foto2: istimewa)
Jakarta (B2B) - Perdagangan global di era industrialisasi 4.0 menuntut generasi unggul di segala bidang kehidupan termasuk sektor pertanian, Kementerian Pertanian RI mulai 2019 akan menumbuhkembangkan sejuta petani milenial di seluruh Indonesia sebagai ´bagian penting´ dari 98 skema sertifikasi bidang keahlian, dan Pusat Pelatihan Pertanian tahun ini menargetkan sertifikasi untuk 15 ribu orang tenaga pertanian melalui kerjasama dengan Badan Nasional Sertifikasi Profesi.

Kepala Puslatan, Bustanul Arifin Caya mengatakan bahwa Badan Penyuluhan dan Pengembangan SDM Pertanian (BPPSDMP) menggelar program petani milenial untuk mendorong generasi muda ´bangkit dari tidurnya´ untuk meneruskan cita-cita pembangunan pertanian nasional, didukung kompetensi agar mampu menunjukkan keahlian dan kemampuannya sebagai petani masa depan harapan bangsa.

"Generasi muda yang menjadi tumpuan pengembangan petani milenial harus kreatif, inovatif, dan berdaya saing agar mampu berdiri dan berjaya di negerinya sendiri. Hal ini sejalan dengan kebijakan pemerintah bahwa 2019 adalah tahunnya SDM," kata Bustanul AC melalui pernyataan tertulis kepada B2B di Jakarta, Selasa (8/1).

Sebagaimana diketahui, generasi milenial merupakan sosok digital native, yang sudah berkembang di era digital dengan pola pikir lebih cepat, sangat lincah dan berfikir terbuka sehingga adaptif terhadap perubahan. Mereka adalah ´generasi melek internet´ yang secara natural peka dan begitu adaptif merespons aktifitas yang bersifat kolaboratif, yang menyadari pentingnya relasi. Generasi yang mengasosiasikan diri dan bergabung dalam komunitas, merekomendasikan hal baru kepada sesama, mendiskusikan dan mengemukakan pendapatnya dengan percaya diri dan lugas.

Generasi muda era ini perlu bukti dan contoh untuk mau, berminat dan tertarik bekerja di sektor pertanian. Kehadiran petani maju yang merepresentasikan petani masa kini berjiwa muda, akses pasar relatif baik dan wirausahawan berhasil menjadi pemikat agar generasi milenial ini mau berdaya saing dan berdaya sanding pada bidang pertanian.

Sarjana Pilih Sawah
Di tahun-tahun awal menjabat sebagai menteri pertanian era Jokowi - JK, Andi Amran Sulaiman pada HUT Korpri, 30 November 2015, mengundang Nur Agis Aulia, sarjana cumlaude dari Universitas Gajah Mada Yogyakarta (UGM) yang memilih menjadi petani ketimbang pegawai BUMN, karena mengaku prihatin pada nasib petani Indonesia yang rata-rata hidup miskin.

Mentan Amran Sulaiman kemudian mengundang Nur Agis Aulia ke ruang kerjanya, untuk menguraikan keberhasilan mengembangkan sistem pertanian terpadu (SPT) melalui kerjasama dengan petani di kampung halamannya, Kabupaten Tangerang, Provinsi Banten.

"Saya sudah ketemu yang bersangkutan, yang tayang di Kick Andy kemarin," kata Mentan via pesan singkat kepada B2B disertai foto dirinya bersama Agis setelah upacara HUT Korpri di Kementan, setelah B2B menginformasikan kepada Amran Sulaiman tentang Nur Agis Aulia menjadi tamu program Kick Andy di Metro TV sehari sebelumnya.

Kepala Bidang Standardisasi Sertifikasi Profesi Puslatan, Zuroqi Mubarok menambahkan semangat, dukungan teknologi dan kerja keras menjadikan petani milenial dapat meningkatkan produksi pangan dengan Alsintan dan teknologi pertanian. Mekanisasi pertanian dimanfaatkan untuk pengolahan hasil pangan. Memangkas rantai pasok pangan dengan transaksi digital melalui m-banking dan internet, tanpa harus bertatap muka dengan pembeli/penjual.

Zuroqi M menambahkan, manusia kompetitif yang keluar sebagai pemenang, untuk menyiapkan generasi unggul, maka pemuda harus memosisikan diri menjadi agen perubahan, maka Kementan melakukan program sertifikasi kompetensi bagi petani dan generasi milenial.

"Program sertifikasi memberi peluang generasi muda mempunyai profesi sebagai modal mengembangkan kariernya. Sertifikasi juga merupakan salah satu bukti kompetensi atas kemampuan petani melakukan budidaya hingga pengolahan hasil," kata Zuroqi M yang akrab disapa Okky.
Jakarta (B2B) - The global trade in the era of industrialization 4.0 demands a superior generation in all sectors including agriculture, the Indonesian Agriculture Ministry began in 2019 developing a million millennial farmers across the country as an ´important part´ of 98 expertise certification schemes, and Agricultural Training Center or the Puslatan this year it targets certification for 15 thousand agricultural workers through cooperation with the Indonesian Professional Certification Agency.

Director of Puslatan, Bustanul Arifin Caya said the Directorate General Extension and Agricultural HR Development or BPPSDMP held a millennial farmers program to encourage the younger generation to continue the ideals of national agricultural development, supported by competence to demonstrate their skills and abilities as future farmers of the nation´s hope.

"The young generation who are the cornerstone of millennial farmers´ development must be creative, innovative, and competitive. This is in line with government policy that the year 2019 as the Indonesian human resource development," Caya said through the written statement to the B2B in Jakarta, Tuesday (January 8).

As is known, the millennial generation is a digital native figure, which has developed in the digital era with a faster mindset, very agile and open minded so adaptive to change. They are naturally sensitive and adaptive in responding to collaborative activities, who realize the importance of relationships. The generation that associates itself and joins the community, recommend new things to others, discuss and express their opinions with confidence and straightforward.

The younger generation of this era needs proof and examples to want, and interested to work in the agricultural sector. The presence of advanced farmers who represent today´s farmers, market access is relatively good and entrepreneurs are successful in luring the millennial generation to compete in developing national agriculture.

Important Guest
In his early years as minister of agriculture, Andi Amran Sulaiman at the Korpri Anniversary, November 30, 2015 invited Nur Agis Aulia, cumlaude graduates of Yogyakarta´s Gajah Mada University who chose to be a farmer than a civil servant, concerned about the fate of Indonesian farmers who live on average poor.

Minister Sulaiman then invited Aulia to his office to describe the success of developing an integrated farming system through collaboration with farmers.

"I have met Aulia, who aired on Kick Andy program yesterday," said Minister Sulaiman via short message to the B2B.

The passion, technology support and hard work, according to Caya, making millennial farmers able to increase food production with agricultural technology. Agricultural mechanization is used for the processing of food crops. Shorten the food supply chain with digital transactions through m-banking and internet, without having face-to-face with the buyer or seller.

Caya said the competitive humans who come out victorious, to prepare a superior generation, the young generation must be agents of change, then the ministry conducts competency certification programs for farmers and millennials.

"The certification program gives the opportunity for the younger generation to have a profession to develop their careers. Certification is also proof of farmers´ competency do cultivation until processing agricultural production," Caya said.