Kopi Bondowoso Ditanam di Bawah Pohon, Bukti Sektor Perkebunan Dukung Tata Kelola Hutan
Indonesia`s Forest Coffee would Enrich Its Taste of Bondowoso Coffee
Editor : M. Achsan Atjo
Translator : Dhelia Gani

PUBLISHED: Senin, 28 Agustus 2017 , 03:35:00 WIB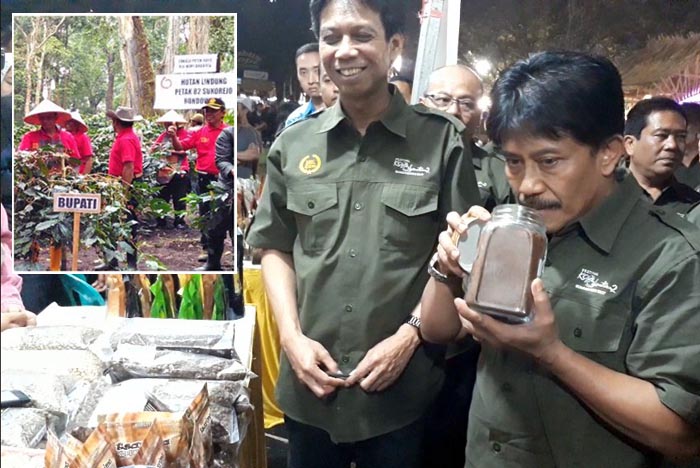 KOPI HUTAN: Dirjen Perkebunan Kementan, Bambang WD (kanan) mencium aroma khas kopi Bondowoso didampingi Bupati Amin Said Husni, panen raya kopi di lahan hutan KPH Bondowoso (inset) Foto: B2B/Mac
Bondowoso, Jatim (B2B) - Selama ini perkebunan kopi dianggap sebagai musuh dari hutan dan kelestarian lingkungan, namun hal ini tidak berlaku di Kabupaten Bondowoso, Provinsi Jawa Timur, setelah pemerintah kabupaten mendorong pengembangan kopi di lahan PT Perhutani. Ditjen Perkebunan Kementan menilai hal itu sebagai bukti bahwa tata kelola hutan untuk perkebunan memberikan manfaat dan kesejahteraan bagi petani dan masyaraka sekitarnya.

"Mari kita laksanakan tata kelola hutan, kopi Bondowoso membuktikan bagaimana lahan Perhutani membawa kebangkitan kopi Indonesia sekaligus menjaga kelestarian hutan kita," kata Dirjen Perkebunan Kementan, Bambang Wahyu Dwiantoro pada pembukaan Festival Kopi Nusantara 2017 di Bondowoso pada Jumat malam (25/8).

Pemkab Bondowoso kemudian menggandeng Pusat Penelitian Kakao dan Kopi Indonesia (Puslitkoka) mengembangkan teknik penanaman kopi hutan, dengan pohon penaung sebagai pelindung. Tanaman kopi ditanam di bawah pohon tegakan.

Administratur KPH Perhutani Bondowoso, Agus Sarwedo mengatakan pihaknya mengintensifkan penanaman kopi dengan teknik kopi hutan di bawah pohon tegakan. Keberhasilan penanaman kopi di lahan hutan KPH Bondowoso menjadi kisah sukses dan inspiratif bagi kawasan lain sehingga dapat ditransformasi.

"Ada benchmark, cerita sukses dari Bondowoso yang ditularkan. Pohon naungan juga berdampak positif bagi pelestarian lingkungan. Perhutani berharap program kopi hutan akan menjadikan kopi Bondowoso lebih kaya dengan cita rasa dan dikenal dunia karena keunikannya.

Luas lahan yang ditanami kopi di Jawa Timur mencapai 46.000 hektar, dari luas tersebut maka kawasan Bondowoso menjadi yang terluas disusul Jember dan Banyuwangi. Wilayah terbesar di Besuki Raya, selebihnya Malang dan Pasuruan.

Dukungan Puslitkoka
Pengembangan kopi hutan di Bondowoso mendapatkan dukungan penuh dari Puslitkoka. Direktur Puslitkoka, Misnawi mengatakan bahwa menurut kajian dan riset timnya, tanaman kopi merupakan yang terbaik untuk ditanam di hutan ketimbang tanaman lain.

"Kopi yang ditanam di hutan tidak memerlukan penyesuaian. Puslitkoka secara intensif mendampingi petani dan pihak terkait untuk memaksimalkan potensi, juga mengembangkan teknologi dan riset-riset yang menunjang pengelolaan perkebunan kopi," kata Misnawi.

Menurutnya, Puslitkoka mendampingi dari hulu sampai hilir hingga ke perdagangan kopi, dengan memberikan pengetahuan dan pemahaman bagaimana berhadapan dengan para pembeli karena mereka belum memiliki pengalaman.

Bagi Misnawi, satu hal penting yang perlu dibangun untuk pemberdayaan dan inovasi pertanian adalah memberdayakan manusianya. "Kalau manusianya sudah punya semangat dan keinginan besar, itu bagus. Sebagus apa pun teknologi kita, tetap memerlukan pendampingan. Puslitkoka sudah membaur dengan petani dan seperti saudara."

Puslitkoka, kata Misnawi, melakukan pendampingan dengan pendekatan langsung kepada petani dan kelompoknya. "Kami harus turun ke bawah, yang kita latih hatinya dulu. Teknologi itu mudah dipelajari."
Bondowoso of East Java (B2B) - Nowadays, coffee gardening is assumed to be a common enemy of the forest and environment conservation but Bondowoso district government develop distinguished technique of planting coffee as the forestry coffee. Indonesian Agriculture Ministry ´s assesses that it proves that forest governance for plantations provides benefits and welfare for farmers and surrounding communities.

"Let us carry out forest governance, Bondowoso coffee proves how Perhutani land brings the rise of Indonesian coffee while preserving the forest," said Directorate General of Plantation, Bambang Wahyu Dwiantoro while opened the 2017 Nusantara Coffee Festival here on Friday night (August 25).

Bondowoso district government then invited the Indonesia Coffee and Cocoa Research Institute (ICCRI) called the Puslitkoka, developed a technique of planting forest coffee, with shade tree as a protector.

Andi Purwadi, the Head of Perhutani´s Regional Division of East Java explains that he is going to intensify coffee plantation applying the above mentioned technique. The succeed of planting coffee under the trees base within an area owned by Perhutani´s Bondowoso would become an inspiring story that at another time would able be imitated by other regions.

"There is benchmark, that is success story of Bondowoso which is told from one to another colleague." Moreover, a shelter gave a positive impact on the environmental conservation. He also wished that forestry coffee would enrich its taste and be known globally because of it distinctive variety.

Bondowoso coffee development there were about 46.000 hectars of forestry area in East Java planted coffee. From those numbers, Bondowoso has the largest, followed by Jember and Banyuwangi. "The largest area is located in Besuki, and the rest is Malang and Pasuruan."

Puslitkoka Support
The expansion of Bondowoso´s forestry coffee is totally supported by the Puslitkoka. Directof of Puslitkoka, Misnawi revealed that according to the study and research conducted by his teams, coffee plantation is the rightest choice to plant in a forest if it is compared to others.

"The coffee planted in a forest does not need any kind of adaptations. Puslitkoka intensively advocate farmers and any other related actors. Beside Puslitkoka has improved a technique and research supporting their programs," said Misnawi, who goes one names like many Indonesians.

According to him, the Puslitkoka advocate farmers from the beginning, down to upstream, or even the trading. The Puslitkoka shares knowledge and understanding with them on how to deal with buyers.

One more point to acknowledge in relation to empowering and innovating agriculture is that empowering the human. "If the human has had an ambition and high eagerness are still a must. We and farmers have understood each other and just liked brother and sister."

Puslitkoka carried out a direct approach to farmers and their groups. "We have to go downstairs, which firstly we train his mind. Technology is easy to learn."